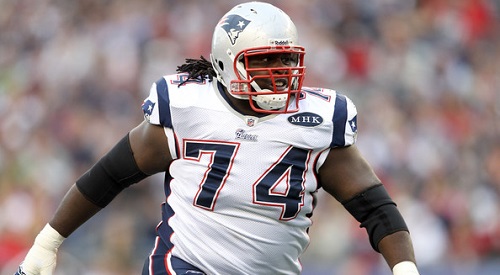 Kyle Love, Diabetes and Business as Usual
May 29, 2013
The NFL is a big business, and the New England Patriots remind everyone of this perhaps more than any other team in the league. This May, the team released defensive tackle Kyle Love – and in terms of timing, it's perhaps worse than the time they released wide receiver Tiquan Underwood the day before Super Bowl XLVI.
That's because this time, the decision to release Love came on the heels of the player having been diagnosed with Type 2 diabetes. Wait, what?
Richard Kopelman, Love's agent, then told ESPN Boston that, "Prior to the diagnosis, Kyle recently experienced unexplained weight loss, but since being diagnosed and having altered his diet, Kyle has regained most of the weight he lost, is in good health, and was not limited in any way during offseason workouts in which he was engaged up until being told he would be released."
The Patriots released Love, who had started 25 games in the past two seasons and had signed a two-year and $3.09-million extension in 2012, via a non-football injury designation – and really, that's the rub in this story. Essentially, the Patriots released the former undrafted free agent from Mississippi State, because he has Type 2 diabetes. We know that from that "non-football injury" designation.
The Canadian Diabetes Association says that diabetes is a disease that occurs when the pancreas doesn't produce enough insulin or when the body doesn't properly use the insulin it makes. Because of that deficiency, glucose, or sugar, can't be used for energy and stays in the blood. It is a chronic condition that can't be cured, only controlled.
[php snippet=1]
If the NFL is a (very large and very lucrative) business, then, every roster spot is like a job. And if it's a job, there are certain standards that should be met – and these include the right not to be discriminated against in the workplace on the basis of race, gender, sex, age, or disability, as per the Americans with Disabilities Act. The ADA, which the NFL must respect, sees diabetes as a disability "when it substantially limits one or more of a person's life activities". Under the ADA, an employer must look to work out reasonable accommodations to help the employee perform the essential functions of his or her job.
Likely, the Patriots knew this, and still released the 26-year-old. The team likely didn't feel like he could still be efficient on the football field and "expressed concern about not knowing what Love's recovery time would be", according to Kopelman. The team didn't really look to make many reasonable accommodations and let him go. Days later, the Jacksonville Jaguars picked the defensive tackle up, probably because that team thought differently than New England – good on them. This happens all the time in the NFL, because the NFL is a business and every roster spot is but a job.
But this release isn't like every other case. The Bears haven't released Jay Cutler, who suffers from Type 1 diabetes, after all – probably because he has a cannon arm. It's odd that the Patriots, the one organization who seemingly is always lauded for doing the right things, or at least things the right way, could have been so wrong this time around. It's almost refreshing, really. It shows that everyone can err in judgment, if you will.
If the NFL is a business, it's a weird one. There's the curious case of Titus Young, which started in the middle of the season amid reports that the Detroit Lions had suspended him because he purposely lined up wrong on the field and which reached a crescendo in May when he was arrested for four different incidents in a span of nine days. The case, which has been covered by most media outlets including this one, prompted Young's father to call for help for his son, whom he says he doesn't recognize anymore. Young shouldn't be ridiculed for wasting an NFL career. He should be helped. It's pointless to speculate over the actual mental health of the 23-year-old – these diagnoses fall in the "Don't try this stuff at home, leave it up to the professionals" category – but no individual should be arrested this often in this short a period of time. Titus Young needs help.
Also recently, linebacker Rolando McClain retired from the NFL just a month after signing a contract with the Super Bowl champion Baltimore Ravens as a free agent. At age 23, McClain retired, because "It is in my best interest to focus on getting my personal life together," he said in a statement. He felt like he might have soon become in need of help, a little like Young, if he had kept playing football, so he stopped. After having been arrested three times since 2011, McClain had had enough. He should be celebrated for being able to prefer his health to the glory of an NFL career, for having the foresight to understand that the one thing central to his life up to this point was also destroying it, and quickly.
It says a lot that McClain was willing to give up what he had given up so much to and for. It says that playing football is just a job. It says that when a job becomes untenable, then an individual will want to resign from it – the average human does it, and apparently so do NFL players.
But sometimes, it's even simpler than that. Sometimes, a player is released because he has diabetes. It's business. Fin. Now with the Jaguars, Love recently spoke on his situation. "That's how they do business up there," he said, "veteran guys who have been there for years and put in a lot of work get treated like rookies."
Kyle Love is right. In New England, everyone is expendable, from the veterans to the rookies, except for Tom Brady – and that could one day change, should the star quarterback ever be diagnosed with diabetes. Then as it is now, it would be just business. And it would be wrong.
[php snippet=1] http://credit-n.ru/zaymyi-next.html http://credit-n.ru/zaymyi-next.html http://www.otc-certified-store.com/urinary-tract-medicine-usa.html https://zp-pdl.com/emergency-payday-loans.php