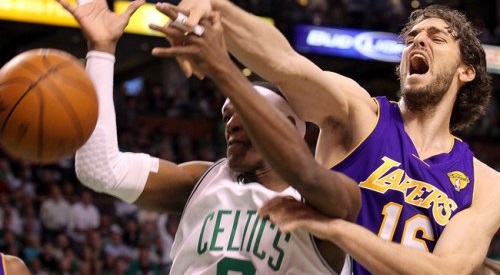 When Juggernauts Fall
July 11, 2013
In the nearly 70-year existence of the NBA, a lot has changed. Players of a variety of races and nationalities now populate the league. The 24-second shot clock and three-point arc have been implemented. Shorts have grown longer, and tattoos more prevalent. The elite players of today earn more salary in a year than the legends of yesteryear did over an entire career. Throughout all that change, though, at least one thing has remained constant: the dominance of the Lakers and Celtics.
With 34 championships between them, and countless legends having suited up between the two sides (names like Chamberlain, Baylor, Magic, Bird, Cousy, and Russell among them), the two franchises on opposite coasts have engaged in a heated rivalry over the years, and are no doubt the gold standard for a winning tradition among North American sports teams. Of course, part of that winning tradition is being held to a high standard by fans and players alike. A "regular" team like the Milwaukee Bucks can miss the playoffs several years in a row and no one gets overly upset. In L.A. or Boston, fans would revolt.
Luckily for those fans, the Celtics and Lakers tend to be very good year in and year out. Both teams have wealthy owners willing to spend lots of money to win, and the prestige and cache to attract big-time players (not to mention, in the case of L.A., a location that practically sells itself). And on those rare occasions when one of the two teams hits a rough patch, they usually can reload quickly (see the Celtics' trade for Kevin Garnett in 2007, or the Lakers acquisition of Pau Gasol in '08). For all those reasons, the thought of one of these teams struggling or failing to make the playoffs is nearly unthinkable. And the idea that both Boston and L.A. would falter in the same season is simply mind-blowing.
[php snippet=1]
Remarkably though, the stage may be set for just such a situation in the 2013-2014 season. The Celtics "big three", which has defined the team for over five years, has been disbanded. Ray Allen is in Miami, and Kevin Garnett and Paul Pierce will be traded away to Brooklyn. Additionally, Rajon Rondo tore his ACL in January and the timetable for his return next season is in doubt. So the Celtics' core next season will probably consist of Jeff Green, Avery Bradley, Kris Humphries and Gerald Wallace; not exactly a murderer's row, and a lineup that could struggle to make the playoffs in an Eastern Conference with heavyweights like Chicago, New York and Brooklyn.
The Lakers appear to be in a similarly dire predicament after losing out on re-signing Dwight Howard. Kobe Bryant is nursing an Achilles injury (at 34 years old) and could miss most of next season. Pau Gasol will be back, but his career low of 16.7 PER last year doesn't provide much hope for the future. Steve Nash may never truly be healthy again, and is pushing 40. The Lakers have made some lesser free agent signings and are rumored to still be shopping, but no combination of Chris Kaman, Lamar Odom, and Jordan Farmar would seem to push L.A. over the edge. After all, the team barely made the playoffs and was swept in the first round last year with Dwight.
The last time Boston and L.A. missed the playoffs in the same season was 1993, and before that it had never happened ever. But it could be about to happen again. And perhaps most shocking of all is how bleak the future looks for both teams (L.A. in particular). Boston has youth, and has managed to stockpile some assets, but they have an unproven coach (former Butler boss Brad Stevens), no future stars on the roster, and the mercurial (and combative) Rajon Rondo as their best player and leader. L.A. has a bad salary cap situation, a coach most fans want fired in favor of Phil Jackson, and two of their three best players will be 35 or over and banged up next season. Not to mention a new decision-maker in Jim Buss (son of longtime owner Dr. Jerry Buss) whose competence has been called into question by many Laker fans.
It's very possible that the Celtics and Lakers navigate this problematic phase the way that they always have and are back competing for a title in a couple of years. But there are reasons to think that the two storied franchises may have a harder time than usual bouncing back from this one. For starters, the aura surrounding both teams, the one that seemed to ensure big name players and coaches wanted to be there at any costs, seems to have evaporated. The last time a coveted free agent like Dwight Howard refused the Lakers was AC Green way back in 1993, and Howard actually turned down an additional $30 million to leave Lakerland (despite the decidedly un-Laker-like ad campaign practically begging him to stay).In Boston, Doc Rivers was the highest-paid coach in the league for the Celtics, but was desperate to force his way out anyway.
The level of dysfunction within both franchises has also seemed to reach a fever pitch. The Celtics locker room was rumored to be divided down the middle, with Rondo and the younger players on one side, and Rivers/Pierce/Garnett on the other. And Doc left town under very ugly circumstances, taking criticism from and exchanging barbs with everybody from Bill Simmons to national journalists. Even team owner Wyc Grousbeck stepped into the fray, making it clear that it was Rivers' idea to leave the team.
Of course, all that pales in comparison to the ongoing soap opera in Los Angeles. L.A. has always courted scandal, but the team last year made the Kobe/Shaq Era Lakers look like the Brady Bunch by comparison. First, the team fired coach Mike Brown after just a handful of games. Then, they inexplicably hired Mike D'Antoni (despite maybe promising the job to Phil Jackson?). Kobe and Dwight allegedly fought (and somewhat awkwardly tried to make light of the situation on Twitter). Pau Gasol was jerked around all season and looked depressed. They had a free agent meeting that Kobe sat in on and may or may not have used the opportunity to completely dress down Howard. And it all ended appropriately on the most middle school of notes, with Bryant and Gasol unfollowing Howard on Twitter. I'm betting Jerry West and Elgin Baylor never had these problems.
Meanwhile, with the luster possibly fading from Celtic green and Laker purple, new potential dynasties are emerging all over the NBA in unlikely locations: places like Miami, Oklahoma City, Brooklyn, and Houston. One thing at least two of those teams have in common is that they are run by GMs who follow the "Spurs model" of building through the draft, utilizing foreign talent, and wisely managing cap space and assets. Not the sort of reckless, "throw money at a problem until it goes away" spending that has landed teams like the Lakers and Knicks in hot water in the past. It's clear that we could be witnessing the beginning of a new era. One where star players (and coaches) choose what team they will work for based on more than reputation and salary. If that is the case, the Lakers will have to adjust. For their part, the Celtics are certainly further along in the process than their west coast cousins. But one thing is for certain: how successfully the Lakers and Celtics make this adjustment will determine how they fare in the difficult years to come.
[php snippet=1]