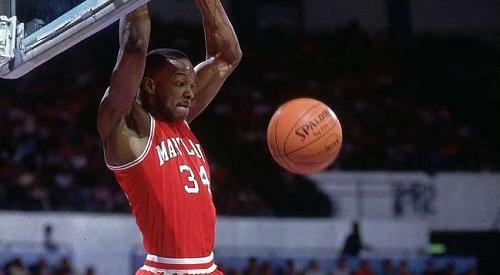 Tragic figure: Basketball without Len Bias
October 28, 2008
Len Bias had that swagger, you know what Im talking about, like the Fab Five, like Michael Jordan, that no-nonsense, I can do what I want, dress how I want, and be what I wanna be, because I am that good kind of swagger. The kind of shit you cant teach, that win at all costs mentality that transcends sport. It wasnt cockiness either, this swagger wasnt a prefabricated gimmick or a consolidated effort to stand out, it was just LB being LB, what you see is what you get.
Bias would go out of his way to dunk on people, for no reason more than that he enjoyed doing it; a motivation so refreshingly genuine that you couldn't help but love him. Everything came from the heart, and he left it all on the court.
The world knew he was the next big thing, there was no doubt. The greatest stage in the world was waiting, ready. ESPN's Scoop Jackson said that Bias's addition to the Celtics "would have made them the greatest team the world of sport – not just basketball – had ever seen".
Remember all the hype around LeBron James coming up, all the preparation, all the hope, all of the expectations. Now picture nothing else. Never seeing anymore than that, nothing; he never plays in the NBA. It makes me sad, it's like when Jordan retired (the first time), only Bias never came back.
The similarities between LeBron James and Len Bias are ridiculous. ESPN's Bill Simmons described Bias as a "…more physical James Worthy, but with Michael Jordan's leaping ability." What could describe LeBron better? And with both standing at a finely chiselled 6'8″ it's impossible to avoid the comparison. 
[php snippet=1]
Legendary coach Mike Krzyzewski put it in perspective in 2003 when he said that "this is my 24th year at Duke and in that time there have been two opposing players who really stood out: Michael Jordan and Len Bias."
When Bias died, the future of basketball changed. The Celtics, fresh off their third championship season in six years didn't win another until 2008. With a team returning Hall of Famers Larry Bird, Kevin McHale and Robert Parrish (all in their primes), Boston reached the Finals again, only to lose to the Lakers in six with McHale playing on a fractured foot. McHale was never the same and the team slowly eroded. Had Bias been there who knows how many more banners would be hanging from the rafters in Boston.
The Celtics weren't the only ones to suffer. Reebok inked Bias to a lucrative, multi-year deal the day before he died. Leading to more what ifs; would Bias have ushered in a new era in the sneaker industry? Could it have surpassed Jordan's Nike campaign?
Not to mention the NBA. Imagine the rivalry that would have been forged between LB and Jordan. Think of the market appeal of two guys in their primes, both with unrivalled physical skills to go along with their unquestioned desires to win. It raises serious questions: Would the '96 Bulls remain the greatest team of all time? Would Jordan still be considered the greatest player ever? Or would Bias have led the Celtics to carry on their winning ways long into the 1990s?
So many questions without an answer; the conversation around Bias was rendered to a hypothetical one with the rolling of a bill (I picture a hundred), and the subsequent ingestion of an undisclosed amount of blow (that I think must have rivalled the final scene in Scarface).
Len Bias was pronounced dead from heart failure due to cocaine intoxication less than 48 hours after the Celtics made him the number two overall selection from the University of Maryland in the '86 Draft. Upon hearing of Bias's demise in June of 1986 Larry Bird called it "the cruellest thing I've ever heard". Larry knew he got robbed. He knew the Celtics got robbed. He knew the league got robbed. The world's inability to watch Bias play could only be described by the one word his supposed-to-be teammate so fittingly used, cruel.
The history of the sport goes on, a prologue to a cruel story that few even remember, with Bias as its tragic figure. A name that should have been synonymous with the game is now no more than an asterisk. In the NBA, the name Len Bias is rarely mentioned, if whispered between announcers and analysts during television breaks. The story is more myth than it is legend.
In Maryland however, they remember, if only through the refusal to forget. In Maryland, Bias is the two-time ACC Player of the Year. In Maryland, he is a first team All-American. In Maryland, he is better than Jordan, whether he ever proved it at the next level or not. There, watching LeBron dominate the league is like an eerie deja vu. In Maryland, Len Bias is, and will always remain a legend.
[php snippet=1]