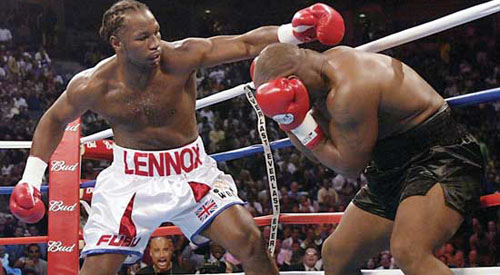 Lennox Lewis, Britain's contribution to Canada's Hall of Fame
November 14, 2008
On November 6, 2008, Lennox Lewis was inducted into Canada's Sports Hall of Fame. Based on appearances alone, Lewis' massive frame and long, dreadlock hairstyle makes him look part nightclub bouncer, part Whoopi Goldberg. British-born to Jamaican parents, the 6'5″ heavyweight boxer known for having a condor-like wingspan (84 inches) doesn't immediately conjure up thoughts of a typical "Canadian" athlete.
The following extract is the mission statement taken from the Canadian Sports Hall of Fame website:
Canada's Sports Hall of Fame recognizes and honors Canada's sports heroes. It is the Hall's mission to inspire Canadian identity and national pride by telling the compelling stories of those outstanding achievements that make up Canada's sports history.
From this, we can gather that the HOF's aim is to recognize and promote Canada's athletes and achievements from the sporting world, and so it should. However, the HOF needs to be clear in what it is claiming as Canadian accomplishments. More from the HOF website:
Lewis' path to the world boxing championship was long and arduous. He won gold at the World Junior Championship in 1983 and finished fifth in the Summer Olympics the following year. Four years later in Seoul, South Korea, Lewis knocked out Riddick Bowe for gold in the super heavyweight division to bring Canada Olympic gold. As a professional, he collected the British and Commonwealth heavyweight titles and KOed Canada's Donovan "Razor" Ruddick to capture the World Boxing Council title. After losing the title to Oliver McCall, he was back to win it twice more against Shannon Briggs and Evander Holyfield, and scored an eighth-round knockout over Mike Tyson in defending it. His record at retirement in 2004: 41 wins including 32 knockouts, two losses and one draw. 
[php snippet=1]
While Lewis won Gold for Canada, his more notable achievements all came while he fought under the Union Jack flag of Great Britain. Lewis was WBC champion on three separate occasions, successfully defending the title a total of 14 times and twice IBF champion with a total of five successful defenses. Lewis also briefly held the title regarded to be the most prestigious of all, the WBA, after he defeated Evander Holyfield in 1999. Lewis relinquished the title only six months later for refusing to fight the sanctioned number one challenger John Ruiz. Lewis felt Ruiz wasn't a worthy challenger, however, the boxing council and a judge in the USA disagreed and Lewis was stripped of his title.
The Canadian Sports Hall of Fame had an opportunity to distance itself from the murky world of heavyweight boxing, while still honoring one of its own. Instead, they have decided to intertwine Lewis' professional career with his amateur one and call it their own.
Winning an Olympic Gold Medal is reason enough for entry into the hall. Look at Donovan Bailey for example. Born in Jamaica, Bailey arrived in Canada at age 11. While never denying his Caribbean roots, his electrifying world record 9.84 second 100 m run at the 1996 Atlanta games was done while proudly wearing the Canadian maple leaf.
From a boxing standpoint, Lewis will be remembered as a good fighter, but not a great one. He fought during a period when heavyweight boxing was in decline. There were few fighters of real quality and shoddy refereeing decisions combined with dodgy tactics clouded the 1990s era of boxing. Suspect boxers and even more suspect outcomes were rife. Holders of belts would only fight contenders of certain promoters to the point that several champions simply lost their title through refusing to fight. Somehow Don King seemed to be the only person who always made a profit.
Many of Lewis' victories came against well-known opponents including Frank Bruno, Evander Holyfield and Mike Tyson, but he never beat any of them while they were in their prime. More notably, Lewis will probably be remembered for one of his two losses more than any of his 41 wins. When 20:1 longshot Hashim Rahman got lucky in their bout in South Africa in 2001, it did more damage to Lewis' reputation than his suspect jaw.
If Lennox Lewis' career was a steak dinner, then his time spent representing Great Britain would be the steak; Canada the mash potatoes and vegetables. And even then, Lewis' sirloin steak would fall shy of a juicy ribeye.
[php snippet=1]