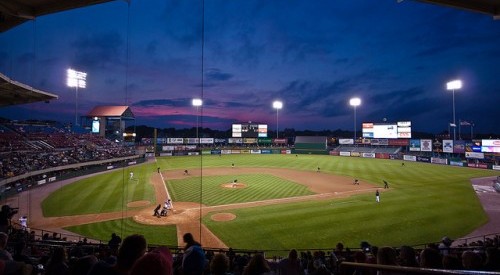 Life on the Farm
May 9, 2013
Jimmy Negrych is 28 years old, five feet, nine inches tall, and playing with his fourth different professional organization. He was once a sixth-round pick of the Pittsburgh Pirates. He has yet to see a pitch above Triple-A.
On the bright side, he is now playing for his hometown Buffalo Bisons – and he is batting .427.
On Tuesday, May 7, Negrych went 3-for-4 with three RBIs. It was the sixth time Negrych had collected at least three hits in a game this year. He now has 38 hits in 23 games, including 11 doubles, one triple and three home runs, not to mention his eight walks. At its lowest, Jim Negrych's 2013 batting average sank to a mere .403.
Negrych leads the International League in batting average and on-base percentage, ranks second in slugging percentage, tied for second in doubles, third in at-bats/strikeout ratio, fifth in runs scored and fifth in extra-base hits. The "Jimmy Negrych Fan Club Buffalo Bisons and Bluejays" on Facebook has 122 likes.
The ERA leader in the International League is Chris Bootcheck, pitching for the Yankee-affiliated Scranton/Wilkes-Barre RailRiders. Bootcheck was the 20th overall pick of the 2000 draft, reaching the Major Leagues with the Anaheim Angels by late 2003. He pitched parts of the next five seasons in the Bigs, including 51 relief appearances with the Angels in 2007, and then spent the 2010 season in Japan. In 2011, he was a Durham Bull. In 2012, he was a Toledo Mud Hen.
[php snippet=1]
Now age 34, Bootcheck has allowed exactly two runs in five starts spanning 30 innings this year, a 0.60 earned run average. His four wins tie him atop the league leaders; his 0.93 WHIP places him second; and his .179 average allowed ranks him fourth. (There is an automated Chris Bootcheck page on Facebook. It has 365 likes.)
The International League's most productive hitter and most effective pitcher, arguably, are non-prospects. This is far from unusual.
In Triple-A, prospects are often outnumbered by journeymen, role players, veterans and free agents, floating freely between organizations, continuing to chase their own Major League dreams. The Majors are, after all, right there, one step above the International League! A call-up is all that's needed for an MLB opportunity.
Use Chicago Cubs free agent signee Ryan Sweeney as Exhibit A. He got off to a roaring hot start for Triple-A Iowa and was promoted to Wrigley Field on May 6.
Triple-A, though, is an odd place. As the waiting room to the Major Leagues, it pits players in unspoken competition with one another to earn the next plane ticket upward. That competition, for a spot-start, a left-handed relief role, or backup infield duties, catches up with a team during a long summer, particularly if the team stops winning.
A younger team, in Single-A, say, might band together during its mid-summer struggles. A Triple-A team, with many of its players married, grizzled, aching, and tired, has the potential of splitting into a group of individuals, with the clubhouse possibly turning toxic at the very worst.
It is for these times that a promotion of a Negrych, a Bootcheck, or a Sweeney might serve as the best medicine – the reminder that excellence still earns opportunity.
[php snippet=1]