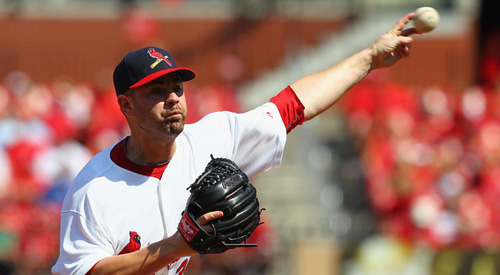 Marc Rzepczynski joins Cardinals at perfect time
September 29, 2011
In late July, a much-publicized rift between Cardinals center fielder Colby Rasmus and manager Tony La Russa finally came to an end. By way of an eight-player trade with the Toronto Blue Jays, Rasmus had officially been given a new home.
One of the players that St. Louis received in return was left-handed reliever Marc Rzepczynski.
Amid the headlines and fanfare of the move, Rzepczynski was caught off guard by the news of his sudden departure from the only organization he'd ever known.
"I had no clue it was coming," Rzepczynski told The Good Point. "I'm glad I'm here, though, and hopefully I'll be here for a long time and help give the team a chance to win."
After he managed a 4.95 ERA and 1.602 WHIP for the Blue Jays last season, the club decided to convert Rzepczynski into a full-time reliever in 2011, with the premise being that his slider would be particularly effective against left-handed hitters.
The idea has worked wonders. Not only has Rzepczynski trimmed his ERA down to a tidy 3.34 across this season, he has limited left-handed hitters to a microscopic .157/.246/.216 slash line with 36 strikeouts, 13 more than against right-handers.
To Rzepczynski, the only thing more surprising than the trade news was hearing through various reports that the he was the decisive element in the trade actually going through. Considering he felt his worth diminished after being converted to a reliever, the news was even more of a surprise.
[php snippet=1]
"Just from being a young guy and coming from a first year in the bullpen, I never thought I'd be [of] any trade value to anybody. I just look at it as St. Louis wanted me," he said. "[St. Louis] needed a left-hander at the time. I happened to be that guy, and Toronto wanted Colby."
With the trade came a slew of changes for the left-hander that he quickly had to get used to. In addition to going from the American League to the National League, Rzepczynski went from a team that sat well out of playoff contention to a team that was right in the thick of an unlikely surge up the Wild Card standings.
It's one change that has been just fine for Rzepczynski.
"Over here has been great so far because this is a good baseball city and the guys are great," he said. "Having a chance to make the playoffs is always better than 12 games out."
The Cardinals haven't just had a chance to make the playoffs, though, they've put together one of the most epic comebacks in franchise history. After trailing the wild card-leading Braves by as many as 10.5 games near the end of August, the Cardinals went on an absolute tear to catch up and eventually steal the last playoff berth on the final day of the regular season.
More Cardinals: Jason Motte talks closing | The Cardinals dynasty of the 1980s
As the Cardinals inched closer to a potential postseason showing, Rzepczynski has seen first-hand the effect that baseball has on the city of St. Louis. He went from playing in front of baseball's sixth-lowest average attendance in Toronto to its sixth-highest in St. Louis.
"Nothing against the city of Toronto, but it's a hockey city," the native of California said. "I actually love the city, it's great. But they haven't made their playoffs in 20 years. The baseball support just isn't like it is here. I love being here and hopefully I can be here for a long time."
As with any trade, players are forced to have to fit in with new teammates and coaches. In this case, the difference for Rzepczynski was night and day.
With the Blue Jays, Rzepczynski was surrounded by a young core of exciting players bursting with potential under first-year manager John Farrell. In St. Louis, he has had to not only adjust to La Russa's much-different managerial style, but getting used to having proven players like Albert Pujols, Lance Berkman and Chris Carpenter available in the clubhouse as well.
"It's a little bit more of a veteran ball club than over there in Toronto. They're all really young, I mean they were good, but they were just really young. I look at the team now in Toronto and I don't even know who's on the team," the 26-year-old said. "You come over here, you get a little bit more sense of a veteran ball club and go out there realizing that these guys are pretty good and we have a chance to win."
While his career 4.35 ERA and 1.468 WHIP as a starter leave much to be desired, Rzepczynski's potential to be an effective one is still there. La Russa has recognized this and alluded to moving "Scrabble" into the Cardinals' starting rotation sometime in the near future.
Though he's been both a starter and reliever in his career, Rzepczynski hasn't developed a preference for either role. As long as he continues to get the ball and the opportunity to take the mound, that's all that matters.
"Right now it's just going out there and whatever they want me to do I'll do," Rzepczynski said. "Starting was great when I did it, and relieving is great now too because I get a chance to get back out there [right away]."
"If they want me to start I'll start, but whatever it is I'll build my routine around. Now that I've done both, I feel like I could do either one."
[php snippet=1]