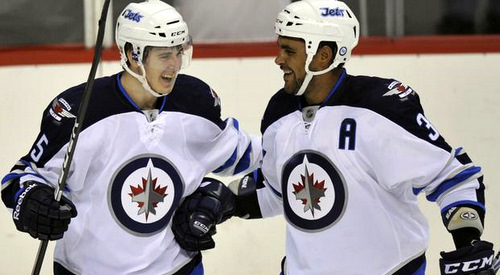 Rookie demotions contrast Scheifele's fortunes with Jets
October 14, 2011
Early speculation from scouts and hockey gurus alike pegged the 2011 NHL draft class as "weak", projecting a down year in terms of potential NHL-ready talent.
As quoted in an article from the Hockey News, one Canadian Hockey League scout stated: "I've been in this racket for 15 years and straight across the board this is the weakest draft. Straight across the board, without question." Though that prediction was a very early one, it's safe to say many had their doubts about how much elite talent could emerge from the 2011 NHL Entry Draft.
As the draft grew closer, several obvious players such as Ryan Nugent-Hopkins, Gabriel Landeskog and Adam Larsson were considered by many to be NHL-ready — in terms of either physique or talent — but since then, several more unexpected names have quickly climbed the ranks and proven themselves as legitimate contenders for a roster spot, similar to Jeff Skinner last season.
One of the biggest surprises was Chicago Blackhawks second-round pick Brandon Saad, who played in the first three regular season games of the 2011-12 campaign, continuing to display his potential and looking quite comfortable in an NHL uniform. The recently-demoted Saad is known as a power forward, at 6'1″, 202 pounds, his crease presence is one of his biggest assets. His smooth skating and accurate vision have been praised, too, although it has been said he could use his big body more effectively at times.
His coming-out party occurred in the preseason when he scored the game-winning goal against the Washington Capitals, while playing on a line with Jonathan Toews and Viktor Stalberg. It's been duly noted that Hawks head coach, Joel Quenneville, has also been impressed with the play of center Marcus Kruger, who was recalled from Rockford (AHL) after a somewhat dismal training camp. With a relatively deep Chicago roster in place and several minor league options, Saad's demotion does not come as a complete surprise to the hockey world.
[php snippet=1]
A player chosen by the Carolina Hurricanes 12th overall, defenseman Ryan Murphy, was another 2011 draftee who earned a longer look from his NHL team than first predicted. Joining his former Kitchener Rangers teammate in Skinner, Murphy entered the NHL with some familiarity and will surely make for a deadly backend on the Canes' power play in future seasons. In addition to his pristine puck-moving abilities, the youngster isn't afraid to jump into the rush either, and continuously shows a hunger to improve and develop.
At 5'11", 176 pounds, some are worried about his size and stamina at an NHL level, and one more year in junior could help that. Not to mention, Murphy will have an excellent chance at cracking the Canadian World Junior roster, which would only help his development and prepare him to possibly enter the big league full-time in 2012-13.
Initially ranked as a mid-first-round pick (14th by TSN, 16th by NHL Central Scouting), the Winnipeg Jets shocked many when they selected Mark Scheifele as the seventh-overall pick in June – the same slot that Carolina selected Skinner at last year. Considered a high risk, high reward player, the Jets seem to be getting the better half of that scenario thus far.
Scheifele wasted no time in making a case for himself, beginning with a solid performance at the Penticton Youngstars Tournament, continuing into the Jets main camp, and now into the regular season. When talking about this year's Jeff Skinner, Scheifele is the No. 1 contender. The Jets and media folks have both been impressed with how comfortable the Kitchener, On. native looks on the ice, his ability to create plays in all types of situations and his extreme offensive skill that would accent the other young talent in the Jets lineup.
If one examines Winnieg's roster, they could definitely make room for Scheifele to stay with the big club on a permanent basis, and similar to Nugent-Hopkins and Edmonton, they just plain need him. Last season, Schiefele was one of the key players on a struggling Barrie Colts roster. Despite his minus-22 rating, the '93-born center finished the season with 22 goals, 75 points and 35 penalty minutes, only behind teammate Colin Behenna, who finished with 88 points and a minus-42 rating.
Some said it was a case of him standing out on an offensively challenged team, but the way I see it, Scheifele was able to break out with little to no assistance. Like Skinner, his skill level seems adequate enough to stick in the NHL, and with the mentorship of the veteran players on the Jets roster, Scheifele could very quickly find a place to fit in on the Jets roster, which is in much need of more offensive fire.
Although it may be the most obvious standout of the aforementioned group of rookies, Scheifele has earned the recognition of being this year's draftee capable of making an immediate impact at the NHL level. His relation to Skinner extends past a common hometown and draft position.
[php snippet=1]