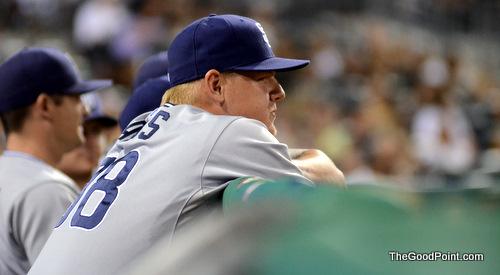 Polarizing Mat Latos finds balance in San Diego
August 29, 2011
Over the course of the past half decade, San Diego Padres starting pitcher Mat Latos has quietly become one of the most polarizing figures in baseball. Since and even prior to his selection in the 2006 MLB Draft, the hulking right-hander has drawn the ire of coaches, teammates and media alike with a personality generously described as brash.
On the mound, little differs. If not dominating his opponents to the tune of a 2.21 ERA (which he did through his first 26 starts of 2010), the opposite has been true.
In fact, it may have been a 10-game losing streak that bridged the final month of Latos' Cy Young-contending 2010 campaign and his four April starts of 2011 that triggered the philosophy the 23-year-old has adopted ever since.
"The biggest thing I'm working on is just staying consistent," Latos told The Good Point earlier this month. "I struggled a little bit earlier in the year with stringing together pitches and stringing together strikes, finishing hitters off."
The struggles he refers to are hard to ignore, especially considering the world-class season he put together in his first full year as a starter just 12 months prior.
By the time he stumbled out of a rough April this time through, however, Latos' ERA sat at an inflated 4.98. It wasn't until May 25 when he pitched over six and a third innings for the first time since Sep. 7, 2010.
[php snippet=1]
Since then, balance has slowly returned to the third-year pitcher's game log, a testament to the new frame of mind with which Latos has approached the mound. Though it's a far cry from his 2010 season, his current 3.74 ERA sits as low as it has been all season.
"I'm just working on trying to get better here and there with little things and constantly making adjustments," said Latos.
His 6-12 record may lack the flare of the 14-5 mark he enjoyed prior to his nosedive at the end of last season (he finished 14-10), but it's the mental preparation day in and day out that may prove to be more beneficial for the pitcher down the road.
After sliding down to the 11th-round of the 2006 MLB Draft (despite what scouts deemed first-round talent), questions over the 6'6″ hurler's personality have been as abundant as those about his repertoire.
"[In 2009] it was 'Look at me, listen to what I have to say'," Padres closer Heath Bell told Yahoo! Sports in August of last season. "I know I yelled at him a couple of times."
Over time, with the pressure of veteran big leaguers and coaching staffs breathing down his neck, Latos made the conscious decision to mature. It's an awareness that has helped him not only with his relationships in the clubhouse, but also to put his brief career in perspective.
"It's 2011, last year was 2010," Latos says, separating his head-turning sophomore season from this year's significantly more humbling campaign.
He may not be giving Roy Halladay a run for the NL's Cy Young award this year, but at least he's proving himself consistent both on the mound and off of it. Perhaps it's the humility of a losing season or a first true taste of what it means to struggle at the game's highest level that Latos needed all along.
"I'm just here along for the ride with the rest of these guys."
[php snippet=1]