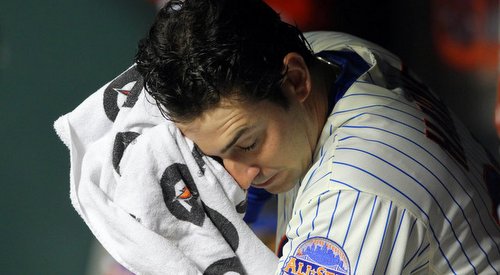 The Tommy John Chronicles: Matt Harvey Edition
August 29, 2013
Dear Mets fan,
Matt Harvey has a partial tear of his ulnar collateral ligament, and you are helpless.
You worried that this might happen, that the prized young Mets prospect might go down with any pitch, all the while you delighted to his dominance, a bright orange lining that turned up when you were feeling blue. You recognized that he was no flash in the pan and that his talent was real and lasting – or at least as lasting as the baseball gods would allow. Fate struck; the ligament tore.  The best case scenario now: Rehab, and a 2014 return. The worst case: Surgery, and 2015. And, beyond rending your clothing, eating full cartons of ice cream, and second-guessing/venting to sports talk shows, you are helpless.
But you are not alone.
Do you know who you are? You're every Nationals fan who ever worried about Stephen Strasburg's health while he was dominating each level of the Minor Leagues on his way up to a ballyhooed Bob Costas-broadcasted debut, and beyond. Strasburg was monitored and limited and guarded every step of the way, yet the nightmare was not prevented: Strasburg's golden arm required a surgeon's touch.
Consider the American League East. Top Orioles prospect Dylan Bundy: Tommy John. Top Blue Jays prospect Roberto Osuna: Tommy John. Top Rays prospect Taylor Guerrieri: Tommy John. Top Yankees prospect Manny Banuelos: Tommy John.
[php snippet=1]
Rooting for a young pitcher these days is rather like rooting for a football player. During each successive week, players chance traumatic injuries. On any play, at any time, the entire season might well be lost. (Washington Redskins fans are particularly worried about Robert Griffin III's health in the same way, fearing that any given hit will doom their promising young star, as it did last year.)
For a football player, however, the injury is usually suffered via scrum and/or collision – a freak rollup, a blindside hit, or an awkward fall. These can be avoided. A quarterback needn't be steamrolled on every play.
For a pitcher, the injury comes from a crucial part of job description, the simple repetitive act of delivering a pitch. It really is nightmarish to see a pitcher blow his arm out, too, and come slowly to grips with the fact that his time on the mound will have to take a hiatus.
The most poignant reaction was that of Toronto's Ramon Ortiz, who burst into tears near the mound on June 2, convinced that his career was over. We watched as the tears streamed down Ortiz's face, his teammate surrounding him, the athletic trainer by his side, and we felt helpless.
Pitching injuries have long been part of the game, prematurely ending Smokey Joe Wood's career on the mound as well as Dizzy Dean, Dizzy Chance, Sandy Koufax, Fernando Valenzuela, Bret Saberhagen, and many more. Pitchers have reduced a workload since those bygone days, working less often and tossing fewer pitches per game and per inning.
Still, the number of surgeries continues to increase. It is estimated now that 1/3 of all Major League pitchers have undergone Tommy John elbow reconstruction. Down goes Neftali Feliz of the Texas Rangers. Ditto Jonny Venters of the Atlanta Braves and Jason Motte of the St. Louis Cardinals.
If you count yourself as a fan or an executive of a team, how far could you trust the health of your young guns? Despite a sensational amount of study and research related to the top, we know of no new remedies or precautionary measures yet that will maintain a pitcher's health. Tampa Bay did everything it could this year to save Taylor Guerrieri, limiting him to a growing number of innings and holding him out of both the Futures Game and the Midwest League All-Star Game. It didn't work. Guerrieri was injured in his very next start.
So it sounds as if it still comes down to crossing our fingers and hoping for the best, followed by that terrible sensation of helplessness when the MRI is needed.
*
This may have all sounded like a tragedy so far, but it isn't.
Pitchers are now coming back even stronger from Tommy John, with many returning to their original velocity. Stephen Strasburg is doing just fine again with the Nationals, partnered up with fellow surgery survivor Jordan Zimmermann. Ramon Ortiz is warming up his arm again, planning on playing again next year.
As for Matt Harvey, he may well sit on the Disabled List until the start of 2014, or he may have to rehab his way to a 2015 debut. Either way, it would be stunning if he did not recapture his old form.
Because of the great success of rehab and surgery, there is a school of thought that believes that Tommy John surgery should be prescribed to all young baseball players. "Get it out of the way," says this philosophy. "Why even let a player start his career when you could end up throwing an entire season away because of a poorly-timed injury to the wrong person?" Perhaps. More research needs to be done in this area, especially with regard to short-term and long-terms consequences and results.
For now, then, join me and we'll do our best to cheer on the top young pitching talents baseball has to offer. There's nothing helpless about that.
We promise not to take their health for granted.  We know better.
[php snippet=2]