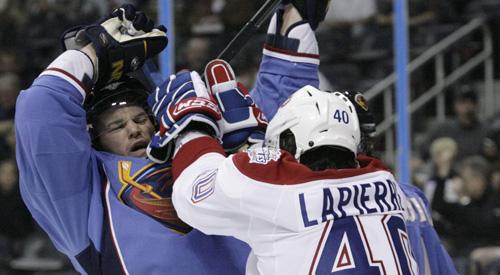 Lapierre to the Max
April 28, 2009
Each and every general manager in the National Hockey League shares the same objective: build a championship-winning team. A GM searches out players high and low with the ultimate goal of orchestrating a winning formula. It goes without saying that such a formula most certainly requires the proper components.
While defence and goaltending are obviously crucial to any hockey club, the main variety of ingredients stem from a club's roster of forwards. When compiling this list, a GM looks for players who can fill specific roles. In some cases, he may get lucky and obtain a versatile forward who is able to step in and fulfill multiple roles for his hockey club. In rare cases, the GM may be exceptionally fortunate by being blessed with a player who can fulfill each and every role that would normally be given to seven or eight different players.
Don't think it can be done? Perhaps you've never been formally introduced to 24-year-old Maxim Lapierre. A "jack-of-all-trades," the native of Saint-Leonard, Quebec can step into whatever role that is asked of him and will deliver.
Still skeptical? Well, let's break down the roles of a forward and see what we come up with amongst other players.
First and foremost, all teams need a goal-scorer: someone to put the pucks in the net. Alex Ovechkin is a prime example. I mean seriously, 56 goals in 79 games will do just fine.
Next you need a playmaker; a set-up man to feed those pucks to the goal-scorer to subsequently be put in the net. How does Evgeni Malkin tickle your fancy? Just shy of an assist per game this regular season, the Russian phenom creates more goals than Tim Horton's does coffee.
Next, you have to look at special teams. Someone who can be counted on to make your power play shine, like Tomas Vanek of the Sabres, for example, will do wonders for any hockey club. And a reliable penalty killer is an invaluable commodity – someone who can block shots, get his stick in the passing lanes, and even chip in a timely short-handed goal every now and then. The Flyer's Mike Richards fits this bill nicely.
[php snippet=1]
To go along with special teams, face-offs are also critical as puck-possession in hockey is king. A player who is quick on the draw and can win more faces than he'll lose is a player any GM wants as part of their squad. Rod Brind'Amour for example will win 65 out of 100 draws; he can play on my team any day.
Now, let's see, what else do you need? Ah yes, a grinder; a good, old-fashioned power forward. While not the team's leading goal-scorer, this player is a "checker extraordinaire" and will bring his lunch box to each and every game, hitting anything that moves and earning his ice-time any way he can. Players like Cal Clutterbuck, Dustin Brown, Ryan Callahan and Matt Cooke come to mind.
A truly well-rounded team will also include an enforcer – a "goon" as they used to say in my father's day. This role has increased in importance over the years, as a team with a small roster could be in tough against a team that is bigger and more physical. Enter the enforcer, who uses intimidation to his advantage as his mere presence can keep the opposition in check. The enforcer will answer the bell and drop his gloves when prompted, either to send a message to an opponent or simply to give his team a shot of momentum when things aren't going their way. George Laraque, Donald Brashear and Brad May are your usual suspects.
Finally, a team may not be truly complete without an instigator. While not as profound as the enforcer, the instigator serves to get under his opponent's skin in any way that he can. When you're frustrated, you're not thinking clearly, and it is going to have an effect on your performance. There is likely little argument that this award should go to the NHL's very own "super-pest," the incomparable Sean Avery.
If a team is able to fulfill each of these roles with their roster of forwards, they have no doubt built a strong recipe for success. Normally, fulfilling each of the aforementioned functions will necessitate six to eight different players – normally. But when you have Maxim Lapierre on your bench, that necessity disappears. Simply put, Lapierre is eight forwards rolled into one.
As a junior playing in the Quebec Major Junior Hockey League, Lapierre was just about a point-per-game player. In his second year with Montreal's farm club, the Hamilton Bulldogs, Lapierre notched 24 points in 37 games played. So while a playmaker by nature, when brought up to the majors, Montreal placed him in a checking role as a fourth line centre. When you're as versatile a player as Lapierre, this poses no problem whatsoever.
Lapierre thrived in his new role and has now found a niche as an instigator, as such, he will do anything and everything he can to give his club an edge. He is tough and rugged and will step in as Montreal's enforcer when the situation warrants. Lapierre is third in penalties for Montreal and will never back down from a fight; he is always the first one ready and willing to back up his teammates.
As mentioned, face-offs are a crucial component, and as a centreman, Lapierre does not disappoint. Number 40 is Montreal's number two faceoff man with a win percentage this season just shy of 54 per cent. Face-offs go hand-in-hand with special teams and Lapierre can easily slide into a power play or penalty-killing role – and perform exceptionally well at either.
As his natural instincts are to put points on the board, when the Montreal Canadiens top lines aren't producing, it's almost as if Guy Carbonneau could say, "Max, go snipe one for me," and it would get done. Lapierre has an uncanny vision on the ice and can spot who he wants when he wants and if the Habs' are in need of scoring chances, Montreal's multipurpose centreman will step up and make it happen. If nothing else, he will create some much-needed energy for his club in order to get them excited again and bring the emotion back into their play.
As such a resourceful forward, Lapierre can easily slide into whatever role is asked of him and execute it to perfection. Where other teams require six to eight different forwards to fulfill each role, the Montreal Canadiens can get all of them done with just one. So, by obtaining Lapierre, the Habs basically opened up seven whole spots on their roster.
The handiest of handy men, Lapierre is a truly valuable commodity. If he were a superhero, he would be known as "Multi-Max" due to his vast portfolio of responsibilities as a forward. His versatility is second to none. Who needs a big red and yellow "S" on their chest when you could have a full-sized "M"?
For now however, Lapierre will just stick with the red, blue, and white "C-H" of the Montreal Canadiens – why mess with a hundred years of tradition for nothing?
[php snippet=1]