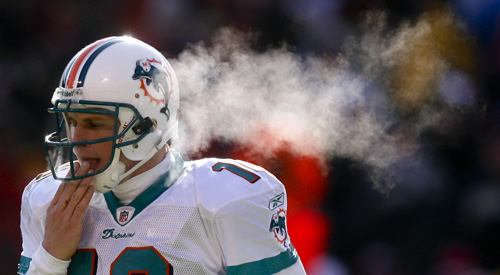 All they needed was two
December 24, 2008
I'm not one to switch favourite teams in sports, so it can't be said that I've had much success as a fan. What I've gotten out of the four major team sports are the 1992 and 1993 Toronto Blue Jays World Series wins, and, more or less, nothing else. Those two wins are likely to be the greatest memories of my life as a fan. This year, however, I've discovered a clear number three: The 2008 Miami Dolphins.
Yes, it's strange that I've already determined where this team ranks among all editions of my four favourite teams with at least one game still left in their campaign. That one game is undoubtedly a huge one as the Dolphins travel to the Meadowlands this Sunday to face their division rivals, the New York Jets. If the Dolphins win, they're in the playoffs. With a loss, it becomes more and more evident that the Miami team really likes extended vacations, as they would complete their seventh straight campaign without a single playoff match.
If the Dolphins beat the Jets, I'll certainly be tuning in for their playoff game a week later. I'll enjoy it, but I'll be content with whatever happens. In fact, two wins would have been enough for me this year.
If the two Blue Jays World Series titles were my two greatest moments as a sports fan, the 2007 Dolphins season might have been my worst. The team was quite unlucky, but they simply just could not find a win, starting the year 0-13. Close games definitely occurred, including a game pulled out by the eventual Super Bowl-winning New York Giants in London, England that was ridiculously even throughout due to the slick Wembley Stadium pitch, and another that the Pittsburgh Steelers won 3-0 on a late field goal on swampy Heinz Field turf. Eventually, some bad coaching by the Baltimore Ravens, who oddly elected to play conservatively in a meaningless Week 15 game, aided the Dolphins to a 22-16 overtime win, avoiding a dubious state of infamy for the team. 
[php snippet=1]
Dolphins ownership immediately began to clean up the franchise, bringing in legendary coach Bill Parcells to run the team's football operations. Parcells immediately raided the cupboard of his former employer, the Dallas Cowboys, most notably bringing on Dallas' offensive line coach, Tony Sparano, to overtake Miami's head coaching vacancy.
Though optimism was certainly in place, the turnaround was not expected to happen instantaneously. A 2008 season in which nobody noticed they were there would have been acceptable. In fact, a two-win year would have undoubtedly been an upgrade.
In the season's third week, something certainly seemed different. After an unsurprising 0-2 start, the Dolphins showed some life, bringing back the recently-unused single wing offense, in which the ball was snapped to running back Ronnie Brown, as opposed to quarterback Chad Pennington. The Dolphins' opponents, the defending AFC champion New England Patriots, had no response to this offensive tweak, allowing Miami to match their 2007 win total after only three weeks. Things got stranger in the Dolphins' next game, a win over the San Diego Chargers, where the newly-christened "Wildcat" offense came into play once again. The Dolphins had their two wins, and all seemed right with the world. After two more losses, it seemed like Miami would get that anonymous season that they'd accept, prior to making major steps in the coming years.
After that point, it's unexpectedly been bliss. The Dolphins have won eight of nine, and make the playoffs with one last win. For somebody who was expecting nothing, I'm happy even if the team misses out. The team's undoubtedly played over their heads this year. It's not easy to find a team with a 10-5 record that has only outscored their opponents by 21 points throughout the season. Also, Miami's been a beneficiary of one the NFL's easiest schedules, taking advantage of games against the entirety of the weak AFC West and NFC West divisions. Truthfully, if the Dolphins make the playoffs, they're denying a better team the opportunity.
Regardless, the Dolphins are going out on a mission for their final game of the year. The visit to the home of the Jets is the first game back in The Swamp for Pennington, the oft-embattled former Jets quarterback that was jettisoned by the team upon New York's acquisition of the legendary Brett Favre, whom one could argue has been outperformed by his predecessor this season. If Miami, certainly an underdog this week, can pull out the win, it will be a high point in Pennington's tumultuous career.
There's a lot at stake for Dolphins fans this Sunday, but if a loss happens, there won't be too many, if any, tears. If Miami supporters have learned anything this season, it's that losses go away with wins. That 1-15 season has more or less gone away in my mind, and a loss to the Jets will over time as well. Win or lose, this season will be tough to forget, simply because it's been easy to enjoy the ride.
[php snippet=1]