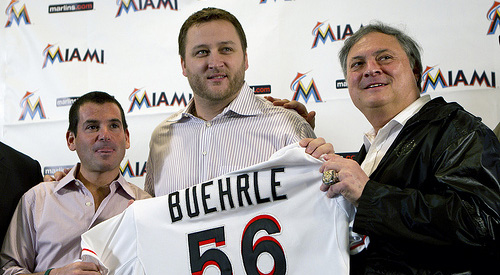 Miami Dice: How Jeffrey Loria abandoned the Expos in favor of the Marlins
December 22, 2011
Mention Jeffrey Loria before this year around Major League Baseball circles and the name could be met with groans, if not worse. The owner came into Major League Baseball with the Montreal Expos and essentially held the organization hostage until he was able to trade up to the Florida Marlins. The Marlins won the World Series in 2003 but Loria wasn't given much credit. He wasn't seen as an owner who put a lot of money into his team.
But all of that changed this winter. Loria is putting his money – and his reputation as a cheap owner – on the line. Of course, it helps that he has a new stadium opening in 2012 and the additional revenue stream that comes with a new ballpark. Loria allowed general manager Michael Hill to spend money.
It started right after the season when Loria went after Ozzie Guillen, who was parting ways with the Chicago White Sox. Guillen, a media-friendly, outspoken manager also falls in nicely with the Hispanic fan base that the Marlins hope to attract.
It continued this month where the Marlins spent $191 million on Jose Reyes, Heath Bell and Mark Buerhle. The acquisitions are anything but home runs in terms of baseball moves but they do accomplish two things: they improve the team and they show fans that ownership is serious about spending money.
When Loria took over the Expos, he allowed them to increase the payroll. However, it wasn't anywhere close to the extent he opened up his wallet this year. It certainly didn't help that the two major acquisitions the Expos had under Loria were Graeme Lloyd and Hideki Irabu.
[php snippet=1]
"Loria green-lit a bit of spending when he took over [in Montreal], but not enough to go after marquee players," said Jonah Keri of Grantland.com. "[Then general manager]Jim Beattie got the guys he could with a limited payroll. Now, with the new stadium in Miami, Mike Hill has a lot more freedom to spend on actual good players, and he's done so."
Big spending doesn't necessarily equate to big gains. However, it's hard to maintain success over years, but careful money management over a few poor seasons can really help a team get back on the right track.
"As much as they are taking on financial risk, we might be overestimating exactly how much risk. The Marlins have likely been pulling in profits for a number of seasons now and they still receive around $30-40 million per year in revenue sharing," said Steve Slowinski of SB Nation's DRay's Bay and Fangraphs. "Even if the Marlins end up in the red for a few seasons, it likely won't be by much, and Loria can surely handle it after running the Marlins with a ruthless fist for their early history."
Slowinski has written a lot about the state of Florida and the problem drawing fans that's shared by most professional sports teams in the area. The Marlins, with their new stadium, will most likely see a modest-to-big boost in attendance for at least the first five-to-seven years if you take into account similar new parks around baseball.
However, fans in Miami have seen two World Series winners dismantled shortly after winning. While both Keri and Slowinski say that the spending appears to be long-term for Loria and the Marlins this time, fans may be a little hesitant.
"Loria has pulled some shady stunts in the Miami area, and fans aren't about to forget that overnight," Slowinski said.  "They took the first steps toward reinventing the franchise this offseason, but the reality is that they're going to need to prove themselves over and over again in the coming years. At the first sign of a 'fire sale,' fans are going to flip out and you can throw all that goodwill out the window.
"It doesn't help that the Marlins essentially extorted the local government into paying for their new stadium and that they're now facing SEC investigations as a result. There are plenty of unsavory memories in Miami, and Loria simply won't be able to brush all of them under a rug."
The fact remains that the Marlins want to be competitive in a very tough NL East. With the Philadelphia Phillies getting older and the Atlanta Braves maybe a bit too young, the Marlins could conceivably come up the middle. Opinion around baseball differs from favorite to Wild Card to third place.
"I think the Marlins will have a chance to make the playoffs in 2012," Slowinski said. "With the extra Wild Card added to each league, the Marlins don't even have to be the second-best team in their division in order to be in the playoff race but they'll have a legit shot at it in 2012. And that's all you can ask for."
"From a competitive standpoint, I still don't see the Marlins as better than a third-place team," Keri countered.  "They really needed [Albert] Pujols to vault themselves into real contention. Signing [Prince] Fielder would certainly help, if that's a path they wanted to pursue."
The way to judge how the fan base is truly responding to this team is to watch how they attend games late in the season whether or not the team is contending. It may even tip Loria's hand for the future.
"I think the big test will be how the team finishes the season," Slowinski said.  "Will they compete for a playoff spot? Finish above .500? If they don't finish the season in contention, I think Loria will then be faced with an unenviable dilemma: does he jettison the team one year into his experiment, or does he make further investments."
Either way, all eyes will be on the Marlins as the season gets underway and that includes those of the fans in Miami. As Slowinski points out: "There's more of a buzz around the Marlins than there has been in years."
For once, Loria's done his part. Now it's up to everybody else.
[php snippet=1]