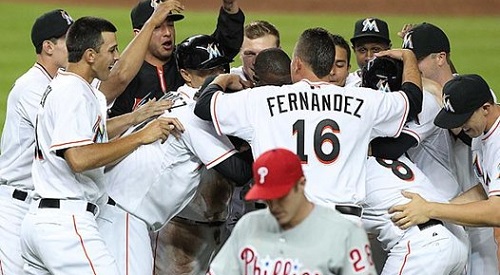 Jeffrey Loria and the Par 50
April 21, 2013
This is going to be an amazing year of baseball.
There's already been multiple near no-hitters, a three-homer game, an incredible Ben Revere catch and a heart-warming show of support for Boston from the rival Yankees. The Oakland Athletics are proving they're not a fluke. The Red Sox have built a team of likable characters who just happen to play really good baseball. Terry Francona got lost on his way to the ballpark. Bryce Harper is reminding everyone why he was the top prospect in baseball. There's two brothers playing together and it's kind of like the deal in school, when you had to pick the crappy brother or else the talented brother wouldn't play. And there's also been an all-in brawl that saw two players collide like ancient wrestlers.
Oh yes, this is going to be a good year.
But, let's not forget the little guys. Let's not forget the two teams vying to make history. The two teams locked in a fierce battle like cats fighting in the alleyway beneath your apartment.
The race for last place is coming down to two terrible teams. The malignant Miami Marlins, and the less-alliterate Houston Astros. Ladies and gentlemen, these are your contenders:
The underdog in this race, incredibly, is the recent league-hoppers, the Astros. So far though, they have amassed a surprising four wins. It's unlikely they maintain this breakneck pace. The law of averages dictates they must experience a fall after such a hot start.
[php snippet=1]
Their offence, if you remove the first 20 teams from the league, is the best in the business. They're sporting a .699 OPS. Their star second baseman, Jose Altuve is hitting .365 with a .412 OBP. He could be good enough to start for other teams. The rest of the players though, not so much. In the NBA you have the Kwame Brown sweepstakes, where one team is unfortunate enough to lose out and be forced to sign him. In baseball, it's looking like Carlos Pena is trying to carve out a similar niche for himself. He flashes just enough of one skill (homers) to force teams into signing him. And last year his ability to perform that one skill declined significantly. His .157 iso rated lower than Coco Crisp's, and Crisp didn't strike out 30% of the time. If anything, it seemed like Houston signed Pena just so they'd have someone to watch line drives sail past, because while he is a serviceable defender, he can't stop the batting practice the Houston Astros' pitching staff dishes out.
The team era is 5.00, they've given up 57 walks, and their starters have provided only four quality starts, all ranking third worst in the majors. They're the second worst team at striking hitters out with 79 (compared to Boston's 141).  The one pitcher on their team you may have heard of is Bud Norris, and that's probably just because he started opening day and has one of the most American names in history. This is a pitching staff that would need a top three offence to reach anything close to a .500 win plateau, and that's just not happening. And with no help coming from the minors – their top prospects are positional players, and the pitching prospects they have are still years away (although Jarred Cosart could see a cup of coffee soon) – you can bet that this team will be making a strong push for the bottom of that table. Any other year and they'd have the woodware wrapped up now, but one other team is doing losing even better.
The favourites, the prodigies, and your all-awful team, the Miami Marlins.
If the Astros were bad last year, we're going to need new adjectives to describe this year's Miami Marlins. In the offseason they basically did the equivalent of loading your brother's save game of MLB: The Show and trading away all of his players. Leaving only Giancarlo Stanton because you got tired and went to bed. Jeffrey Loria doesn't understand baseball. He's always been an avid golfer, and no one's bothered to tell him that in baseball you want a high number, not a low one. He thinks he's got the team to win the masters this year, and unfortunately for the rest of us, he's going to smash club records.
You don't need to look at fangraphs, or baseball-reference, or ESPN to understand how bad this offense will be. This is its basic function: you have eight cardboard cut-outs of players, and you make the bat boy carry them out to the batter's box, and then when they get struck out he retrieves them and stands them in the dugout. After the game he can stack them on top of each other and store them in the broom cupboard. For away games, simply post the cardboard cut-outs, saving on plane fare. The one player who is not a cut-out is forced to watch unhittable balls and eventually becomes so frustrated that he swings at everything and pretends it's Loria's face.
They rank dead last in the following categories: home runs, total bases, RBIs, batting average, OBP, SLG, and startlingly, OPS. Their best offensive player is never going to see anything close to a hit. Bud Selig should legalize steroids just for Mike Stanton, otherwise he is about to experience the most miserable season of any hitter, ever. His only real chance will be to steal an opposing team's uniform and get at-bats against own team.
There's a clear favourite in this race to suck. The Marlins will be lucky to win 50 games. But if you're in the mood for an underdog story, why not jump on the Houston bandwagon?
This is going to be an amazing year for baseball. And in September, when you're all watching the playoff races, I'll be supporting mediocrity as the two of the best fight to be the worst.
[php snippet=1]