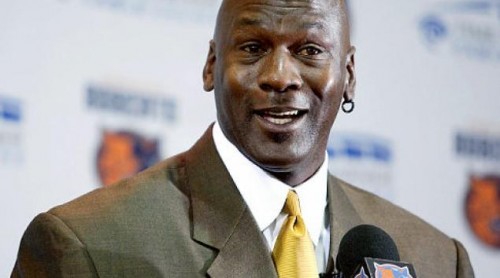 Michael Jordan Comeback Watch: Charlotte Edition
January 30, 2013
The Michael Jordan comeback we never knew we were waiting for is here.
Sort of?
At least he's back in fantasy.
Although it's almost entirely impossible for nearly half a dozen legal reasons, there's been talk that the greatest guard to ever grace the game of basketball may make a brief cameo appearance for his Charlotte Bobcats later this year.
Why? Well, don't ask, it's MJ, nobody's ever been able to explain how the man does the things he does. How does this seemingly insane rumor have any semblance of traction? That's a more reasonable inquiry, and one we'll entertain.
During his Hall of Fame speech, Jordan suggested that we might all see him lacing 'em up at 50 years old. That was over three years ago and almost unanimously interpreted as a joke. (It's at 22:42 in the video, for those so inclined).
[php snippet=1]
Fast forward to today and the man's half-century birthday is right around the corner. On Feb. 17, 2013, Jordan will hit the five decade mark and basketball fans the world over will sprout a single grey hair in his honor. Although it would be poetic if the Bobcats played a game on that special day though, they do not.
The first game that Charlotte plays following Jordan's 50th birthday is on Feb. 19 – which for Sports.ws users is Game 53. As per standard scheduling procedures on the site, the deadline for that game falls on Feb. 10.
While I for one – an admitted optimist and easy-to-please buffoon (see my thoughts on the last Michael Jordan return) – would happily welcome Jordan back to the court regardless of how old, hobbled or out of place he might be, I'm justifiably skeptic.
First, now granted the article is dated Feb. 2011 (significant considering it's pre-lockout and pre-CBA changes), there are a number of administrative hangups that stand in the way of Michael Jordan, The Owner, briefly wearing the hat of Michael Jordan, The Player. Buzz kill, aside, the Sports Illustrated piece is a must-read for anybody who wants to intentionally ground themselves after getting too caught up on Cloud 23.
Typically we would take a good serious look at a situation like this, value the merit of the rumor and then move on accordingly. In this case, although I'm doubtful that anything exciting would come of it, it's not completely out of the question. It's not like the Charlotte Bobcats are in a playoff run and they could certainly use the publicity.
Maybe the Bobcats could switch their name to the Hornets and in the game that they unveil their new jerseys they'll start Michael Jordan. Who knows?
At 50 years old, and not 51 and not 49, an MJ return would be symbolic. He doesn't exactly look awful on the court either. Bismack Biyombo thinks he's still got game.
I'm skeptical, yes, but as any child of the 80s and 90s would be, I'm optimistic as well. Although I won't suggest that keeper league owners go out and drop anybody significant off their Sports.ws rosters, we'll be unlocking Michael Jordan in the database for the rest of the season. You can add him at your discretion.
With rumors already circulating in Europe thanks to a reputable writer mentioning the idea on a Spanish broadcast and buzz inevitably soon to head westward, who am I to squash the dreams of those holding onto hope that a third Michael Jordan comeback is in order?
Go ahead, hopeless dreamers, the NBA's most iconic individual should be waiting for you in your free agent pool.
[php snippet=1]