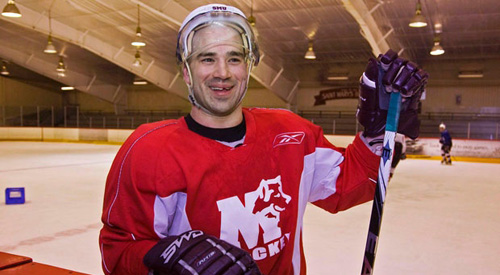 From riches to rags and back: The story of Mike Danton
August 21, 2012
Everybody loves a good comeback story. It's disappointing when a public figure such as an athlete, who spent years training to earn the admiration of the public eye, falls from grace.
But with corruption comes the chance for redemption, and former NHLer Mike Danton has the chance to close the door on his tumultuous past, no matter how many hurdles he has had to go over.
Danton, born Mike Jefferson, played 87 games for the New Jersey Devils and St. Louis Blues between 2000 and 2004, recording nine goals, 14 points and 182 penalty minutes, bringing value as a tenacious forechecker and grinding bottom-six forward. He was arrested shortly after the Blues were eliminated from the playoffs in 2004 for conspiracy to commit murder and spent over five years in prison. It was originally believed he was trying to kill Mike Frost, his agent, who denied the claim, but Danton later admitted the target was his father, Steve Jefferson.
Since his release in September 2009, Danton has gone about correcting his life, including enrolling in Saint Mary's University in Halifax, Nova Scotia, where he played on the varsity hockey team and maintained a 3.9 GPA during his time there. He returned to the professional game in Europe last season, but his dream of making it back to the NHL stalled recently.
He was denied entry to England where he was planning on joining the Coventry Blaze of the Elite Ice Hockey League, the same league that contains the Belfast Giants who also had Theo Fleury on their roster, at a time when he too was trying to turn his life around during the 2005-06 season.
In a recent story on CBS Sports, Brian Stubits reported how the UK Border Agency denied Stanton's application for a visa. Discussions between Danton, the team and immigrant experts have led the Blaze to submit a second application for reconsideration. 
[php snippet=1]
An update on the Blaze's website explained why Danton deserves a visa and how his hard working nature and NHL experience would make him a valuable asset to the team:
Mike would be a huge asset both on and off the ice for the club. He is an outstanding example of an individual who has turned his life around in recent years. He maintained a near perfect grade point average at University. He has spoken to several thousand children about making good decisions in their lives and not giving up on second chances. He has won awards for his community involvement. He has started his own family… As someone who has played at the highest level of the sport in the world, he would be a player that junior players could look up to and learn from.
The hard work and effort put into school and helping the community was documented in an extraordinary piece in Sports Illustrated by L. Jon Wertheim called "I'm Glad I Went to Prison," published February 28, 2011. Looking into his personal life at Saint Mary's, Wertheim found how Danton put all his energy and focus into school and hockey, staying in the library until 11 p.m. every night when he wasn't at hockey practice. Of course, he had roadblocks just trying to get to that point, something he was able to overcome with the help of the Saint Mary's Huskies' players. Trevor Steinburg, their coach since 1997, didn't take the notion that Danton wanted a shot to make the team seriously and initially dismissed the idea.
The team rallied around Danton and believed he deserved a shot to make the roster. Wertheim has more:
But many of the players had already spoken to Danton, who had been seeking them out in an effort to learn about the St. Mary's program. The captain at the time, forward Marc Rancourt, drafted a letter to Stienburg, signed by the entire team. It read in part, "We have all made mistakes. Perhaps not to the extent of his, but still serious enough that we had to ask for forgiveness or a second chance… We have a unique opportunity here to provide Mike with a second chance that he has not only earned, but is entitled to."
Danton eventually did join the team and helped them win their first national title in 2010.
Now it looks as though he needs support once again in order to receive his visa.
He already has the full support of the Blaze, who are being patient with the procedure despite the fact they may now have a short bench when their season starts on August 29 against the Cardiff Devils. The Blaze finished fifth in the 10-team league last year with a 32-20-1-1 record.
Danton needs to show persistence and continue keeping his nose to the grindstone. Whether or not he can possibly make it back to the NHL remains to be seen, but the EIHL is the next step in the process, and the Blaze have faith in him. As Stubits noted, his time in jail is only one obstacle to overcome. He's 31 and hasn't played NHL-caliber hockey in eight years.
Athletes have made comebacks after personal fallouts before. Michael Vick of the NFL's Philadelphia Eagles returned after two years off serving time due to his involvement in a dog fighting ring. Though there are still some that don't agree with the sentiment, many feel he deserved another chance. Danton is in a similar situation. It makes no difference that Vick is a rare superstar and Danton is a role player, a position that always has someone else lined up ready to take their shot.
Still, the NHL is a lot different than when he left, yet another obstacle standing in his way.
But Danton has been through a lot already. Five years and three months in jail is more adversity than most people face in a lifetime and he persevered and came out stronger than when he went in. He's a person that while incarcerated in Fort Dix, NJ, was given seven months of solitary confinement for abusing library privileges and has gained a new appreciation for knowledge over a decade after initially dropping out of school. He is still enrolled at Saint Mary's where he continues to work toward a double major in psychology and criminology.
Can Danton make it back to the NHL? There are a lot of obstacles impeding that dream, though it is certainly not impossible. As he waits for his visa and his road back to resume, he should know he has already achieved a great deal. Having the courage and willpower to straighten out his life after it spirals out of control the way it did took incredible strength, and he has gone from being the center of a major controversy to having the support of the Blaze, Huskies and just about everyone he has met since being released from prison.
Having already been through the mud, the rest of his journey will be a cakewalk. Even if he doesn't find a home in the NHL again, he has found peace and complacency in his life, which he probably couldn't even imagine a decade ago.
[php snippet=1]