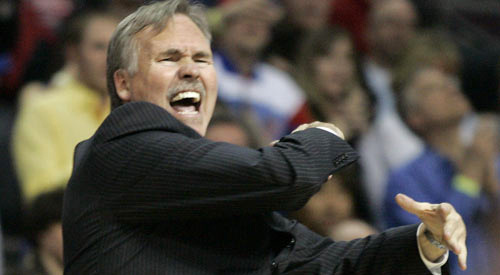 Madison Square Garden's European makeover
October 17, 2008
New York Knicks general manager Donnie Walsh has long been a fan of Mike D'Antoni. When Walsh was GM of the Indiana Pacers, he wanted to add D'Antoni to the team's coaching staff, only for then-Pacers' head coach Isaiah Thomas to block the move. It took eight years and a move to New York City, but Walsh finally got his man this summer when he hired D'Antoni to as head coach of the Knicks.
D'Antonis arrival in the Big Apple comes after just over four seasons with the Phoenix Suns where his record was 253-136. He was coach of the year in 2005 and twice took the Suns to the Western Conference Finals.
Despite what sounds like an impressive resume, his hiring is still a surprise move by Walsh because of the style of game D'Antoni employs. Hes an offense first coach who pays about as much attention to defense as he does the 24-second shot clock.
After years of chaos and turmoil at Madison Square Garden, the Knicks need a coach with a firm hand, someone who preaches defense and discipline first. Any basketball coach will tell you that a good offense is only good if it has a solid defense to back it up.
D'Antoni's Suns breezed through the regular season while he was in charge. In fact, in the four full seasons he was coach, his team never won less than 54 games during the regular season and had a winning percentage of .707. 
[php snippet=1]
Come playoff time though, it was a different story and when Phoenix was forced to play defense, D'Antoni either refused to, or simply didn't know how. His win percentage dipped to .510, showing that it's not how many games you win, but rather when you win them that counts.
To exemplify the point further, under D'Antoni the Suns were eliminated by the NBA's benchmark for defensive standards, the San Antonio Spurs, three times in four trips to the post-season. The only time San Antonio didnt knock Phoenix out was in 2006 when the two teams didn't face each other.
And so it was again last season when the teams met in the first round of the playoffs. The supposedly re-tooled Suns with Shaquille O'Neal, would finally be able to compete with teams like the Spurs at both ends of the court. The addition of O'Neal proved only to be a band-aid solution as his impact was minimal and the Spurs prevailed again, easily in five quick games. Ironically, it was the only time San Antonio defeated Phoenix in the playoffs, yet didn't go onto win the NBA crown.
D'Antoni just didn't get it; sure his offense was fun to watch, but defense always won out in the end.
There is no doubting that D'Antoni's offense made watching basketball fun. Phoenix's games were often high scoring contests, full of highlight reel dunks and alley oops, often times without a conscience – it was real life PlayStation.
With Steve Nash at the point, it was easier for D'Antoni to implement his so called 'Euro-style' game. Quick ball-movement and quick shots was the order of the day and if in doubt, just shoot the ball anyway.
Like two greyhounds chasing a hare, Nash didnt even need to look up to know that he had either Shawn Marion (for most of the time) or Amare Stoudemire racing down the court to finish the fast break.
With this New York Knicks roster, D'Antoni will find it difficult to play the same way he did in Phoenix. Instead of Nash, Marion and Stoudemire, he now has Chris Duhon looking up to see Zach Randolph or er, Eddy Curry. We know that Curry isn't the most agile big man in the league and has difficulty handling the ball at the best of times. His lofty 285-pound frame makes it hard for him just to make it from one end of the court to the other, let alone trying to finish a fast break. For Curry, playing D'Antoni's high speed offense will feel like hes being sent to the NBA's version of a training school for fat kids.
D'Antoni might be able to employ his fast-paced game if he can bring in some players more suited to his style and hell be hoping Donnie Walsh can unload some of the ugly contracts the Knicks took on during the Isaiah Thomas shipwreck era.
This figures to be the toughest job of all though for Walsh. It's hard to see him being able to convince anyone to take on the $22 million remaining owed to Stephon Marbury, so barring a buy out, he's probably stuck with him. Zach Randolph has shown that he can score and rebound well enough, but his attitude and an apparent allergic reaction to playing defense makes the almost $50 million owed to him over the next three seasons a tough sell.
The most attractive asset the Knicks have on their roster is probably the one guy that both Walsh and D'Antoni want to keep most, Jamal Crawford. He was one of the few positives to come from the Knicks last season. Along with David Lee and the energetic Wilson Chandler, having this core means that its not all doom and gloom in Manhattan, but equally, there's no need to think the Knicks championship drought is about to end any time soon either.
So D'Antoni's high-speed, highway basketball descends on the horn-honking traffic jam of Manhattan. Despite what's gone on there in recent years, Madison Square Garden remains basketball's biggest stage.
The fans there have endured a lot of losing lately and are desperate to see a winning team again. If he can survive his first season, D'Antoni should at least bring excitement back to the Garden, but he won/t last long if the Knicks are scoring a lot, but ultimately still losing.
Mike D'Antoni has said before that he loves a challenge, so he's certainly got his wish in New York… but as the old saying goes, be careful what you wish for Mike.
[php snippet=1]