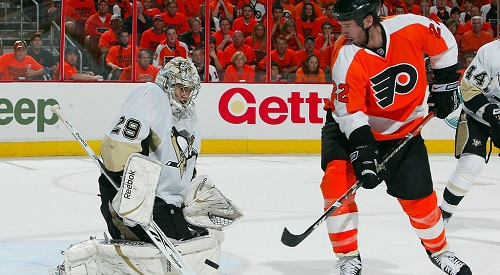 The Unheralded Career of Mike Knuble
August 8, 2013
He may not have been a household name, but Mike Knuble has been one of the top complementary players in the NHL for quite some time. Retirement is a likely possibility for him this year and while his eventual departure from the league won't garner the same press others like Teemu Selanne and Daniel Alfredsson will, he was still able to forge a fantastic career as one of the NHL's quietest warriors.
Drafted 76th in 1991 by Detroit, Knuble spent four years at the University of Michigan where he scored 103 goals in 157 games and reached the Frozen Four twice. After almost two full seasons with the American League's Adirondack Red Wings, Knuble made his debut in 1996-97 for Detroit in what was one of the most memorable games ever played. His first game saw the Red Wings and Avalanche rivalry erupt on March 26, 1997 as Darren McCarty got revenge on Claude Lemieux for his hit on Kris Draper in the Western Conference final the previous year. It was a wild affair that saw nine fights and the Wings edge out the Avalanche 6-5 in overtime with McCarty landing his second heavy blow of the night with the game winner. His first goal came in his sixth game, a 4-2 win in Toronto, against Felix Potvin.
[php snippet=1]
For the first six seasons of his career he recorded 50 goals and 103 points in 353 games. But a wrist injury to Sergei Samsonov early in the 2002-03 season opened the door for Knuble to play on Boston's top line with Joe Thornton and Glen Murray and he exploded for 30 goals and 59 points just after turning 30. After averaging 12 goals every 82 games in his 20s, he would record at least 21 in each of the next eight seasons, averaging 27 every 82 games.
Many superstars including Thornton, Peter Forsberg and Alex Ovechkin have benefitted from Knuble's willingness and ability to park himself in front of the opposing net, screening the goalie and banking home rebounds. He never complained or asked for merit even though he was instrumental in others' success including Murray and Simon Gagne joining the 40-goal club. A lot of their goals were scored because the netminder couldn't see past Knuble's 6'3″, 230-pound frame.
He still has that desire to play, but at 41 and with just 10 goals in 100 games the past two seasons and a desire to play near his home in East Grand Rapids, Michigan, his options are pretty limited. The Red Wings and Blackhawks are his two destinations of choice according to Ryan Dadoun of NBC Sports, but he knows they barely have enough cap room to keep the guys already on their respective rosters. Last year he wasn't signed until halfway through the season as he signed for his second stint in Philadelphia and while he enjoyed heading back to the City of Brotherly Love, it wasn't the same without his family around as he told Peter J. Wallner of mlive.com:
"I enjoyed it and glad I did it," he said of playing in Philadelphia for a second time in his career. "But it became apparent to me pretty fast to me that I didn't enjoy trying to play hockey without my family around and doing the long-distance thing. I didn't really care for that."
A bit unheralded, yes, but he enjoyed a fine career. He finished with 278 goals and 548 points in 1,068 games and won the Stanley Cup with the Wings in 1998 after playing 53 regular season and three playoff games for them in his first full season in the NHL. He also represented the United States in the 2006 Olympics and during four World Championships so he still has the value of experience even if his skating and scoring ability have declined in recent years.
He was also an incredible bargain for the Flyers and Capitals, earning $16.24 million between 2005-06 and 2011-12, an average of just over $2 million a year for a player who consistently brought grit, leadership and scoring ability every night. He never made an All-Star Game appearance, though many of his linemates did, and his value went without rightful recognition outside his own locker room, but he was among the best complementary linemates for a decade.
[php snippet=2]