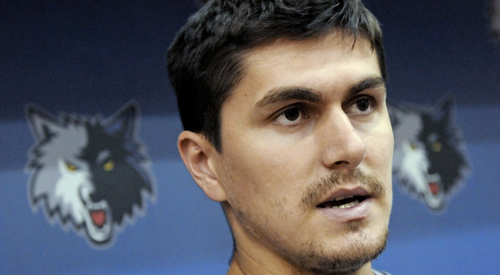 The Blessing and Curse of the Minnesota Moon
October 8, 2010
If you make a song about wolves, I'm going to listen. If you design a t-shirt with the silhouette of a wolf pack howling in the moonlight, I'm going to buy it. And I'll wear it too; I don't even care if it's uncomfortable. So naturally I've found myself drawn to a certain basketball franchise in Minnesota.
I remember the days when Kevin Garnett wasn't so obnoxious, I remember the days when Stephon Marbury wasn't crazy, and I certainly remember the days when Cherokee Parks just wasn't cut out to be a member of the Fun Police. Oh, and the classic pine tree jersey trim that inspired the invention of the word phat (true story).
I also remember when Kevin Garnett did become obnoxious. I remember Latrell Sprewell's food budget, Sam Cassell's visage and the completely meaningless and irrelevant contributions of fantasy All-Star Al Jefferson.
With so much promise abundant in the northern state, with the lakes and the landscapes, and the legends and lore, I always hoped for more out of the Minnesota Timberwolves. But sadly, they seldom delivered.
I had irrationally lofty expectations for Corey Brewer when he was drafted, Ramon Sessions when he signed, and David Kahn before he tried to go out and acquire every single point guard in the NBA, but all of that vanished like a runaway Christmas tree in the Laurentian Mixed Wood Forest, or Michael Olowakandi in the Laurentian Mixed Wood Forest.
[php snippet=1]
But then something miraculous happened. A metamorphosis with more 'phosis than Michael J. Fox and Taylor Lautner combined. Kevin Love started slamming out more double doubles than the hypothetical love child of Starbucks and Tim Horton's. Kurt Rambis gave Darko Milicic a forever home and Michael Beasley showed up this summer with a chip on his shoulder, a tackle box, and a Remington 770.
Slowly the team that everybody in the rest of the continental states forgot about (isn't Minnesota in Canada anyway?), is newsworthy again – fueled solely by desperation and revenge. Sure, they might not scratch the surface of the Western Conference playoff bubble in 2010-11, but if that day comes (when that day comes) the local townsmen will assuredly lock up their brides and polish their silver bullets.
But why just now, with the lunar cycle where it is, have the Timberwolves begun their transformation?
The 2010-11 Timberwolves are a renegade pack of outcasts with more question marks than periods, and that's what makes them the most intriguing team in the NBA. Led, I suppose, by elder statesman Jason Hart, the quirky bunch of rejects will rely more on the raw talent of Beasley and first round draft pick Wesley Johnson than the leadership of Hart and/or Luke Ridnour. The true wild cards, however, are a giant Serbian with a foul mouth and the fact that society went on without them.
After averaging 9.7 points, five rebounds and over a block per game as a limited starter with the Wolves at the end of last season, Milicic has something he hasn't had in a while: an opportunity. Not since his days of playing with the Orland Magic has he been relied on for anything more than making sure his chair on the sidelines doesn't fall over. Now, with a golden ticket and zero expectations he can start reclaiming the confidence that Larry Brown snatched so many years ago. (In this scenario, Larry Brown is a werewolf, Darko Milicic is a vulnerable widow and the untapped potential is a juicy looking infant).
Now, seven years into the passionate 25-year-old's career, we've seen him say nasty things about international referees, Hulk the Hogan out of his jersey in Memphis, and verbally spar with just about anyone standing in the way of him and what was once his promising future.
Now we can actually sit back and watch him do something about it on the basketball court. (In this scenario Darko Milicic is a 17-year-old werewolf looking to use a family curse to reverse years of unpopularity and high school basketball mediocrity).
If Milicic can put together a respectable season in the post, Love will take care of the rest. It's beautiful because that's all that's required this season to be deemed a success. The development of Johnson behind a hungry Beasley and the return-to-health of 2009 draft pick Jonny Flynn will simply be gravy on the cake of Minnesota basketball.
You might see them hunting in the shadows at night, far from the shine of the NBA's gaze, but when enough livestock goes missing and franchises start falling victim to the impassioned revenge of the Minnesota Timberwolves, people will start asking questions.
We haven't yet seen the true reign of the Minnesota Timberwolves, but when we do it will be something of legend. It might not be pretty, but someone will write a song about it.
[php snippet=1]