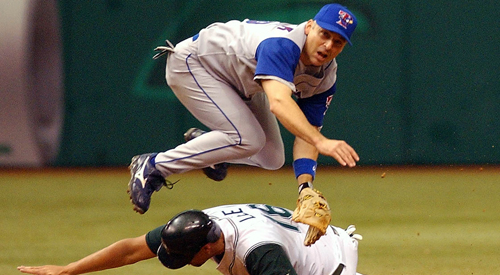 Perfect with the mitt: Baseball's forgotten streak
August 3, 2010
The game of baseball is a bit of a glitch in the world of sports.
For some peculiar reason, there is no game that values statistics quite to the same degree as baseball. In fact, one would be hard-pressed to discover an activity of any kind that competes with America's pastime on the statistic-loving level. There is just something about the surplus of calculations in the 200-year-old game that deeply intrigues fans, players and analysts.
While many of the game's stats are pure staples of the sport – runs batted in, earned run average and wins – others such as stolen base percentage, pick-offs and holds tend to fly under the radar in mainstream media and casual fan dialogue.
Within the massive array of statistics that have been collected by Major League Baseball since its inception are a slew of fascinating all-time streaks.
The most astounding streaks are held by Cal Ripken Jr. for his 2,632 consecutive games played, and Joe DiMaggio for his 56-game hit parade.
It goes without saying that these accomplishments garner considerable attention for all the right reasons.
But, it also begs the question: where is the love is for the try-hard fielder who, time after time, brings reliability to the diamond?
[php snippet=1]
There is a definite lack of appreciation for MLB role players who flinch at every foul ball, fight off streaming sun rays, battle the temptation to daydream and manage to block out heckling fans on a trusty basis and, most importantly, do it all for the greater good of their team.
These try-hards – or, in more indebted terms, working class gurus – are the fielders who refuse to take a pitch, at bat, inning or game for granted.
In some isolated cases, these grinders develop a knack to avoid faltering in the field for a string of games at a time.
Since 1957, managers and coaches have had the opportunity to vote on who deserves the annual Rawlings Gold Gloves. This initiative is an incredibly well-received and appropriate method to recognize the game's defensive stalwarts, yet, it does not bond the disconnect in the acknowledgment towards error-free players.
With that in mind, and with no discredit to Ripken, DiMaggio, or any other significant record holders for that matter, here is the All-Time Errorless Streak Team.
Simply put, they are a handful of fielders who merit acclaim for their commitments to consistency and flawlessness when away from the batter's box.
P – Roy Oswalt: 121 straight games without committing an error (zero Gold Gloves to his name)
C – Mike Redmond: 253 straight games (zero Gold Gloves to his name)
1B – Kevin Youkilis: 238 straight games (owner of one AL Gold Glove, with Red Sox in 2007)
2B – Placido Polanco: 186 straight games (owner of two AL Gold Gloves, both with Tigers in 2007, 2009)
3B – Jeff Cirillo, John Wehner: 99 straight games (zero Gold Gloves between the two of them)
SS – Mike Bordick: 110 straight games (zero Gold Gloves to his name)
OF – Darren Lewis: 369 straight games (owner of one NL Gold Glove, with Giants in 1994)
Of the streak demons there are three players who share four Gold Gloves – hardly an average to brag about considering their ability to be perfect at their position through, at the very least, 99 games in a row.
They say pitching wins championships, but without an army of devoted fielders behind the hurler, the possibility of a championship can quickly vanish.
Furthermore, pitchers themselves must develop a strong aptitude for fielding in order to set an example for their teammates behind them. There is nothing more discouraging to other fielders than a fielding error by a pitcher.
One-run losses in baseball are repeatedly mentioned as kryptonite to teams on the fringe of challenging for a pennant or wild card. With stellar fielding and minimal blunders, a ball club is setting themselves up to reduce their one-run losses substantially.
Moreover, one of the greatest components of the game of baseball is that each player's individual actions directly affect their teammates. This is why errors are such an integral part of day-to-day activity on the diamond.
Although the admiration towards these players is often prevalent in the form of high fives in their own clubhouses, there is little to no outreach by management to better compensate for their tireless efforts.
In fact, with the exception of Youkilis and Oswalt, who currently make $9.375 million and $15 million respectively, the All-Time Errorless Streak Team is filled with depth ball players who are or were by no means the sugar daddies of their big league teams. The other six players' premiere money-making seasons of their careers average out to approximately $3.5 million, which is remarkably low for a collection of record holders.
The pay discrepancy furthers the connection of the working class MLB player label to members of the All-Time Errorless Streak Team and the numerous other utility men out there who are dedicated to the leather more than the wood.
In the end, though, in true blue-collar spirit, it is not a far stretch to assume that their pride holds more value to them than their bank account.
[php snippet=1]