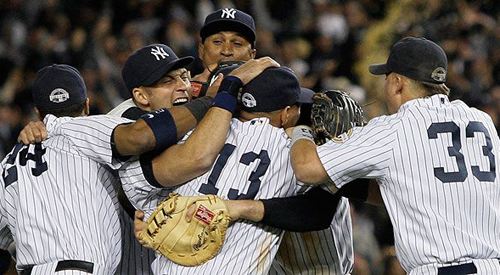 Most Valuable Memories: MLB 2008-09
November 11, 2009
The 2009 Major League Baseball season was filled with many notable moments.
Colorado's turnaround. Manny Ramirez's suspension. Mark Buehrle's perfect game. Like any year, there were the highs, the lows, the surprises and the disappointments.
We expressed sorrow for Nick Adenhart – a life that passed on way too soon. We said goodbye to the Metrodome and hello to Citi Field and the new Yankee Stadium. We cheered for our favourite teams, even when they lost or were eliminated.
Now that the final curtain has come down, it's time to reflect.
TheGoodPoint.com asked some of the best baseball bloggers and writers to share their most valuable memories of the concluded season. The responses we received were very diverse. But whether big or small, these memories remind us of our love for this sweet summer pastime.
[php snippet=1]
MLB 2009
Ian Hunter – BlueJayHunter.com
The one game that will stand out in my mind for years to come was the Blue Jays/Yankees game (more popularly known as Roy Halladay vs. A.J Burnett) back on May 12, 2009. It was one of those rare match-ups that not only lived up to the hype, but totally surpassed it. It was the kind of game that the hardcore Blue Jays fan watched and even the casual fan was glued to the television set. Doc was his usual dominant self and watching Burnett being taken off the mound was priceless. Just to rub it in a little more, Halladay pitched a complete game five-hitter.
Ed Chigliak – FederalBaseball.com
June 17, 2009. Yankee Stadium. New York, NY.
John Lannan holds a 3-1 lead through 8.1 innings pitched against a New York Yankees lineup that is admittedly at half-strength but determined nonetheless to avoid a loss against baseball's worst team, the lowly Washington Nationals. Lannan starts the ninth by giving up a solo shot to Johnny Damon to cut DC's 3-1 lead in half. The Nationals' left-hander then allows a one-out single by Mark Teixeira to chase him from the game in favor of right-handed closer Mike MacDougal. MacDougal walks A-Rod after Teixeira's pinch runner, Brett Gardner, steals second. It's 3-2 Nationals, two men on, MacDougal and his fastball against Robinson Cano…for…9…straight…pitches. Fastball after fastball, outside at 95, 96, 97; and on the ninth, a fastball that was low and outside, Cano grounds to short. Cristian Guzman to Anderson Hernandez to Nick Johnson. Double Play! Ballgame!…THAAAA NATIONALS WIN!! THHHHHHE Nationals…WIN!!!
Rob Boudreau – TheGoodPoint.com
My greatest memory of 2009 will be my watching the St. Louis Cardinals' starting rotation. Following with the rest of the baseball world, I saw teammates Adam Wainwright and Chris Carpenter battle hitters and each other in an effort to win the NL Cy Young Award. Meanwhile, I secretly hoped that Joel Pineiro, whom I've dubbed "the best third-best pitcher in baseball," would find something deep inside that would allow him to overtake St. Louis' two aces. Pineiro's 15 wins and 3.49 ERA was enough to put him at or near the top of most Major League starting rotations. He allowed more than four earned runs just four times and went at least five innings in all but one start all season. He went 3-0 in July, allowing five earned runs in the month. Not bad for a third starter. With all of this considered, pitching behind talents like Wainwright and Carpenter makes his season that much more insignificant. I'll be excited to watch this guy in 2010. If he can learn to strike out more batters, he'd be a great addition to any fantasy baseball lineup.
Chris Haft – MLB.com/sfgiants.com
I've been privileged to cover Major League Baseball for close to 20 years and if my career were to last another 20 years, I might never again see pitching so consistently good as what I saw from the Giants in 2009. Yet in a season that featured Randy Johnson's 300th victory and Jonathan Sanchez's no-hitter, the most transcendent pitching performance I witnessed was the Pedro Martinez-Tim Lincecum matchup in Philadelphia on Sept. 3. As a midweek regular-season game, it generated no hype. But had any hype surrounded this classic confrontation between the aging master and the talented wunderkind — and there should have been — the game would have been worth every bit of it. There's not enough room here to convey just how marvelous this happy collision of two singular pitchers was. Martinez and Lincecum combined to strike out 20, walk one and allow only nine hits while lasting seven innings apiece. Martinez, who shut down the Giants after yielding Eugenio Velez's leadoff homer, emerged triumphant in a 2-1 Phillies victory. Afterward, the Cy Young winners exchanged verbal bouquets. Martinez: "He reminds me a lot of me, only twice as better at the same (stage)." Lincecum: "I used him as an example of guys who had great careers and put up pretty phenomenal numbers considering their lack of size." On this night at Citizens Bank Park, nothing was lacking.
Patrick Smith – Bugs and Cranks
It was my buddy's birthday and I procured us seats behind the plate for the last-place Orioles/last-place Indians game. Nobody cared.
But in the top of the sixth, after lining a single to center off Orioles starter David Hernandez, Cleveland's Shin-Soo Choo thought he'd take off for second on a 1-2 pitch to Travis Hafner.
The left-handed Hafner swung and missed at a fastball down and in. Baltimore catcher Matt Wieters dug the pitch out and like a lizard snatching a fly on one of those weird Animal Planet shows, fired a perfect shot to shortstop Cesar Izturis to complete the double play.
My buddy and I looked at each other in total amazement. Sitting that close to Wieters, we saw him uncoil and display a startling ability. Wieters also homered that night, one of his already-trademark opposite field jobs.
By the end of the game, we hardly cared that Jim Johnson had blown the save and the O's lost again. We'd seen Matt Wieters and thought he might be the future.
Eric Rosenhek – The Good Point
They may have been the defending World Series champions, but there was one moment when the Philadelphia Phillies were made to look like the Bad News Bears.
The Phillies hosted the Toronto Blue Jays for an afternoon interleague match on June 18. In the third inning, Philadelphia's Joe Blanton issued a walk to Toronto shortstop Marco Scutaro. As he was approaching first base, the veteran infielder noticed that nobody was covering second. Scutaro touched first and then bolted for second. By the time Philly's middle infield – Jimmy Rollins and Chase Utley – realized what was happening, it was too late. Scutaro stole second on a walk.
This unique example of heads-up base running was a sharp reminder that one must always expect the unexpected.
Blake Murphy – The On Deck Circle
By the end of September, if your team isn't in the playoff hunt, most would find little reason to be following their team closely. However, baseball is a constant stream of self-validating reminders; a seemingly never-rending reel of highlights to remind us why we love the game. On September 29, with the Toronto Blue Jays sitting at 73-84 and well out of the AL East and Wild Card races, Adam Lind belted three home runs to help defeat the playoff-bound Boston Red Sox 8-7.
For both teams, the game meant little. For Jays fans, it went largely unnoticed. But for myself and a few other diehards, late-season heroics like Lind's were one final reminder that every spring brings a fresh start, a blank slate and a renewed hope. The three taters pushed Lind's season slash line to .305/.370/.562 with 35 HRs and 114 RBIs, making him one of the elite breakout stars of the season.
While the game meant nothing in terms of standings and was but a blip on a 180-day long radar screen for most, for me, it will stick out, at least until next season, as a reminder of why we follow the game so closely. Win or lose, 62-100 or 100-62, there is always next year.
[php snippet=1]