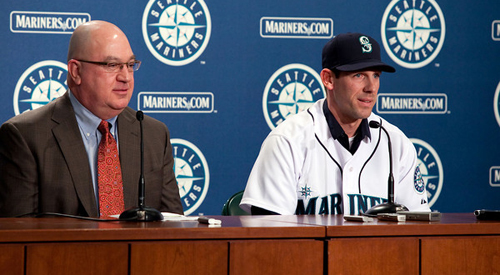 American League 2010 at a glance
April 1, 2010
When the calendar flips to March, not only is it time for spring training, but the baseball world is inundated with the nauseating clich that players are in the best shape of their lives.
Each year, dozens of players make this statement. Interestingly they're usually well past their prime, or look like Tony Gwynn post retirement. Nonetheless, spring training is a difficult time for baseball fans to gauge how their teams are looking with so many obscure names vying for roster spots.
The following is the first of a two-part series aimed at separating the 2010 MLB clubs that cut the fat in the offseason, from those that added in all the wrong places.
[php snippet=1]
First up, the American League:
In good shape:
Seattle Mariners
At a glance: The Mariners may just be the most improved team of both leagues. They boast a starting rotation with two legitimate studs in Cliff Lee and Felix Hernandez. The former joins the M's after a 4-team, nine-player deal with the Philadelphia Phillies that saw Roy Halladay moved as well. Hernandez is the owner of a new contract extension that will keep him in Seattle until 2014.
General Manager Jack Zduriencik also inked the versatile Chone Figgins – a legitimate leadoff man, and some pop in Casey Kotchman, Ryan Garko and Milton Bradley. These three should also provide protection for the aging Ken Griffey Jr. Gone are the overpaid, overrated and injury-prone players in third baseman Adrian Beltre and starter Carlos Silva.
To the Point:
Added: LHP Cliff Lee; 3B Chone Figgins; 1B Casey Kotchman; 1B Ryan Garko; OF Milton Bradley; RP Brandon League; RP Chad Cordero
Subtracted: RHP Carlos Silva; 3B Adrian Beltre
Re-signed: SS Jack Wilson; LHP Erik Bedard; RHP Felix Hernandez.
Verdict: AL West teams should look out. The Mariners have gone from punch line to contender in only a couple of years. Should they stay healthy, they're my favourite to take the division.
Boston Red Sox
At a glance: This year's Red Sox have a different feel than in years past. David Ortiz is clearly on the decline. Manny Ramirez has long since departed, and the offense isn't nearly as scary. That said, this lineup still boasts professional hitters in Victor Martinez, Mike Cameron, Dustin Pedroia, Kevin Youkilis and J.D. Drew, despite the fact nobody on the opening day roster hit 30 home runs last year.
The reason Boston should still be a force in the East is its pitching staff. The rotation of Josh Beckett, Jon Lester, John Lackey, Daisuke Matsuzaka and Clay Buchholz is a nightmare for opposing batters. Not to mention the talented bullpen anchored by Jonathan Papelbon and Hideki Okajima.
To the Point:
Added: RHP John Lackey; OF Mike Cameron; 3B Adrian Beltre; SS Marco Scutaro; 3B Bill Hall; OF Jeremy Hermida
Subtracted: OF Jason Bay; 1B Casey Kotchman
Verdict: This team will overcome the loss of Jason Bay to make the playoffs, thanks to stellar defense and dominant pitching. The Yankees should take the division, so expect Boston to battle for the wild Card spot.
New York Yankees
At a glance: The Bronx Bombers didn't do a massive overhaul of their rosterthey didn't need one. The defending champs let aging outfielders/dh's Johnny Damon and Hideki Matsui walk. Center fielder Curtis Granderson is a massive upgrade over the inconsistent Melky Cabrera. This squad is the perfect mix of experience (Derek Jeter, Alex Rodriguez, Jorge Posada, Mariano Rivera) and youth (Granderson, Mark Teixeira, Robinson Cano, Brett Gardner and Phil Hughes).
They didn't make a huge splash by landing Halladay or Lackey, but the addition of Javier Vazquez should pay dividends behind a rotation of C.C. Sabathia, AJ Burnett, Andy Pettitte and Joba Chamberlain.
To the Point:
Added: RHP Javier Vazquez; OF Curtis Granderson; 1B/DH Nick Johnson; OF Randy Winn
Subtracted: OF Johnny Damon; OF Hideki Matsui; OF Melky Cabrera; RHP Ian Kennedy; RHP Phil Coke; OF Austin Jackson
Re-signed: LHP Andy Pettitte
Verdict: The Yanks have no reason to believe they won't dominate again. Sure, they lost some clutch hitting in Damon and Matsui, but getting younger is the only way this team can sustain a dynasty once again.
Looking rough:
Kansas City Royals
At a glance: The Royals are an enigma. Last year it seemed they were on the right track with talented young pitching in Zack Greinke, Luke Hochevar, Joakim Soria and Kyle Davies, and budding sluggers Alex Gordon and Billy Butler. Fast-forward to 2010Gordon's out with a broken thumb, and the lineup features more league average veterans and has-beens than kids.
Having one or two guys who've been around the block is fine to lead the clubhouse and bring along the young guys, but the dead weight on this team taking playing time away from youngsters is astounding – especially considering their talented farm system.
Instead, Rick Ankiel, Jose Guillen, Jason Kendall, Yuniesky Betancourt, Scott Podsednik, Willie Bloomquist and Kyle Farnsworth are all projected to see significant action. Frankly I'm surprised they didn't lure back George Brett. I guess the new class will have to wait yet another year.
To the Point:
Added: LHP Noel Arguelles; C Jason Kendall; OF Scott Podsednik; OF Brian Anderson
Subtracted: 3B Mark Teahen; 1B Mike Jacobs; C Miguel Olivo; C John Buck; OF Coco Crisp; SS Tony Pena Jr. RHP Jamey Wright; RHP Sidney Ponson
Verdict: By no means was this offseason a disaster for the Royals, but I fundamentally disagree with the signing of this many veterans. Investing $6 million in Jason Kendall is dumbfounding. He hasn't been effective since his 2004 season with the Pirates.
Los Angeles Angels of Anaheim
At a glance: I've always admired the way the Angels handle their business as an organization. They continually put a competitive product on the field, and are extremely fan-friendly. Unfortunately, their fans won't be thrilled with this year's edition.
Manager Mike Scioscia says 2010 features "the deepest rotation in my time here," a total of 11 years. This may be true, but a deep rotation doesn't necessarily equal playoff success. Angels teams of years past have been successful in large part thanks to innings-eaters at the front of the rotation like Bartolo Colon, Jarrod Washburn and most recently John Lackey. With Lackey gone, the erratic Ervin Santana and Scott Kazmir will have to step up in a big way behind No. 1 Jared Weaver.
To the Point:
Added: RHP Joel Pineiro, OF Hideki Matsui, RHP Fernando Rodney
Subtracted: RHP John Lackey, 3B Chone Figgins, OF Vlad Guerrero
Verdict: The Angels should still be competitive in the West this year, but they'd be the first ones to tell you that's not the goal. Unfortunately for them, it seems for the first time in a long time, the Mariners will sit atop the division come season's end.
Coming soon: A look at the winners and losers in the National League.
[php snippet=1]