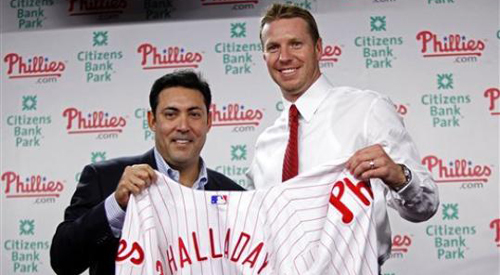 National League 2010 at a glance
April 5, 2010
When the calendar flips to March, not only is it time for spring training, but the baseball world is inundated with the nauseating clich that players are in the best shape of their lives.
Each year, dozens of players make this statement. Interestingly they're usually well past their prime, or look like Tony Gwynn post retirement. Nonetheless, spring training is a difficult time for baseball fans to gauge how their teams are looking with so many obscure names vying for roster spots.
The following is the second of a two part series aimed at separating the 2010 MLB clubs that cut the fat in the offseason, from those that added in all the wrong places.
Now it's time for a look at the senior circuit.
[php snippet=1]
In good shape:
Washington Nationals
At a glance: You might double take at the mention of the Nationals and winners, in the same breath, but the team that can't spell its name correctly managed to pull off a pretty decent offseason. The only way to shed the 'Natinals' moniker is through a complete overhaul of the organizationand that's exactly what we're witnessing. General Manager Jim Bowden's resignation and the firing of Manager Manny Acta has given new G.M. Mike Rizzo free reign to revamp the former Montreal franchise.
Washington has gotten ripped heavilyand perhaps unfairly– this offseason, in part because of a depleted farm system, but also for how money was allocated to free agents. Veterans Ivan Rodriguez and Jason Marquis top their list of free agent acquisitions, both collecting two year deals at a cool $21 million combined. Pudge will get $3 million a season while providing solid defense and a much needed veteran presence for the youngsters.
Marquis hauled in $15 million over the same span, and while that's a lot for a small-market franchise, keep this in mind: he's one of four pitchers in baseball to win at least 11 games and toss 167 innings in each of the last six years.
Rizzo also showed some creativity by nabbing closer Matt Capps off the non-tender scrap heap. The 26-year old scuffled last year with a 5.80 era in Pittsburgh, but 2009 appears to be a blip on his career 3.61 era. If he can get back to his old form, he'll be a steal at $3.5 million. The new G.M. also was wise to take a flier on Yankee castoff Chien-Ming Wang, who provides low-risk, high-reward rotation depth.
To the point:
Added: SP Jason Marquis; C Ivan Rodriguez; RP Matt Capps; SP Chien-Ming Wang; 2B Adam Kennedy; SP Scott Olsen; RP Tyler Walker; RP Brian Bruney
Subtracted: Mike MacDougal; C Josh Bard; OF Austin Kearns; IF Alex Cintron; OF Jorge Padilla; RP Saul Rivera; RP Julian Tavarez; RP Jorge Sosa
Verdict: Rizzo clearly understands he has to have some recognizable names to get Washington fans to the ballpark. Sure, a postseason birth is a pipe dream at this point, but if this club stays the course and builds the farm system without getting too veteran-happy (see: KC Royals), they could be a real force in a few years time. Something to watch in 2010 will be the debut of phenom starter Stephen Strasburg, owner of a $15.5 million contract.
Philadelphia Phillies
At a glance: The conversation with the Phillies begins and ends with Roy Halladay. Arguably the best pitcher in baseball, his veteran leadership is already rubbing off on younger teammates like Kyle Kendrick. Doc made mince meat out of the toughest division in baseball; imagine what he'll do when he moves over to the NL. While Cliff Lee was dominant for Philly, he wasn't the guy they wanted from the get go. Instead, they were able to lock up Halladay for three years and $60 million.
Beyond Doc, Placido Polanco goes back to the Phillies for the first time since 2005. This is a guy I always thought would win a batting title, and while he hasn't, his approach at the plate is among the best in the game. He works the count, gets on base, and sets the table for those around him.
To the point:
Added: 3B Placido Polanco; RP Danys Bayez; C Brian Schneider; 1B Ross Gload; SP Jose Contreras; IF Juan Castro; SP Roy Halladay; P Phillippe Aumont; P J.C. Ramirez; OF Tyson Gillies
Subtracted: SP Cliff Lee; SP Kyle Drabek; RP Chan Ho Park, 3B Pedro Feliz, SP Brett Myers, SP Pedro Martinez, RP Scott Eyre, SP Rodrigo Lopez, C Paul Bako, IF Eric Bruntlett, OF/1B Matt Stairs, IF Miguel Cairo
Verdict: The Phillies are on the verge of putting together a dynasty. Their nucleus of Ryan Howard, Chase Utley and Jimmy Rollins remains intact, and gives them an infield most fantasy team owners would dream for. Mix in a talented rotation anchored by arguably the best in the game, and a deep bullpen and you've got a team that on paper belongs in the fall classic. The scariest part of the Phillies offseason: they were able to get even better while replenishing the farm system with Aumont and Gillies.
Honorable mention:
Matt Stairs: The ageless wonder not only is continuing his career, but he's dropped nearly 40 pounds and three pant sizes in only one offseason. The veteran pinch-hitter credits the Nutrisystem diet for him cracking the Padres roster. While I'm happy I'll get to see him play one more year, I have to admit, I'll miss his waddle.
Looking Rough:
New York Mets
At a glance: If it wasn't before, now it's officialthe New York Mets are a franchise in disarray. They spent boatloads of money last offseason to reload for a playoff push, a instead finished in fourth place with a 70-92 record. In fairness, 2009 was a nightmare with injuries to nearly all of their key contributors; but this offseason has only made things worse. I liken it to fighting a fire with gasoline. At the end of last year it was clear their needs were at left field, first base, catcher, the rotation, and the bullpen. Come April and all they really did was add Jason Baya slugger who's at the back end of his prime.
Beyond ace Johan Santana, the entire rotation is a question mark, and the bullpen certainly hasn't improved after set-up man J.J. Putz was sent packing. Perhaps the worst move was adding Gary Matthews Jr. and his $21.5 million from the Angels. They'd be better off with his father, former hitting coach Gary Matthews Sr., and Sarge is over 50!
To the point:
Added: OF Jason Bay; RP Ryota Igarashi; 1B Fernando Tatis; IF Alex Cora; C Henry Blanco; RP Kelvim Escobar; C Chris Coste; C Rod Barajas; RP Jay Marshall; OF Gary Matthews Jr.; 1B Mike Jacobs; OF Frank Catalanotto
Subtracted: RP Brian Stokes; OF Gary Sheffield; C Brian Schneider; OF Jeremy Reed; OF Cory Sullivan; 1B Carlos Delgado; IF Wilson Valdez; RP Brian Stokes; RP Tim Redding; RP J.J. Putz; RP Ken Takahashi; RP Lance Broadway
Verdict: There's no excuse for a team with a payroll consistently as high as the Mets' to not properly address its needs from year-to-year. New York simply doesn't have enough pitching to go deep into the playoffs.
It's always sad to see money wasted, but it might be time for them to pull the shute and start a full-blown rebuild, before cornerstones David Wright and Jose Reyes join Matthews Sr. in the broadcast booth.
San Francisco Giants
At a glance: The Giants have a pitching staff most general managers would kill for with ace Tim Lincecum always a Cy Young threat, and Matt Cain and Barry Zito right behind him. The problem for the Giants over the last several seasons has been a lack of offense. Aaron Rowand has been an absolute bust since coming over from Philadelphia two years ago, and too much pressure is being put on aging catcher Bengie Molina to carry the load offensively. The 'Kung Fu Panda', third baseman Pablo Sandoval has turned into a solid young slugger in the middle of the order, and managed to get on base at a .387 clip last season.
To the point:
Added: IF/OF Mark DeRosa; IF Juan Uribe; 2B Freddy Sanchez; 1B Aubrey Huff
Resigned: C Bengie Molina
Subtracted: OF Randy Winn; SP Randy Johnson; IF Rich Aurilia; RB Bob Howry; RP Justin Miller; SP Brad Penny; SS Brian Bocock; RP Merkin Valdez; SP Noah Lowry
Verdict: GM Brian Sabean spent $34.75 million on five league average players, with a lineup that's simply lacking the power to compliment the pitching staff. In the competitive NL West division, that's not enough to put a team over the hump. It'd be tough for the Giants to match their 88-win total from last season, meaning they'll be on the outside looking in come October.
[php snippet=1]