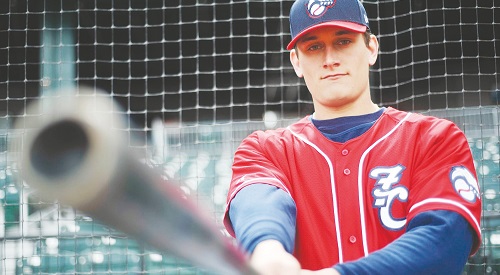 The Peculiar Case of MLB Prospect Development
May 24, 2013
A thoughtful minor league broadcaster and friend shared a theory this past week on why Major League teams don't work as hard to develop talent in American inner-city communities as they do in the Dominican Republic or Venezuela. Paraphrasing:
Let's say you're the Athletics. You pour a ton of money into inner-city Oakland, putting together a true baseball academy, running clinics, fostering the same sort of ballyhooed, high-pressure competition that exists on AAU basketball courts. You convince brilliant talents to turn their attentions toward baseball, promoting their highlight reels and putting their name in the same stratosphere as the top high school recruits in football and basketball, except that they'll be able to turn pro even earlier. It works. The best young baseball players in the country can now be found on the diamonds at the Oakland Baseball Academy. Yet despite the resources and energy you have poured into their development, these promising prospects are not guaranteed to be Athletics. Their fortunes reside in the June draft – and they might well turn into future Angels, Rangers, Mariners and Astros instead.
[php snippet=1]
So why even bother?  Spend your resources on international development instead. Build your baseball academy in a country like Venezuela, not yet included in the draft.
Or, as my friend says, find another country, uncrowded by Major League attention, and put in the time and energy and resources there. Take a decade, be patient, and reap the benefits. If tiny Curacao could produce Andruw Jones, Jair Jurrjens, Kenley Jansen, Andrelton Simmons and Jurickson Profar, who knows what you can cultivate elsewhere?
Because of the presence of the draft, Major League teams don't work actively to develop homegrown talent through academies (as do top European soccer clubs, for instance). The question of domestic player growth and development consequently falls upon others: select teams, travel teams, outstanding local coaches, highly-paid private coaches, Perfect Game USA, and much more. Any parents interested in their sons receiving optimal competition and maximum attention must spend money and time and, often, gallons of gas driving to showcase after showcase, tournament after tournament.
The result separates the haves from the have-nots.
It's often bemoaned that kids don't play baseball in the streets and fields from dawn till dusk anymore – but many a boy who plays in the streets or field from dawn till dusk is going to lose, and quickly, against a regular ballplayer on a select traveling team.
Often the have-nots' only liability is a greater priority toward schoolwork, a smaller paycheck, or perhaps a residence in an area without top-notch baseball competition and the scouting that comes with it. John Jaso, now a capable Major Leaguer, told me he was never scouted in northern Californian, causing him to play collegiately in southern California in order to catch someone's eye. New Hampshire native Kevin Nolan, now a productive Minor Leaguer, played collegiately at Winthrop University in South Carolina so that someone, anyone, would give him a look.
We are, therefore, losing the baseball participation and potential stardom of not just youths from inner-city Oakland, but from any neglected neighborhood, whether suburb or countryside.
The MLB teams themselves do at times try to avoid this loss: Each draft features its share of raw, toolsy city or country-based projects who do not yet have the most experience or who have not faced the toughest competition  (Basketball teams, similarly, will draft based upon their hope for a player's projectability rather than his current all-around polish. Football teams, meanwhile, will sometimes select players from the tiniest schools.)
Back to the original point:
We should do not away with the draft simply because it is stopping the development of top-notch domestic talent, but we should realize that the current system is not exactly helping baseball's cause in attempting to draw youngsters away from playing basketball or football.
If we wish baseball to reach the inner-city or the far-rural farmland as it once did, then real, far-reaching steps need to be taken.
Or, you know, we could just start up an Oakland Athletics Baseball Academy in Cape Verde instead.
That has a nice ring to it.
[php snippet=1]