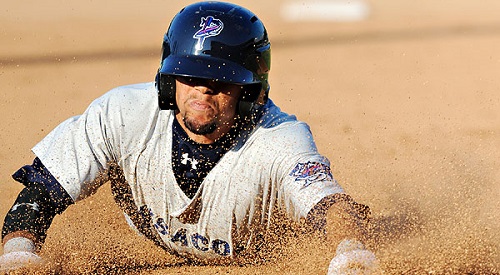 MLB reality show proposals revealed
February 28, 2013
Congratulations to Josh Booty, former Marlins super-prospect, LSU quarterback, and Season 1 champion of "The Next Knuckler," an MLB Network reality show that pitted hopefuls (including Doug Flutie) against one another in the pursuit of learning to toss the knuckleball and earning a spring training audition with the Arizona Diamondbacks.
The show was compelling, fun, and, well – just watch this mostly-unrelated video. That's R.A. Dickey throwing his own flutterer in Blue Jays camp. Aside from, say, a helpless catcher or a flummoxed batter, who can dislike a knuckleballer?
To my recollection, there was only one other baseball reality TV show that compares to "The Next Knuckler", though you might know otherwise. It was a 2008 competition in India, presenting a prize of $100,000 and a baseball tryout to the entrant who could fire the hottest fastball. Winner Rinku Singh and runner-up Dinesh Patel were brought to the United States, warmed up under the watchful eye of scouts, and eventually inked contracts with the intrigued Pittsburgh Pirates. Patel was released after 2010 but Singh remains in the Pirates' system, working a solid campaign in 2012 for Class-A West Virginia.
To my mind, why stop here?
Presenting the following:
[php snippet=1]
Catching Up With Billy Hamilton: 2012 featured the ascendance of Mike Trout and Bryce Harper. 2013 may not have a super-prospect in the wings, but it does have the fastest man in the game. Hamilton set a Minor League record last year with 155 stolen bases. Now the Cincinnati Reds' phenom sets his thieving sights upon the tempting bags at the Triple-A level. Who can nab the game's most daring thief… and how soon will he break into the Show?
Face the Boston Press: Watch with bated breath to see which Boston Red Sox managerial candidate can set the proper clubhouse tone, ride out Big Papi's slumps and tantrums, laugh off Dan Shaugnessy, rediscover John Lackey's smile, win back the love of Red Sox nation (not just the posers who jumped on board in 2007), and avoid getting shoved under the bus by anonymous sources speaking with the Boston Globe and Boston Herald.
Build it By the Bay: Do you have an idea for the next great Major League ballpark? Can you top Tropicana Field? Take the floor before Stuart Sternberg, Matthew Silverman, and the Tampa Bay Rays' brass, and make your pitch! Retractable roofs, high-definition videoboards, top-of-the-line cuisine – it's all yours for the choosing. Heck, offer your own interpretation of the Marlins' nightclub, swimming pool, and gaudy, eye-grabbing animatronic home run ridiculousness while you're at it. Sadly, the twist ending is one Tampa knows all too well. No matter how amazing the design, they're not leaving the Trop anytime soon.
America's Next Top Spitballer: Self-explanatory, I should think, but with the added bonus of hologram Burleigh Grimes serving as guest mentor during May sweeps.
Armed and Ready: Follow six high school blue-chip pitchers in the lead-up to June Draft, delivering exorbitant signing bonus requests to any interested teams, waiting excitedly for their names to be called, stepping aside anxiously to let their parents/agents fight for more money on their behalf, and experiencing culture shock and aching homesickness after getting assigned to the Appalachian League.
Hawk Calls 'Em As He Sees 'Em: Join Hawk Harrelson for a rollercoaster ride of umpire evaluation! Life is good when the White Sox are winning, but just one wrong call's enough to leave Hawk Harrelson irate and sputtering. Can the men in blue survive a season under Hawk's watchful eye, or will they all receive the thumb?
And lastly…
The Deadline: For the disappointing Los Angeles Dodgers, everyone's on the block if things don't turn around fast. In Miami, Giancarlo Stanton might very well be on the move, but where's he going? And in the Baltimore Orioles' minor leagues, the farmhands all know that the O's are actively searching for a bat and an arm in order to make a Wild Card push, making them all expendable. Whose locker is going to need emptying tomorrow? Find out, as the trade deadline approaches! (Note that if the ratings are good, this easily spins off into The Waiver Wire.)
[php snippet=1]