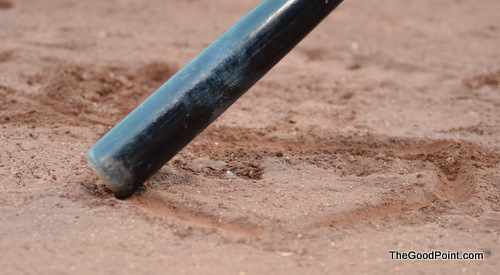 MLB's history of sabotage featuring the South Bend Silver Hawks
August 18, 2011
If you believe that the direction your life takes is not really of your own choosing, and that somewhere there is a puppet-master pulling the strings and determining your fortunes, you may be delusional and paranoid.
Or you may simply be connected with the minor leagues.
The South Bend Silver Hawks' Zach Walters went into a July 30th game with 109 base hits. It was an impressive total, just behind league leader Nick Castellanos of West Michigan; the Detroit Tigers' first-round pick from a year earlier.
Walters, in contrast, was a ninth-round pick in 2010 and the very first position player selected by the Arizona Diamondback in that draft. He was a traveling sort with a unique personality, born in Wyoming, moved to Nevada and attended the University of San Diego.
On the field, Walters was a perennial star, named first team All-State in his sophomore and junior years at Cimarron Memorial High School. A shortstop in college, he played short, third base and second base for South Bend, earning a nod to the Midwest League Eastern Division All-Star Team.
As it so happened, West Michigan was in South Bend on July 30. By the time the day was through, Castellanos had added impressively to his ledger, cracking three hits in five at-bats, two of them key doubles, as the Whitecaps downed the Hawks by a 6-4 decision.
Walters did not play, watching the game from the dugout instead. He was with his South Bend teammates, but he was no longer a Silver Hawk.
[php snippet=1]
Hours earlier, at around 4:30 p.m., South Bend broadcaster (and one-man media-department)Owen Serey had received a text from venerable Hawks manager Mark Haley: Walters was scratched from the starting lineup.
The word broke not long after, coming in from Fox Sports at 5 p.m.: The Arizona Diamondbacks had exchanged Zach Walters for Washington Nationals starting pitcher Jason Marquis.
If things felt abrupt from Walters' side, it was even more unexpected for the man he was dealt for.
"About a half-hour later," wrote The Washington Post's Adam Kilgore in an article about the swap, "Marquis sat on a stool in front of his locker and told teammates, 'They haven't told me anything.' Soon, they did, and after a year and a half with Washington, Marquis readied to fly into a pennant race."
It was a complimentary deal for Walters. A Single-A player dealt for a Major Leaguer, straight up. Still, in the middle of a breakthrough season, a young switch-hitting infielder was plucked abruptly from the Midwest and deposited in the Washington, D.C. metropolitan area, and was now expected to adjust to a new coaching staff, clubhouse, and living situation right as the season reached its final weeks.
On paper, the trade worked out for both Major League teams. The Diamondbacks received the veteran starter they had been looking for in their determination to dethrone the San Francisco Giants in the NL West. The Nationals dumped the remainder of Marquis' salary and received a prospect they regarded well in return.
As for the South Bend Silver Hawks, they received nothing for their star.
As for that hopeful run they had put together toward a potential Midwest League playoff spot? It faded rapidly and any last vestiges of optimism disappeared into the newly-created void in the middle of their lineup. The Hawks struggled to score runs and skidded down the standings.
A simple question: What is the purpose of a minor league team's existence?
The simple answer: To produce players skilled enough to either succeed directly for the parent club or be traded for other players to help the Major League team succeed.
This is true, yes, but there's more.
Baseball is far beyond the Major Leagues. Baseball is Little League, American Legion ball, high school, College World Series, summer wood bat leagues, Independent Leagues, Ponce de Leon leagues — each one of them locally oriented and regionally supported; the sporting version of a farmer's market.
There were baseball games played decades before a Major League was ever formed. There were organized Minor Leagues far before there was any thought of a Major League farm system. In the 1800s, tiny leagues sprang up across the continent, growing or dying, flourishing or bankrupting, all before there was any notion of an organizational ladder leading from rookie-ball to Short-Season to Single-A to A-Advanced to Double-A to Triple-A and finally, the Major Leagues.
The iconic Branch Rickey is credited with creating the first farm system for his St. Louis Cardinals in 1921, taking a certain amount of control initially with teams in the Texas League and Western League, placing Cardinals "farmhands" on the teams he controlled or owned a percentage in, and bringing the most productive players up to St. Louis to spearhead powerful pennant-chasing squads.
On pages 159-160 of his New Bill James Historical Baseball Abstract, James details the time in 1937 that Commissioner Kennesaw Mountain Landis voided the contracts of 91 Cardinals minor leaguers. James wrote:
"Landis ruled that the Cardinals contracts had trapped the minor league teams in a relationship in which they were prohibited from taking actions that they might need to take to win a league championship — and thus in effect, that they constituted a breach of faith with those team's fans, the same as surrendering the attempt to win the pennant in any other way. Once this breach of faith was complete, once the minor leagues' teams no longer were able to pursue victory for themselves only, they could no longer survive without subsidies."
After including the direct dialogue from Landis and Rickey's meeting, James sums up by saying "the minor leagues decayed because the point was lost that Landis was trying to make: that minor league teams cannot survive if their fans are asked to support units which are, in reality, extensions of a foreign power."
And now here we are, directly where Landis feared we would be. The big-city Major League teams toy with their smaller-town affiliates every year, influencing minor league pennant races. Certain teams, like the Dodgers, load lower levels with veterans to ensure championship contenders. Other teams disregard their affiliates' fortunes, yanking promising talents away right in the heat of the playoff chase.
On July 28, 2010, the Tigers traded a teenaged lefty beanpole named Giovanni Soto for Cleveland Indians shortstop Jhonny Peralta. The deal looked favorable for the Tigers at the time; it looks downright outstanding for both teams now, with Peralta excelling in Detroit while his replacement, Asdrubal Cabrera, enjoys a breakthrough season in Cleveland.
Oh, and it should be mentioned: the deal directly determined the 2010 Midwest League Championship.
Soto departed the red-hot Tigers-affiliate West Michigan Whitecaps team to join the stumbling Indians-affiliate Lake County Captains. The Whitecaps were promptly eliminated in the first round of the playoffs. The Captains, to the surprise of the league, righted the ship and made their way to the MWL Championship Series, defeating the Clinton LumberKings in a dramatic best-of-five series that ran to its limit. Lake County's starting pitcher in that final game was Soto, who cooled off the LumberKings' bats with nine strikeouts over 5.2 innings, allowing only one run on three hits.
Explain to the Whitecaps, if you'd like, why one of their best players was taken from them and handed to their chief competition to help decide who would hoist the championship banner. Tell them that their team's needs and dreams simply pale in comparison to their Major League masters. Talk to the fans in Grand Rapids while you're at it and explain that any of their players may leave at a moment's notice and so it's best not to get attached to anyone on the roster.
Really, is it any wonder that so many fans in the minors have become apathetic to the actual baseball game, requiring gimmickry and giveaways to attract them to the stadium? Go ahead, enjoy a cold beer and the postgame fireworks; wins and losses are overrated when their players are as interchangeable as actors on a soap opera.
You can't blame the players either for acting in the same apathetic manner toward their host cities. After all, when the future is so uncertain, what is the need for team loyalty or selflessness? At any point, you might be promoted, released or traded; a career-affecting decision that is utterly out of your control. Why care about the uniform you wear, the city you play in or the teammates you play with?
Jason Marquis for Zach Walters may very well turn out to be a fine trade for Arizona and/or Washington. Time will tell. One thing is certain now: it was a lousy trade for the sabotaged Silver Hawks of South Bend.
[php snippet=1]