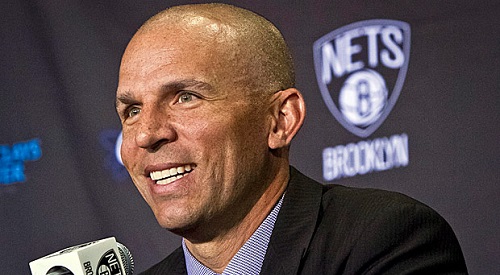 Jason Kidd and the Next Generation of NBA Coaches
July 26, 2013
Future Hall-of-Fame point guard Jason Kidd, who started 48 games for the New York Knicks last year, retired last month. Less than two weeks later, on June 12, he was named head coach of the Brooklyn Nets. Considering the recent history of the NBA, this was a pretty remarkable turnaround to say the least. In the past, former players have typically had to earn their dues for years as assistant coaches, broadcasters, or in front office roles before being handed the coveted role of head coach for an NBA team.
Perennial head coaching candidate and former player Brian Shaw worked as an assistant for eight years with various teams before becoming head coach of the Denver Nuggets this summer. Former superstar big man Patrick Ewing has been an assistant coach since 2002, but is still angling for a head coaching position somewhere. Prior to Kidd, the two former players turned coaches with the fastest turnaround in recent memory were probably Doc Rivers and Avery Johnson. But even Johnson had to wait a year before becoming a head coach, and Rivers three.
The reasons that Kidd was able to find himself a coaching gig so quickly are myriad. In fact, it was pretty much a perfect storm for the former Cal product. He has ties to the Nets franchise (top five all-time for the franchise in games played, three-pointers, rebounds, assists, steals and points). He has had a legendary playing career which earned him respect league-wide. He has long been regarded for his smarts and leadership ability, with most people having assumed he would naturally take up coaching after his playing career (his peers once voted him second in a poll of which current players would make the best coach). And the last and perhaps greatest factor is that current Nets owner, Russian billionaire Mikhail Prokhorov, is an eccentric and maverick owner who is willing to try anything to win, regardless of established NBA custom.
[php snippet=1]
To Prokhorov's benefit, there are a number of reasons the Kidd experiment could go well, even beyond the aforementioned factors. The Nets roster, while aging, is loaded. There are two first ballot Hall-of-Famers in Kevin Garnett and Paul Pierce, and three players in Deron Williams, Brook Lopez and Joe Johnson with 10 All-Star appearances between them.
Finally, as is imperative for a first-time coach who may struggle with in-game adjustments, divvying up minutes, pre-game preparation and the multitude of responsibilities that come with coaching an NBA team, Kidd has an experienced and respected lead assistant in former Nets coach Lawrence Frank.
If Kidd is successful, we can likely expect a wave of teams applying the same approach in future years. This is, after all, a copycat league. So now may be a good time to look at who could be the next Jason Kidd (i.e. a current player who could immediately make the successful leap into coaching when their playing career is over). I think a number of factors have to be considered, but I've decided chief among them are prestige (a player who has had a remarkable individual career will attract more interest because of his name, and draw the respect of his players), pedigree (players who have been coached by great coaches can pass those lessons on to their players), and intangibles (personality, intelligence, pretty much anything that doesn't fit into those first two categories).
First I'll give mention to a couple of players who I think would not make good coaches (likely to the surprise of many):
They are Tim Duncan and Kobe Bryant. Based on my own criteria above, Tim Duncan and Kobe Bryant are probably the first two names that would come to mind as potential coaches. They are the two greatest players of the last decade. They have played for legendary coaches (Gregg Popovich and Phil Jackson, respectively). And they both have a famously cerebral approach to the game, not to mention being the unquestioned leaders of their respective teams for years. There are a few qualities about these two greats, though, that makes me question how effective they would be as head coaches.
In the case of Duncan, his love of the game is second to none, and I have a feeling he will always be around the Spurs organization in some capacity. But I don't think the laid-back center sees himself as coach material. Hours in the film room, convening with assistant coaches, drawing up plays, the day-to-day grind. I'm sure he would rather spend large portions of his summers swimming back home in the Virgin Islands, or working at his San Antonio-area car shop. Not to mention, could you imagine the chronically under-dressed Duncan working in a suit three or four nights a week for years at a time? I think it's more likely Duncan has a second career similar to Hakeem Olajuwon, as a masterful tutor to young big men who seek out his knowledge (he has already done it before).
To explain why Kobe will never be a coach, one needs to look no further than his closest analogue in NBA history: Michael Jordan. The two men share remarkably similar DNA, and I think a similar aversion to "just" coaching. Bryant is, like Jordan, a notorious perfectionist and control freak. For that reason, I don't think he would be content simply calling plays from the bench. He would want to be seated in the owner's box to Jim and Jeannie Buss, calling all the shots. And given his cache in Lakerland, I don't see a reason that couldn't happen. That would also probably prove a better situation for future players under Bryant as well. The man has a drive and singular intensity that has been matched by only a handful of players in NBA history. I don't think he would survive one season on the bench coaching knuckleheads like J.R. Smith who don't possess a fraction of the dedication to the game that he does.
Now on to the players who fit my criteria and who I think actually have the potential to move into coaching as soon as they retire:
Steve Nash: One thing about the aforementioned SI poll is that six of the top 10 guys on the list were point guards. Obviously, NBA players think that point guards make good coaches. That isn't surprising given the number of responsibilities point guards have on the court. They are the closest thing a team has to a coach on the court. And, with Kidd retired, Nash is the greatest active point guard in the NBA, making him a no-brainer for this list. He has the credibility with two MVP awards. He has played under two of the most innovative coaches ever in Don Nelson and Mike D'Antoni. And he has expressed interest in the non-player side of sports as a part-owner of the Vancouver Whitecaps in Major League Soccer. Are you telling me the Raptors wouldn't jump at the chance to hire this guy?
Shane Battier: Battier may not immediately have the eye-popping credentials of a Duncan, Kobe, or Nash, but he is a two-time NBA champion, and was one of the all-time great college players ever. He also played for perhaps the best college coach ever in Mike Krzyzewski at Duke, and has the immense respect of his teammates and coaches (Heat coach Erik Spoelstra once referred to him as "like an additional coach on our staff"). Battier was named one of the smartest athletes in sports by Sporting News, and it is his intelligence that would make him a great coach, particularly on the defensive end, where he has been a master during his career. This is, after all,the guy who taught LeBron James about analytics. If the best player in the world can take some playing tips from Battier, anybody can.
Manu Ginobili: Probably the most surprising name on this list for most people. If you take into account his international accolades, he has had a greater career than Nash or Battier (seriously, check his Wikipedia page), something his players would respect. And it is his international appeal that I think would make Ginobili so popular with NBA teams seeking a breath of fresh air for their team. Ginobili speaks three languages and is well-versed in the basketball scene in Europe and in South America, which would help immensely with scouting and easing the transition of those players.  He has played his entire career under Gregg Popovich, the most respected coach in the NBA today. And he simply has such an exciting and inventive approach to the game of basketball that it would be a shame if he didn't pass that vision on to younger players as a coach.
The future is difficult to predict. Perhaps Jason Kidd will win a title in his first season as a coach, or perhaps he will fail miserably. All three of the players I listed above, while aging veterans, could still play many more years in the league. They also could retire tomorrow. And when they do, Nash, Battier, and Ginobili could choose to leave the sport altogether, pursuing other interests outside of the game the way many players do. But, in my opinion, that would be a shame as all three of these players have the ability to immediately make the jump into coaching at least as successfully as Jason Kidd. Here's hoping some team gives them a chance.
[php snippet=1]