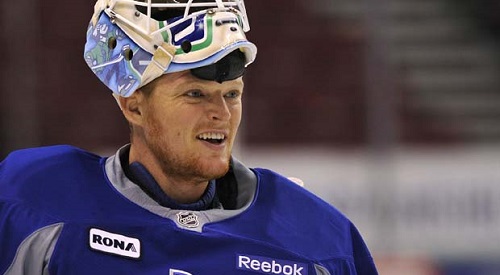 Is New Jersey a better situation for Cory Schneider?
July 2, 2013
Fans and media alike have been waiting over a year for the Vancouver Canucks to settle their goaltending situation by trading or buying out Roberto Luongo. Instead, the team shocked everyone and sent the Prudential Center into a frenzy on Sunday by sending Cory Schneider to the New Jersey Devils for the ninth pick in the 2013 NHL Entry Draft and selected center Bo Horvat from the Ontario  Hockey League's London Knights. Horvat was ranked 10th by International Scouting Services and 16th by The Hockey News. Schneider had been expected to take over the crease for Luongo, but instead he's been handed the task to replacing Martin Brodeur; a situation that may ultimately be better for the Boston College product.
The Luongo contract has been a nightmare for Canucks GM Mike Gillis who either couldn't find an offer he liked or wanted to hold off on using a compliance buyout. But rather than trying to find the perfect deal that didn't actually exist, Gillis found an acceptable deal for a top-10 pick that cost him Schneider but finally alleviated their goalie controversy while adding a prospect who plays well in all three zones and finds many different ways to score. They also selected Hunter Shinkaruk from the Western League's Medicine Hat Tigers with the 24th pick who will bring some more offense to an attack that is starting to fade. Shinkaruk was ranked 13th by International Scouting Services and 23rd by The Hockey News entering the draft.
Schneider had a couple cups of coffee in the NHL between 2008-09 and 2009-10 before sticking with the Canucks in 2010-11. In the past three years he has posted a 53-21-7 record with a .931 save percentage, 2.09 goals-against average and nine shutouts. This past season he was fourth in save percentage and seventh in goals-against average among goalies who played at least 20 games. He was still called out for being inconsistent as his save percentage was less than .900 in one out of every three games. With so much fan and media focus on the Canucks' crease conditions, it's easy to see how distractions could mount, but there's none of that in New Jersey where the most decorated goalie in NHL history has played for 22 years without dealing with an overabundance of attention.
[php snippet=1]
Schneider won't yet be the full-fledged starter in New Jersey, but there's no longer a question of personnel. Brodeur is signed through next season and the two should split the starts pretty evenly. Barring injury, it's unlikely either sees more than 55 games. Johan Hedberg is still signed for another year as well and could be sent to the minors. Hedberg is on a 35+ contract so he'll count against the cap even if he's in the minors though New Jersey, who still has to re-sign Patrik Elias and give raises to UFA David Clarkson and RFA Adam Henrique, has just over $17.7 million in cap space available, the sixth-most in the league. Hedberg recorded a career-worst  .883 save percentage and completely dropped the ball when Brodeur missed almost a month with a back injury. He didn't play from February 21 to March 21 and in that span the Devils fell from second in the Eastern Conference to seventh.
New Jersey has been a consistent and stable team under GM Lou Lamoriello who always finds the right parts where no one else is looking. They didn't have great scoring depth and struggled mightily to fill the net after Ilya Kovalchuk went down with a shoulder injury late in the season, scoring just 19 goals in the 11 games he missed and going 1-6-4. Lamoriello isn't going to let that be a problem two years in a row. Once Brodeur retires and Schneider has taken the team as his own, the product on the ice will be very well set.
Schneider has two years left on his contract totaling $8.5 million with a cap hit of $4 million, the type of bridge contract between entry-level deals and superstar earnings that has largely disappeared thanks to the salary cap and threat of offer sheets. Right now there's a slight chance Brodeur plays the season after next, but he'll be 43 years old. While he's not sure when he'll retire, it's hard to see him playing in 2015-16. The way Schneider is projecting, that could be the first year of a long-term, big-money contract for the guy many are predicting to be Team USA's starter at the Olympics next year.
This match can work out really well for both sides. Schneider has found a place he can tend goal in relative anonymity and without trade rumors circling overhead, and the Devils have a young player with experience and a proven track record. Schneider's been budding, it's time he becomes the star needed to replace a legend.
[php snippet=1]