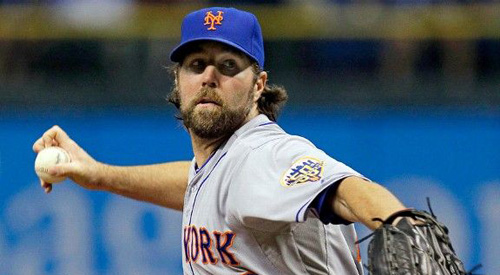 The overlooked silver lining for the New York Mets
September 11, 2012
As the regular season winds down, the New York Mets are facing the reality of another disappointing season.
As of September 9, the Mets are fourth in the National League East with a record of 65-75. They're 21 games out of first and 9.5 games back of the second NL Wild Card spot. 2012 will mark six straight seasons of missing the playoffs and – barring an incredible turnaround – four consecutive years of finishing below the .500 mark.
There were some bright spots.
The Mets celebrated the 50th anniversary of their expansion season and were also awarded the 2013 All-Star Game. On the field, fans have been treated to outstanding performances from third baseman David Wright and pitcher R.A. Dickey.
The biggest moment of the season occurred on June 1 when Johan Santana became the first Mets pitcher in history to throw a no-hitter. It was an incredible achievement, given all the big-name hurlers who have thrown for the Mets in the past. Santana struck out eight and walked five, as New York defeated the St. Louis Cardinals, 8-0.
There were plenty of reasons for the team to feel optimistic at the All-Star break. The Mets were 46-40; 4.5 games out of first and just a half-game back from the Wild Card. Since the break, New York has posted a 19-34 record, including an abysmal 7-18 mark in July.
When reflecting on the Mets' season, Eric Simon of AmazinAvenue.comwas not surprised about the poor second-half performance. 
[php snippet=1]
"The starting pitching got a little worse and the hitting got a lot worse, and given the makeup of the team, I'd say that both things were to be expected," says Simon. "The Mets have well-below-average production in left field and right field and at first base and catcher. They have considerably above-average production at third base and nowhere else."
A statistical look at New York's lineup confirms Simon's analysis. As of Sept. 8, Wright is the only Mets regular with a batting average of .300 or better. The team's batting average, OBP and SLG since the All-Star break is .240/.305/.371. That is lower than what they produced before the break: .259/.328/.398.
As for pitching, the ERA has gone up: 4.22 from 3.97 at the break. However, the collective WHIP has stayed at 1.28 throughout the season.
With 2012 all but done, the focus now shifts to 2013 and the status of Wright and Dickey.
Wright picked up another all-star nod this season, batting .312 with 17 home runs and 79 RBIs thus far. Dickey was a starter at the All-Star Game and is a leading contender for the NL Cy Young Award. The knuckleballer currently has an 18-4 record, with a 2.64 ERA. Both players have club options for 2013.
According to an Aug. 26 New York Daily News article by Anthony McCarron, Mets GM Sandy Alderson recently told season-ticket holders he intends to exercise those options on both players and make them part of his long term plan.
"It's not our intention to simply rely on those options and go into next season and deal with their free agency after 2013," said Alderson, as quoted by McCarron. "We're going to deal with it up front while we still have a little bit of room to maneuver. But we're committed to trying to bring those two back."
Simon believes the Mets will exercise options on Wright and Dickey and try to sign them to long-term deals. He also notes that Wright is important to fans and the team and that it's unlikely the gold glove and silver slugger winner will be traded. However, Simon points out that trading the two all-stars could be beneficial.
"In a vacuum, trading both players makes a lot of sense if the Mets can get multiple top-flight prospects in return," Simon explains. "The team probably won't increase payroll for 2013 and there's neither enough growth potential on the current roster, nor near-ready impact talent in the minors to make up for the team's talent shortfall enough to compete next season."
Payroll has been a hot button issue for the Mets of late. The team's owners recently settled a lawsuit, brought on by their involvement with Bernie Madoff. As pointed out by ESPN New York and the New York Post, the team also had to slash payroll by $50 million this season to make up for losses from 2011. The Post also reported the Mets will lose about $23 million this year, while ESPN New York reported the payroll for 2013 will stay at the 2012 level of about $95 million.
Fans of the Mets are expressing their disappointment.
According to ESPN, New York is currently 16th in league attendance, averaging 28,947 fans per game. If this trend continues, their ranking will be lower than the last two seasons; 14th in 2011 and 12thin 2010.
 For their part, the team clearly senses the disappointment and is reaching out to make amends. The Mets recently announced a new promotion where a maximum of three children will get free admission with the purchase of one regularly-priced ticket.
Given the financial issues and the current on-field product, the Mets are facing an uncertain future. Sandy Alderson seems fixed on re-signing his two best players, but if he's unsuccessful, the Mets will have to consider trading their best assets in order to rebuild.
If the team ultimately decides to rebuild, Mets fans will be forced to endure a struggling team a lot longer than they hoped for.
[php snippet=1]