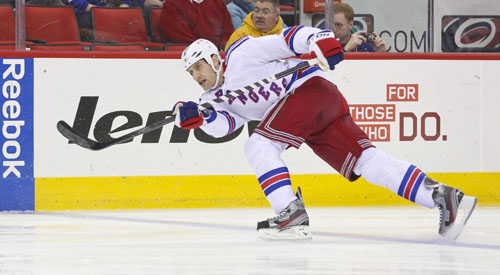 War Horse at Madison Square Garden
April 25, 2012
It is best known as a theatrical hit and a major motion picture helmed by acclaimed director Steven Spielberg, but a different kind of War Horse has been on display at Madison Square Garden. The Broadway crowd would scoff at the lack of grace and rugged disposition of the horse in this particular version, but they'd have no choice but to admire the raw power and Herculean courage that becomes so evident when watching one of the NHL's most underrated players.
The 2002 NHL Entry Draft is best remembered as the year Rick Nash was selected first-overall by the Columbus Blue Jackets. For New York Rangers fans, this draft is notable because their beloved Blueshirts opted for Lee Falardeau, he of the zero career NHL games as of today, with their first pick, 33rd overall.
In retrospect, the 2003 NHL Entry Draft is one of the strongest drafts in NHL history with the likes of Marc-Andre Fleury, Eric Staal and Nathan Horton being selected first-, second- and third-overall respectively. Other top-10 notables include Tomas Vanek, Ryan Suter and Dion Phaneuf. The Rangers tabbed Hugh Jessiman with the 12th selection, he of two career NHL games as you read this. Ouch.
Dustin Brown was selected 13th in 2003. Stanley Cup winners and gold medalists Brent Seabrook, Ryan Getzlaf and Corey Perry also could have been had. Let's not forget Mike Richards, Ryan Kesler or Brent Burns either. Throw Zach Parise's name into the hat of should-have-been and could-have-been Rangers back in 2003 for good measure too.
Now call me crazy as I tell you these drafts are amongst the most important in New York Rangers history. 
[php snippet=1]
The phrase "hindsight is 20/20" certainly seems to ring true when hockey historians, fans and fantasy managers dissect NHL drafts and debate the circumstances and merits of each selection. It's a statement that more than adequately acknowledges the mistake scouting staffs made with regards to Dan Girardi, aka "War Horse."
Girardi was eligible for, and passed over in, both the 2002 and 2003 NHL drafts. If hockey executives around the league knew then what they know now, Girardi certainly wouldn't have gone undrafted. If they did, well, based on the Rangers' penchant for finding coal instead of gems, Girardi still wouldn't be donning the red, white and blue today.
Naysayers and nitpickers will contest that Girardi failed to display the qualities professional scouts look for in a prospect, namely size, skating ability, hockey sense and potential.
Those naysayers just hate to admit they were wrong.
Girardi has always possessed a projectable frame and taken care of his own end. The type of game he plays doesn't require incredible foot speed, but he's always been quick enough to position himself properly and every team looks for a gritty, hard-nosed defenseman such as Girardi that can play in all situations.
Girardi started to make a name for himself after making an appearance in the 2004 Memorial Cup with the Guelph Storm before one of the greatest junior teams of all time, the 2004-05 London Knights, thought enough to bring him into the fold as they attempted to win the 2005 Memorial Cup. He always had the tools to blossom, but when you play a nondescript game on talented powerhouse junior teams, few are mesmerized by what you bring to the table, and even fewer are willing to gamble on you.
Luckily for Blueshirts fans, the Rangers' brass bet on a pony in the summer of 2005 when they inked Girardi to a minor-league contract. That initial contract represents the Rangers' winning ticket. They won, big time. The rest as they say is history and a year-and-a-half later in January 2007 Girardi made his NHL debut. He's missed two games since.
A defensive defenseman will never receive the accolades afforded to an all-around defenseman such as Shea Weber, or the hype surrounding those with offensive panache à la Erik Karlsson, but they're integral to the success of any team worth a grain of salt.
Rightly or wrongly, you often hear hockey games described as a "war." If that's what you want to call it, Girardi is the guy you want next to you. He's ready and willing to fight valiantly and until the bitter end as his 185 blocked shots – good for fifth in the NHL during the 2011-12 season and his 211 hits, ranking him 23rd – will attest. Girardi's durability despite his playing style makes it evident: he was built for war.
In hockey, a "horse" is a player that can put others on his back and log big minutes, and that's Girardi in a nutshell. His average ice time of 26 minutes and 14 seconds per game in 2011-12 was more than the likes of Weber, Zdeno Chara and Kris Letang. It's also a testament to how valuable he is and how much his coach, the cynical-until-the-day-he-dies John Tortorella, trusts him.
Stats only tell you half the story, however. You have to watch Girardi play to truly appreciate his abilities. He's tasked with shutting down the opposition's best players night in and night out, manning the blueline on the penalty kill and preserving leads, all of which he does admirably.
Girardi will lay the body on his foes along the boards, take a hit to move pucks out of the defensive zone and act as a force field in front of the net for Henrik Lundqvist. What he does isn't pretty, but it's required if you want to win hockey games, something Team Canada will be looking to do in the 2014 Olympics. See what I did there?
The show Girardi puts on in the theater known as Madison Square Garden is a departure from the crafts known as playwriting and film directing, but the story is equally intriguing. He went from afterthought to lacing up his skates for the 2012 NHL All-Star game. As much as he's a "War Horse," perhaps a better description is thoroughbred, because you need to keep your eyes fixated on him to appreciate the beauty in his actions. Blink and you'll miss the whole show.
As for those 2003 Rangers draft picks, Girardi has played more career NHL games than all of them combined, and he'll play many, many more. You can bet on it.
[php snippet=1] http://credit-n.ru/zaymyi-next.html