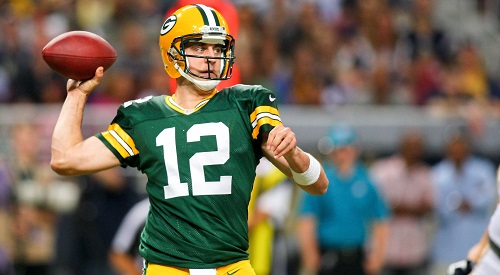 NFC: Will the real contenders please stand up?
January 8, 2013
To say that the NFC has produced its fair share of attention-worthy clubs this season would be an understatement. Although few will have exactly what it takes to make a legitimate case for themselves in the postseason hunt leading up to Super Bowl XLVII, there's no shortage of teams that could hypothetically be the ones to do it.
From Super Bowl XLV champion Green Bay to 2012 upstart Atlanta, the NFC has pumped out teams that demand respect.
Atlanta Falcons NFC Number 1 seed: The Falcons have been the class of the NFC this season posting a conference best 13-3 record. Matt Ryan proved that he is an elite quarterback after posting career highs in completion percentage, total yards, touchdowns and QB rating. He is a candidate for MVP. This team had a huge character building win against the Giants but that's about it. I question how big a win it was given where the Giants are now. They had an extremely light schedule in comparison to other teams, yet suffered head scratching defeats against Carolina and Tampa Bay. I'm not convinced this team can have postseason success when they haven't played a playoff team since a Week 5 win at Washington. Week 5! The only other playoff team they played all year was the Denver Broncos in Week 3. A lot has changed since then, including the Falcons defense that ranks 23rd against the pass and 21st against the run. Even with home field throughout, I'm still not buying. PRETENDER
[php snippet=1]
Green Bay Packers NFC Number 3 seed: Aaron Rodgers had yet another banner year as he continues to solidify himself as the best QB in football today. Even with suspect pass protection he only threw eight interceptions this season, 14 over the past two seasons. To put that in perspective, Drew Brees threw 19 this season and a disturbing five in one late November game. The offense is converting on third down 42% of the time. Rodgers isn't the only one playing well either. The defense has played decent considering the injuries sustained to both Charles Woodson and Clay Matthews. They've allowed 20 points or less in seven of their last 10 games, which is good enough with Rodgers airing it out. The Pack has an average run defense but their 11th-ranked pass defense makes it difficult for teams to keep up with Rodgers. That pass defense can only get better with the return of future Hall of Famer Woodson. CONTENDER
San Francisco 49ers NFC Number 2 seed: The Niners had quite an interesting season. It started off with Coach Jim Harbaugh trying to lure Peyton Manning to the Bay area. After he showed little to no interest, they re-signed Alex Smith, then the Colin Kaepernick experiment. You could argue they were pretty even. Both pivots threw 218 passes with Smith throwing with more efficiency and three more touchdowns. The defense was among the league leaders, which has become an expectation from and of this team. Given the fact that Smith and Kaepernick were pretty even throughout the season, why make the switch? Consistency, familiarity, and continuity normally win Super Bowls. Unnecessary controversy makes it difficult. Sure, Michael Crabtree had a coming out party this year, receiving over 1100 yards but on the flip side, Vernon Davis disappeared and couldn't hit 500. This team is in flux, still trying to find their way on offense. Yes, they had a great win in New England but also scored 41 points. That isn't something we'll see these playoffs. PRETENDER
Seattle Seahawks NFC Number 5 seed: Pete Carroll's team is by far the surprise team of this season. They've had some controversial moments throughout the year, mainly their win against Green Bay during the final week of the replacement ref era. Perhaps it was foreshadowing what could soon be reality. Even before that final touchdown by Golden Tate of the Seahawks, Seattle's defense had only given up 12 points to the Packers. That was the Pack's second lowest total all season. Seattle also gave up the least amount of points all season. Then there's the offense. Rookie quarterback Russell Wilson showed why Carroll anointed him starter over free agent signing Matt Flynn. Not only has he played well and with poise under pressure, he's also placed himself square in the Rookie of the Year rave with Andrew Luck and RGIII. Their biggest weapon as a team is their running game. Running back Marshawn Lynch keeps the defense honest and takes a tremendous amount of pressure off of Wilson. Name one team in the NFC that has the combination of a good run game, great defense and a young, athletic, intelligent quarterback who has proven he has the ability to make game winning plays? I'll wait… CONTENDER
So who represents their respective conference and plays for the coveted Lombardi Trophy in New Orleans? 2000, 2005, 2007, 2010 are the year's wild card teams have gone on to win the Super Bowl since 2000. It doesn't seem like a huge stretch to think that we could see at least one rookie QB at the big game in the Big Easy, is it?
Super Bowl XLVII: New England Patriots 27 – Seattle Seahawks 20
Ed: Take a look at Riley-Grant's AFC contenders and pretenders from yesterday.
[php snippet=1]