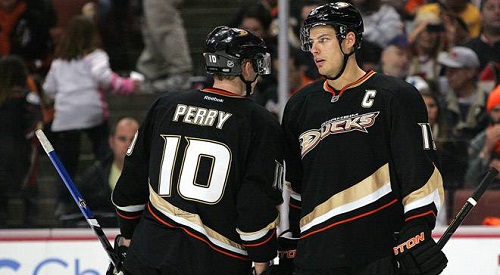 NHL Age Trends and the Re-Upped Ducks
March 21, 2013
As Gordon Bombay famously said, "Ducks fly together." Ryan Getzlaf and Corey Perry proved the fictional coach right by re-upping with Anaheim, ignoring the lure of unrestricted free agency.
By locking up their premier duo for a combined $135 million, the Ducks avoided their own version of Sophie's choice and ensured themselves a chance at the Stanley Cup this season and beyond.
Ducks fans should be rejoicing. Most pundits predicted that the Ducks would have trouble signing one of their two superstars, and you'd be hard pressed to find someone who thought they could retain both. It was a foregone conclusion for many that at least one would test the market.
But while Ducks fans should be happy the team is going to be competitive in the short-term, what does this mean for the Ducks' fortunes long-term?
The Ducks locked up a lot of cap space – 25%, in fact – into only two players. The only team with more cap space devoted to two players is Pittsburgh, who have 27% eaten up by Sidney Crosby and Evgeni Malkin.
[php snippet=1]
While Getzlaf and Perry may be a notch below Crosby and Malkin in terms of talent, there is no doubt they are both elite players at their respective positions. But being elite players now, as soon-to-be 28-year-olds, does not mean they will be elite players throughout the course of their new eight-year deals. Father Time is cruel, and the age at which a player peaks is much younger than many believe – possibly as young as 25.
And although Perry and Getzlaf should remain excellent players for the next few years, most players, even those who were renowned point producers in their 20s, suffer a swift decline as they age. For example, Dany Heatley broke 80 points as a 29-year-old, but has declined so severely that as a 32-year-old he wouldn't even crack 50 points over an 82-game season. A decline with age is often worse for players like Getzlaf and Perry – power forwards, who typically aren't the swiftest skaters and have accumulated a lot of wear and tear on their bodies.
Compared to a group of centers and wingers with similar career games played and points-per-game before their 28-year-old season, we can get a glimpse at how Getzlaf and Perry might do over the length of their new contracts.
Based on a group of 30 wingers who scored between 0.75 and 0.9 points-per-game before the age of 28, we can see that even premier wingers begin to decline well before they hit their 30s. If Perry ages like his historical comparables, which include Gary Roberts and Patrik Elias, the Ducks' winger will become a 50-60 point player from 28-32 and will become a 45-50 point player for the remainder of his contract. That's a big drop from the 2010-11 Hart Trophy campaign of 98 points.
But despite the decline, 45-60 points isn't bad for a winger. That's the typical point production of an average first-line winger or a good second-line winger.
But the question is whether the Ducks can afford to pay Perry $8.625 million to be merely a good player.
There is hope Perry can remain an elite winger, however. Some of Perry's contemporaries retained their dominance well into their 30s. Jarome Iginla, for instance, registered three of his five best seasons once he turned 30 and even broke 40 goals as a 33-year-old.
But Iginla isn't a typical case. In fact, only about a third of the wingers comparable to Perry were still in the NHL at 35, the last year of Perry's contract. And it's important to remember that these were very good wingers being examined, not your typical third-line grinders.
The Ducks face the same issue with Getzlaf.
There were fewer centers comparable to Getzlaf, with only 22 players, like Brent Sutter and Henri Richard, producing  between 0.8 and 1.0 points-per-game and playing in a similar amount of games before they turned 28.
The short-term outlook for centers is rosier than that of wingers, with elite centers retaining a high points-per-game mark of about 0.8 (or roughly 65 points over an 82-game season) through the age of 30, before beginning a decline that sees them struggle to reach 40 points by the time they turn 35.
That means Getzlaf is likely to still produce like a first-line center by the time he's 30 (although not necessarily a great one), and even like a second-line center by the time he's 34. But at 35, based on the comparables, the Ducks are looking at $8.25 million for a player producing like a third-line center.
That's a lot of money tied up into a player who projects as being good, not great, throughout the course of the next eight years.
Again, like Perry, all is not doom and gloom for Getzlaf. Comparable players like Doug Gilmour and Joe Thornton remained premier centers into their 30s. But those players represent a best-case scenario for the Ducks. Like wingers, only about a third of centermen comparable to Getzlaf were still in the NHL at 35.
The Ducks almost certainly realized the odds were heavily against Getzlaf and Perry remaining dominant players throughout the entirety of their contracts. But they paid the premium price required to keep the two in Anaheim while they are still among the best in the NHL, ensuring the team's competitiveness right now. For a non-traditional market like Anaheim, taking a risk long-term and shelling out major bucks was essential to keep the team competitive and the fans coming through the turnstiles.
The Ducks will now have to draft and develop well to surround Getzlaf and Perry with enough cheap talent to keep the team strong even if Teemu Selanne doesn't disclose the location of his fountain of youth. Otherwise, the Ducks will be forced to rely almost exclusively on their two towers of power, who may not be quite so powerful during the later years of their big deals.
The odds may be against Perry and Getzlaf living up to their monster contracts, but the odds were against the Ducks signing them both. And with Stanley Cup dreams this season and beyond, the Ducks will take those odds.
[php snippet=1]