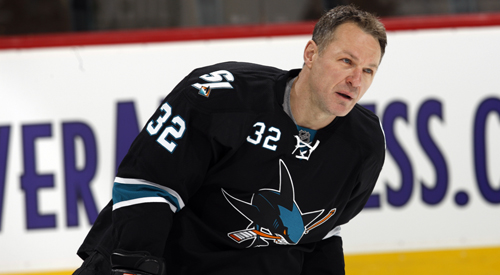 NHL Comebacks: Not for everyone
September 22, 2009
First Claude Lemieux, now Jason Allison and Theoren Fleury.
Two players that have seen better days, yet they follow in the footsteps of many just like them. Too many. Players who have had a nice little picnic in the National Hockey League, achieved mediocre careers – at best – and made millions of dollars doing so.
They've been there, done that and got a t-shirt to prove it.
Yet for some reason, after time away from the game, they decide they have the desire to comeback and play. What do they expect to do? They couldn't amass more than 40 points in their prime, so what makes them think they are going to be productive now?
Allison looks like a canoeist stuck in cement thus far in the pre-season. He's trying real hard to move but he isn't going anywhere. The strong part of his game was his play-making ability. Now you have to be able to actually keep up to the scorers to give them the puck.
Fleury on the other hand, with his speed he can still keep up to the play, but lets be honest, he's never really had anything close to resembling soft hands. He looks like Michelangelo's "David" trying to cut down a Red Oak tree.
These old men who obviously couldn't hack it in the league the first time around are coming back for seconds. That's like the Ottawa Senators bringing back Alexandre Daigle or the San Diego Chargers bringing back Ryan Leaf.
[php snippet=1]
Maybe it's the mentality that these guys can't handle seeing young talent run the league that used to be dominated by the old savvy veterans so they think that they are going to come back and make a difference. Instead, it's actually making the old guys look worse because it's opening up the eyes of the fans to how much the game has evolved.
Maybe its just their competitive nature. If that's the case, they should turn their attention to lawn bowling or tennis and away from the ice for the benefit of all of us.
Look at Michael Jordan, the self-proclaimed most competitive man alive and despite Austin Kent's point-of-view (a view obviously obstructed by blinders), him coming back to play for the Washington Wizards was an absolute dark spot on what is one of the best careers by anyone in professional sports.
Even "Mr. Hockey" Gordie Howe did it to play with his sons in the IHL. But what about fans that saw Howe play for the first time at the age of 70? They have a stilted sense of what sort of hockey player he was, which diminishes his legacy.
These players come back because they say they still have the drive to play the game and still feel that they can at the highest level in the world. That teams are even granting these guys tryouts is not only disturbing (the talent pool is not nearly that low) but it's also giving others hope that they can do the same thing.
The last thing hockey needs is Tom Barrasso or Darren Puppa thinking they can strap on the pads for a couple more years to collect a paycheck.
[php snippet=1]