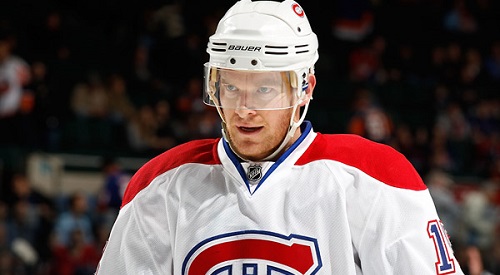 Jeff Halpern and the Tale of the Lost Draw
April 5, 2013
There's something to be said for face-offs in hockey.
But, then again, you already knew that.
In a sport where puck possession is the name of the game, one who rules the face-off circle is considered king.
A native of Potomac, Maryland, 36-year-old Jeff Halpern is not known for his goal-scoring ability. A 13-year NHL veteran, Halpern brings both veteran leadership and defensive ability to the table. But most important of all, when it comes to face-offs, Halpern is one of the best in the game.
As of March 23, when he was claimed off waivers from the New York Rangers, Halpern is once again a member of the Montreal Canadiens – a team presently in a knock-down dragged-out fight for the Northeast Division crown with their archrivals, the Boston Bruins.
Let us travel back in time two years. The 2011 NHL playoffs were underway, and the Habs and B's were entangled in a typical classic encounter. Dogfight doesn't even begin to describe this battle of Original Six foes, as the series went the distance – a late power-play goal by Habs d-man P.K. Subban had sent Game 7 to overtime.
[php snippet=1]
Little did Jeff Halpern know that he would be a crucial variable to the series' outcome.
Fast-forward five minutes, 23 seconds.
The scoreclock at the TD Garden read:
Bruins 3  OT 14:37  Canadiens 3
For the Habs, it had been one tough night in the faceoff circle.
With a spot in the Eastern Conference semifinals hanging in the balance, Halpern positioned his skates inside the "legal" zone, ready to cheat ever so slightly, as he had been doing all game in an attempt to stymie the relentless Boston centremen.1
This was a big one. Although, that was a redundancy at this point, as this was Game 7; they were all big.
Not a fan had left their seat – although all 17,565 of them were on its edge.
With David Krejci so close he could smell the sweat dripping down his face, Halpern kept one eye on the ice and the other on the official. Perhaps wanting so badly not to lose this critical defensive zone draw, the Montreal centreman flinched.
Not good.
The referee motioned for him to leave his post – "you've cheated one too many times", he seemed to say.
Visibly upset over the call, Halpern could do nothing but skate over to the wing and allow Tomas Plekanec to take over.
Not good.
Plekanec, normally a decent face-off man, had on this night struggled mightily.2 Although managing to score a crucial short-handed goal in the second period, Plekanec had not been his usual self in the face-off dot. On each attempt, he seemed beaten before the puck even left the official's whistle-laden hand.
The puck dropped. Plekanec, a man apart, lost the draw. The Bruins had possession. The Canadien players scrambled in their end, like an ant farm under attack.
Nathan Horton had stung them in Game 5; he was about to sting them once more.3
Halpern sensed something bad was about to happen, as Horton readied himself to release a shot from the blueline. With Montreal's season hanging in the balance, the Habs forward made a desperate lunge to get in the way, sacrificing his body to see to it that the puck didn't find its way to the net.
The puck found only the edge of Halpern's skate, changing its trajectory ever so slightly, yet ever so significantly.
Bruins 4, Canadiens 3. The game read like the series.
Although it was Halpern who was unintentionally responsible for making the save more difficult than it should have been, it all started with that face-off – that ever-so-critical draw where Halpern was thrown out in favour of an unenviable Plekanec. The odds significantly swayed in Montreal's favour with the Maryland native up to bat as opposed to the hapless Czech. On this Wednesday eve, Halpern was really the only Hab who could be counted on in the face-off circle.4 Suppose he doesn't get thrown out and wins that draw – or, at the least, doesn't lose it. The Habs gain posession, avoid scrambling around their end like peasants trying to defend their village, and, in a worse case scenario, clear the puck out of the zone.
It's funny how a lost draw can do that to you.
There's something to be said for face-offs in hockey.
But, then again, you already knew that.
Notes:
1Boston was 60.3% on faceoffs in Game 7.
2 Despite a team-high 30 attempts, Plekanec was 20% on faceoffs in Game 7.
3 Horton scored at 9:03 of the second overtime period in Game 5, giving Boston a 3-2 series lead.
4 Halpern was a game-high 69% on faceoffs in Game 7 (minimum five attempts).
[php snippet=1]