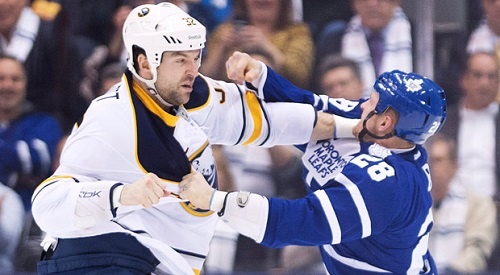 NHL Goons Need Not Apply
January 29, 2013
During the most recent edition of Coach's Corner, Don Cherry addressed the concerns some have about why the Toronto Maple Leafs would play both NHL goons Colton Orr and Mike Brown in the same game, on the same line.
Both Brown and Orr had a fight for the Leafs within the first five minutes of their game against the New York Rangers on Saturday night and headed into the locker room after the first intermission up 2-0. The Leafs were clearly the better team despite being outshot 14-3. Of course, a lot of good that did the team in the long run as they gave up five unanswered goals the rest of the way.
After 30 years of this, it shouldn't be surprising that Cherry, a guy who thinks pugnacious and belligerent are compliments, still doesn't know how to pronounce Mikhail Grabovski's name despite playing in Toronto since 2008-09 and who wears what is clearly a Christmas-themed jacket a month too late (though in his defense there was no Coach's Corner to show it off in December), is a fan of the rough and tumble style of play. He lauds those willing to drop the gloves, even if they have no discernable hockey skills whatsoever. But what he can't seem to get his head around is the fact players like Brown and Orr have no true value to their teams.
Compare successful teams' fourth lines to the Leafs' and it's clear that, despite the occasional short burst of energy injected into a team, goons do nothing to help out in the big picture. Cherry said of the presence of Orr and Brown in the lineup "These guys now, they've got confidence, they walk cocky, you know, because you're not going to push them around anymore." In the end they lost 5-2 and were outshot 41-17, so it's pretty safe the team as a whole was still pushed around.
[php snippet=1]
Teams don't need guys who can just fight, they need players who can go out and take a regular shift, otherwise coaches might as well just dress nine forwards. A big reason for New Jersey's run to the Stanley Cup final last season was the contributions of their fourth line consisting of Stephen Gionta, Steve Bernier and Ryan Carter. The trio gave the rest of the team energy by playing mistake-free, physical hockey and contributing offensively as well, including a big goal to put them up 2-0 in Game 7 against the Florida Panther in the first round and opening the scoring in Games 5 and 6 against the Rangers in the Eastern Conference final. Coach Peter DeBoer knew he could rely on them for close to 10 minutes a game, something Randy Carlyle can't say about some of the players on his team.
The fact of the matter is successful teams don't have designated fighters; if they do those players are used sparingly at best. Detroit's famed Grind Line of Kris Draper, Kirk Maltby and Joe Kocur, later Darren McCarty, may have been used to protect teammates, but were also sound defensively and could score. They went head-to-head against Philadelphia's Legion of Doom in the 1997 Cup final and shut them down. Carlyle would be crazy to put his enforcers out against the other team's best players. Any player who can score a goal like McCarty's in the Cup final is more than just a pair of fists.
Overall team toughness trumps individual toughness every time and that's where Cherry's real concerns should lie when discussing the Leafs. Cherry wants every player to be able to hit, yet feels a fight is needed whenever a player is laid out with a clean body check. If hitting is as an important part of the game as Cherry believes it is, then every player in the NHL should be able to accept they got hit without running to a teammate to fight his battles for him. The Leafs were still pushed around and outplayed by the Rangers despite the presence of the two pugilists, so maybe they aren't quite the right fit for the team.
If you truly feel you need revenge for something that's well within the rules, have the ability to deliver a solid body check of your own on the next shift. Or better yet, shake it off, score a goal and win the game. It's said no fan leaves their seat during a fight, but they can still go home disappointed. Later on in the segment, Cherry had this to say about Nail Yakupov's sliding celebration after scoring a big goal. "Just act like an idiot like this and you'll get in our highlights."
So celebrating a big goal is acting like an idiot, but fighting off the opening faceoff isn't? Yakupov got his team going not only with his enthusiasm, but by actually scoring an important goal, something you'd never see Brown or Orr do. Having already discussed the subject of Yakupov's celebration, it's best not to waste more space doing so, but it can't be stressed enough his presence led to a win while Brown and Orr's fights contributed at best to a brief lead. Whose fans do you think were happier that weekend?
The Leafs need to rely on team toughness and contributions from all four lines for their postseason drought to end anytime soon and Brown and Orr take away from both of those attributes. It's no wonder they've been scratches in 10 of 23 and 19 of 31 possible playoff games, respectively, and that most players of their caliber have similar numbers to that.
Simply put, they need – any team needs – positive contributions in all areas of the game from every line to have a chance at a playoff spot and wasting two roster spots on players like Orr and Brown simply isn't justifiable.
[php snippet=1]