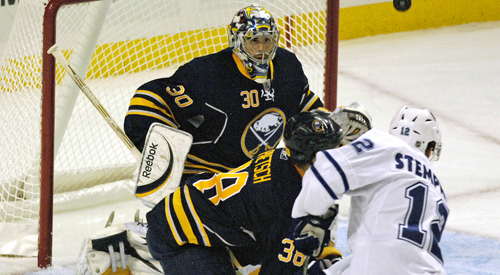 Sabres with upper hand over Leafs in cross-border rivalry
November 3, 2009
The cities of Toronto and Buffalo have a lot in common. They are both part of a metropolis, they both house numerous professional sports teams and they sit, geographically, separated by just two hours along the QEW highway, despite their obvious different nationalities.
Beyond that, however, the commonalities seem to run their course.
Presently, one area where the two cities have nothing in common is in the National Hockey League. A dozen games into the NHL season, the Toronto Maple Leafs and Buffalo Sabres find themselves at completely opposite ends of the spectrum.
The feisty Sabres are surprising many, as they currently sit on top of the Northeast division with a fairly comfortable 8-2-1 record. The Toronto Maple Leafs, on the other hand, are sloshing through their worst start in franchise history, as it took nine games for the squad to put something into the win column. With a disastrous 1-7-4 record, the Leafs are having one heck of a time finding their way out of the Northeast division basement.
"The last few games we played pretty well and we probably deserved a little better luck," said Maple Leaf defenseman Luke Schenn after a 3-2 overtime loss to Buffalo Oct. 30. "We had lots of chances to score, (but) for whatever reason, the puck doesn't seem to be going in () Obviously we're making a few mistakes here and there and those are costing us, but we're not getting any bounces ourselves it seems like."
[php snippet=1]
One can argue until they're blue in the face that Toronto's unimpressive start to the season can be attributed to bad bounces; but in the game of hockey, you've got to be good to be lucky and lucky to be good – and, despite a lapse on Oct. 31 on Long Island, their cross-border rivals have been unquestionably good.
"I think our team's just trying to keep a nice even keel right now," said Buffalo Sabre captain Craig Rivet. "Win or lose, we're going to have to go back to the drawing board and look at things we can do better.
"It starts with goaltending (and) with good, solid defence. We feel that we have four lines that are chipping in offensively. We've got all elements going right now and it's not a one-line team or just the goaltender, it's a full team effort each and every night, and that's how we're getting our wins."
Goaltending is certainly a critical factor in the success of a hockey club and the Leafs and Sabres are prime examples. Toronto netminders Vesa Toskala and Jonas Gustavsson have both posted poor numbers thus far, as Tosakala owns an atrocious 5.13 GAA, with Gustavsson not much better at 3.21. Buffalo keeper Ryan Miller, on the other hand, currently sits third in the league in GAA (1.86) and tied for first in save percentage (.936).
"He's the stability," said Rivet of his goaltender. "When he's on his game, we're going to be a really hard team to beat. He gives us our confidence out there."
If the Sabres do have a downfall it would perhaps be that they rely a little too much on the play of Miller, which was somewhat evident in the team's loss to the New York Islanders. A poor outing by Miller saw him surrender three goals on 16 shots, and the Sabres ultimately lost the game by a final score of 5-0.
The problems however, are much bigger in Toronto, as it took the Maple Leafs 12 tries to be the team to score a game's first goal. While things are looking bleak in Ontario's capital, the team can at least be content with the fact that they are putting points on the board – albeit, at a rather slow pace.
"This (road) trip we've had a little bit more poise with the puck," said Maple Leaf assistant captain Mike Komisarek of his team's five-game road trip, which concluded Oct. 31 in Montreal. "(We're) moving it better, getting the pucks in behind the other teams (defence), using our speed a little bit more (and) getting shots to the net. I think we played really well this trip but the results haven't been there."
"At the end of our losing streak, we started playing a bit better," said Schenn of his team's 1-0-3 record since their eight-game losing streak to start the season. "We started getting results in Vancouver, so our game is coming along and we're playing a lot better. I think the week of practice helped us to get back on track, but we're still not getting the two points and that's what we want."
The Maple Leafs' second win of the season is shaping up to be just as elusive as the first, and if they don't start putting wins on the board, they could find themselves in some real trouble. Newly acquired Leaf Phil Kessel is looking to make his debut in Toronto Nov. 3 when the team hosts the Tampa Bay Lightning, and could potentially be just what the doctor ordered for the faltering Toronto franchise.
As for the Sabres, they will be out to avenge the loss suffered at the hands of the Islanders when the two teams play the back end of a home-and-home Nov. 4 in Buffalo.
Following those two games, Toronto and Buffalo will both play Nov. 6 – versus Carolina and Philadelphia respectively – as the Sabres look to strengthen their position on top of the Northeast division, while the Maple Leafs will be content simply putting up a win.
[php snippet=1]