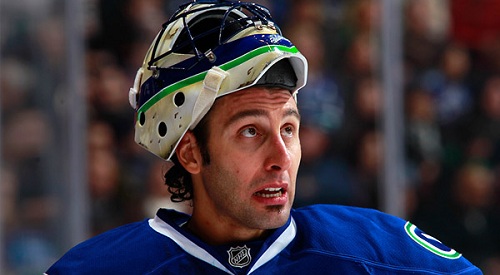 Arguing for Amnesty in Lockout 2012
December 3, 2012
Throughout these negotiations, the league has shown little to no appetite to include amnesty or buyouts as part of the next CBA. Early on in talks, one NHL source left little wiggle room on amnesty when I asked about it.

His response: "No amnesty."
That's just a little snippet from a blog Craig Custance put together for ESPN back on Nov. 8.
For the less-educated or new hockey fans who aren't aware, the 2004-05 NHL lockout ended with what is referred to as an amnesty clause. It allows each club the chance to buy out a player without any penalty against the salary cap; something they would otherwise be forced to suffer from.
The amnesty clause is something that has been brought up time and time again since negotiations began earlier this year, and why not? It played an important role in the last lockout as teams had the chance to get off the hook for contracts they no longer wanted to deal with. However, the chances of an amnesty clause being included in the upcoming collective bargaining agreement seem to be much slimmer as the salary cap is no longer a new aspect to player management.
[php snippet=1]
Be that as it may, an amnesty clause is still something both the NHL and the Players' Association should seriously consider. The salary cap remains one of the driving forces behind an amnesty clause this time around, although for an entirely different reason.
Included in Custance's blog is the mention of the NHL's proposal from mid-October. That proposal, which ultimately failed to progress talks between the two sides, suggested that the salary cap drop from the $70.2 million it was projected to be in 2012-13 to a somewhat disheartening $59.9 million. That's just $500,000 more than the 2010-11 season; the same value of an extra fourth liner's contract.
Without digging too deep into statistics, one could make the argument that a $10.3 million drop in the salary cap is too much ─ granted, the cap would surely rise each season after the new CBA is signed.
According to Cap Geek, eight teams (Boston, Minnesota, Vancouver, Calgary, Philadelphia, San Jose, Chicago and Buffalo) have a salary cap payroll of more than $64.3 million, the salary cap from last season. Those are eight teams that would benefit greatly from an amnesty option, as it would be difficult to spread somewhat high-priced players across the teams with payrolls on the lower end of the scale due to struggles with revenue and other issues.
The same can be said for the teams in the $61 million to $64.2 million range, which is an additional seven clubs. There you have a total of 15 teams. Now we're talking about half the league being in need of an amnesty clause, which would allow them plenty of room and time to get under the proposed $59.9 million cap. We are, of course, talking about throwing in a trade or two as well.
So why doesn't the NHL want to include amnesty in the new CBA? Do they actually care, or is it all about holding things back from the players? Again, from Custance:
So if it re-emerges as an option, it would have to be a push from the players, who certainly would be in favor of it. And it's not just players on board with amnesty. Front-office executives also wouldn't mind the additional flexibility amnesty would provide.
Now that's intriguing. The support shown by GMs and other front office staff makes us wonder if they are cheering for the players in this case when they should conceivably be on the side of the league.
The relationship between GMs and players was also in the spotlight this week when Shane Doan went on TSN's "That's Hockey."
"What I'd like to see is to see some of the guys that live inside the system to have the ability to talk about it," Doan said. "You look at some of the GMs and some of the great hockey minds. You know, Kenny Holland and Stevie Yzerman and Dean Lombardi in LA and you look at Paul Holmgren over in Philadelphia. Those guys have to have a little bit more of an opinion."
Note that all four guys Doan mentioned are NHL general managers.
"I understand why the league doesn't want to. They want to keep it nice and tight, but at the same time, those guys are the guys that make the game work."
Now we wonder if there is a push coming from the players' side. With GMs in agreement, the NHLPA may have slight leverage over the league when it comes to negotiating an amnesty clause.
It's clear that an amnesty clause would be beneficial to at least half the league, assuming they all decide to take advantage if it's a part of the new CBA. So why wouldn't the league want to include an amnesty clause if its teams would be able to put it to work in a positive manner, giving teams the chance to spend cap money elsewhere, improving their chances at success?
As Greg Wyshynski of Puck Daddy says, keeping amnesty out of the new CBA would simply be an effort to remain consistent with cracking down on cap-circumventing contracts. Is that a valid reason when we're talking about the potential success of the league, though? Commissioner Gary Bettman has turned the NHL into a $3.3 billion business ─ up $1.2 billion from seven years ago ─ and now, according to various reports, he is completely uninterested in having an amnesty clause; something that could lead to the potential growth of several franchises.
Whether you back the players, the owners or you're of neutral standing, it should be a no-brainer for amnesty to be a part of the new CBA, no matter when it is signed.
That is, of course, assuming there will be a new CBA.
[php snippet=1]