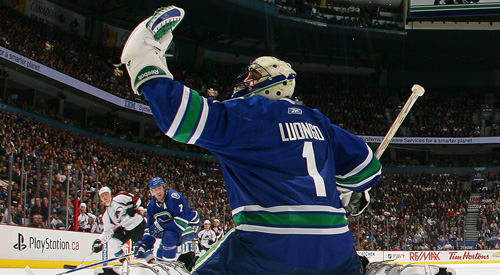 The love/hate dichotomy of the playoff goaltender
May 9, 2012
There are few positions in sports that rival the glory (or condemnation) reserved for hockey goaltenders once the NHL's "second season" commences. Hope certainly springs eternal for fans lucky enough to witness their team battle for the honor of becoming a part of hockey history, leaving indelible etchings on Lord Stanley, and that passion, perplexingly enough, manifests itself as an all-consuming love/hate relationship with the masked men between the pipes.
No doubt goaltending is an integral piece of the Stanley Cup playoff puzzle. When you have the luxury of possessing it dreams can be realized. When you aren't lucky enough to employ a top-tier puck-stopper, goaltending becomes the missing piece and the play of his 18 teammates be damned.
The feverish insistence on nothing less than otherworldly, godlike play during the playoffs has now become a time-honored tradition in hockey, regardless of its roots in nothing more than overzealous misconceptions of the fans.
When you read, talk or argue about playoff hockey, one of the points of contention will undoubtedly be the ability for players to raise their games or "compete levels" during the grueling grind that is the NHL playoffs. How you quantify a player raising his game during the playoffs is subject to myriad theories, opinions and disputes, but generally there is a reliance on statistics to "prove" this point.
As always, statistics, while indispensable for armchair general managers building their fantasy teams, don't tell you the entire story. While the statistics recorded in the present day provide a fantastic look at the game from a numerical standpoint, there is no way to accurately record the unpredictable moments that happen in every hockey game such as unlucky puck bounces and bad line changes. 
[php snippet=1]
Since statistics seem to provide the damning evidence when it comes to affirming or debunking arguments though, allow me to deviate from the goaltending talk for a moment. Both Joe Sakic and Steve Yzerman posted lower point per game totals in the playoffs than they did during their regular season careers. Sakic checks in at 1.09 in the playoffs versus 1.19 during the regular season. Yzerman's totals are 1.15 against 0.94 respectively. Both are revered as "clutch" players and leaders who came up big when their teams needed them most.
This is true to a degree. They were both "big game" players capable of lifting their respective teams to lofty heights. Statistics such as game-winning goals can help prove this, but many deficiencies of statistics go unaccounted for, especially when the topic of playoff goaltending is a point of discussion.
Patrick Roy certainly set the bar high for goaltending performances during the playoffs and as a multiple Stanley Cup and Conn Smyth winner, it's hard to argue against the fact that he showed up to play when it counted most. For the statistic-inclined, his career regular season goals-against average sits at 2.54, compared to his 2.30 in the playoffs. His save percentage also rose during the playoffs, with a .921 in the playoffs besting his career regular season percentage of .910 during the season.
Roy's regular season numbers aren't indicative of his iconic status within hockey lore, and if statistics are telling, he certainly had plenty of help from his teammates over the years in order to compile the gaudy individual statistics he's managed to accrue. As much as you need a goaltender to "steal" you a couple of games in the playoffs, you need your team to pick it up when things go awry between the pipes, just as many of the teams Roy suited up for did during his regular season career.
Martin Brodeur is another goaltender that has reached iconic status within the game and rightfully so, but the whispers of him being done have turned into shouts over the past few seasons. When New Jersey bowed out early against Carolina in the 2009 playoffs, Brodeur became the scapegoat. However, going into Tuesday night, his career playoff goals-against average was 2.01 and his save percentage was .921, so he may not be washed up just yet.
Brodeur won't get as much credit as he should for the spectacular numbers he's posted when it comes to springtime hockey because he played on a team renowned for its defensive system. Now then, if those numbers are a product of the team on which he played, it follows that a team is capable of assuming responsibility when it doesn't achieve the goals that overzealous fans expect it to.
Clearly hockey is a team game, but goaltenders find themselves under the microscope during the playoffs due to an unfair, but understandable set of circumstances. For many fans, it's easier to point a finger at the goalie that let in a "softie" than it is to identify a missed defensive assignment that led to a scoring chance.
But when it comes to the poster-boy for having the finger pointed at him, look no further than Roberto Luongo.
Often maligned for his play during the playoffs, Luongo actually has eerily similar numbers in both the regular season and playoffs. However, there is a movement that seems to believe that he's only a shell of himself during the playoffs and as such, is at fault for Vancouver's failure to win a Stanley Cup. Regardless, since I've proven statistics are valuable only insofar as to provide a basic example of the type of player someone is, let's go beyond his statistics and point out that Cory Schneider, the anointed "savior" in Vancouver played more games than Luongo during the 2012 playoffs.
Schneider's numbers were better than Luongo's, but the Canucks were still ousted in five by the upstart Los Angeles Kings. Many will claim that he at least gave the Canucks a chance to win, but if they still couldn't pull off a series win with Schneider in net, then it doesn't matter if Luongo was starting or not, it becomes a problem with the team in front of the goaltender. That is something everyone seems to forget when looking for answers to explain their beloved team's playoff failures.
Following closely in Luongo's footsteps as the most unfairly chastised goaltender is Marc-Andre Fluery, who by all accounts didn't play up to his potential during the Penguins' first-round series against Philadelphia. I missed the memo that everyone else received stating he's a terrible goaltender as a result of his recent performance.
What I saw was a team deviating from their game plan and getting sucked into playing like a collection of riverboat gamblers as they tried to go goal-for-goal with a team designed to win by simply outscoring their opponents. Funny how only a couple of years ago it was Fluery making an incredible save on Nicklas Lidstrom to secure a Stanley Cup win for Pittsburgh while simultaneously becoming the best goaltender on earth because of it.
Therein lays the problem with goaltenders in the playoffs: the hopes of fans are heaped upon the shoulders of masked men. Thus, fans are so blinded by their own desire to win, they misjudge the true value of the guardian they love when things are going swimmingly, and hate when they go awry.
To accurately sum up the plight of goaltenders during the playoffs, it wouldn't be a stretch to proclaim "they're never as good as they think you are, and they're never as bad as they think you are."
Next time you point a finger at a goaltender during the playoffs, take a closer look at the big picture and you'll notice there are 12 forwards and six defensemen that should be helping out one way or another, because most of all, hockey is a team game.
As important as solid goaltending is, it's only one ingredient in the recipe for success. Even if you have it, it doesn't guarantee victory.
Just ask Pekka Rinne.
[php snippet=1] http://credit-n.ru/zaymyi-next.html