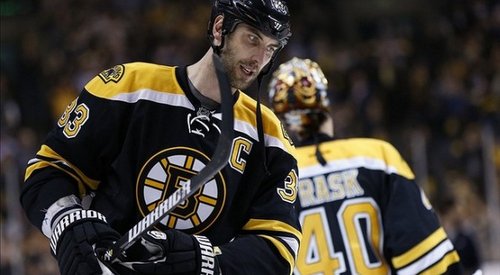 NHL Roster Stability: When the best move is none at all
June 19, 2013
There are many qualities the Boston Bruins and Chicago Blackhawks have in common, from superstar goalies who have waited in the wings for their chance to lead their teams deep into the playoffs to exceptional depth at every position and well-respected captains ready to do anything to win. They also have, perhaps most importantly, management with a ton of roster patience.
One of the most important and frustrating ingredients in the formula for success is time. Look at the teams that win every year and you'll see franchises that had their rosters set for several years before everything came together. Adam Proteau of The Hockey News recently wrote about the Philadelphia Flyers and how their revolving door of players is doing far more harm than good. Every few years they have a brand new core and when they fail to win after two of three years, the whole team is blown up again.
Right after the 2005 lockout they were led by Peter Forsberg and Derian Hatcher, but that didn't pan out at all the way they hoped. Fortunately the next generation was ready to take over and with Mike Richards and Jeff Carter leading the team, they reached the conference final twice in three years and were one awful goal from reaching Game 7 against Chicago in the Stanley Cup final in 2010. One year later, they were blown up again as Claude Giroux and Ilya Bryzgalov were tagged with the task of leading a parade down Broad Street and now it's all but assured Bryzgalov will be bought out this summer.
[php snippet=1]
Not only do they not have time to gain chemistry and experience together, it makes young players second-guess how much they're wanted. As Proteau writes, youngsters Giroux, Brayden Schenn and Sean Couturier shouldn't be comfortable with their long-term security, though they shouldn't be too upset about that since their former players have had more success leaving in recent years.
The Detroit Red Wings have been able to stay so good for more than two decades now because they kept their core together and used free agents and trades to complement their stars rather than to build a new team. Their 2002 championship team, which featured 10 current or future Hall of Famers, was bookmarked by first-round losses in 2001 and 2003 and they didn't reach the conference final again until 2007. Blowing up their team would have been easy, but GM Ken Holland had faith in the young players on the roster that led to another Stanley Cup in 2008. They work hard to keep their core together which allows them to grow, fail, learn and ultimately succeed together. That's why Pavel Datsyuk was just signed to a three-year extension instead of being traded even with three playoff series wins in the past four seasons.
Bruins GM Peter Chiarelli made major moves when he traded Joe Thornton to San Jose early in 2005-06 and signed Zdeno Chara the next summer and though they improved, playoff disappointment soon followed. From 2007-08 to 2009-10, the Bruins averaged 44 wins and 100 points in the regular season, but won just two playoff rounds, losing in Game 7 all three years, twice at home. But he believed in his roster despite numerous setbacks including blowing a 3-0 series lead to Philadelphia and was rewarded with a Cup in 2011 and is two wins away from his second in three years. It's true Chicago had a lot of turnover since 2010, but that is mainly due more to a lack of cap space than anything else.
Rebuilds are necessary and there is at least one completely revamped team every year. But when roster shakeups become the norm, that's when the trouble begins. It's true there's no one formula for winning, especially with 29 losers every season. If roster patience was the only thing necessary, San Jose would have a Cup by now, but for all the disappointment they're far closer to winning than the Flyers.
It's an easy lesson to figure out, but a hard one to learn. Losing stinks and any perceived weaknesses must be corrected, but that doesn't mean an entire roster shakeup is necessary every few years. Players and management constantly say failure is unacceptable, but if used as a learning experience, losses can be a positive thing. Boston failed three years in a row in Game 7, then became the first team to ever win three in one playoff year. Because it was the same roster that lost in the past, every player in the locker room knew what kind of heartache was on the line. An entirely new team likely wouldn't have succeeded the way they had to.
Success just cannot be forced. It's not always easy, but it's important to sit tight and let your team find its stride. The good teams always do.
[php snippet=1]