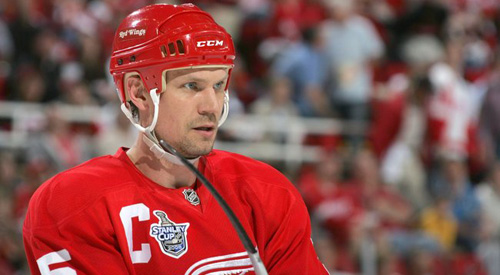 The NHL's Most Respected Player
June 5, 2012
Detroit Red Wings captain Nicklas Lidstrom retired last Thursday, ending a legendary 20-season career that saw him rack up numerous accolades, trophies and honors. But there is one title he has held for the past few seasons that he never had to step up to a podium and make a speech for, and that is of the most respected player in the NHL.
Lidstrom was the type of player who earned respect from everyone throughout the sport, from the players and media to the fans. He's the rare athlete that even those rooting against the Red Wings couldn't help but admire, and there are two traits that earn a player that amount of respect.
Credentials – To be among the most respected players ever is to be among the greatest, and Lidstrom's list of career achievements is as long as anyone's. He has won seven Norris Trophies (tied with Doug Harvey and second only to Bobby Orr), four Stanley Cups, one Conn Smythe Trophy and one gold medal. He was named to the 1991-92 All-Rookie Team, was a First-Team All-Star 10 times, a Second-Team All-Star twice and appeared in 11 All-Star Games.
In the regular season, he's 10th in career games played and first for games played for one franchise (1,564), ninth in goals for defensemen (264), 21st all-time and sixth among defensemen in assists (878), 50th all-time and sixth among defensemen in points (1,142) and eighth all-time in plus-minus (plus-450). In the playoffs Lidstrom is second all-time in games played (263), third among defensemen in goals (54), fifth all-time and third among defensemen in assists (129), 13th all-time and second among defensemen in points (183), first all-time in plus-minus (plus-61) and fifth all-time and first among defensemen in power play goals (30). 
[php snippet=1]
Many peg him as the greatest European ever and for good reason. Decades after Europeans became prevalent in the NHL Lidstrom was still breaking down barriers and setting milestones. He was the first European to win the Conn Smythe Trophy, the Norris Trophy and first to captain a team to a Stanley Cup.
Class – Everyone loves a superstar, it's a thrill to see just how many points they can put up and how many times they leave you on the edge of your seat with your mouth open, wondering what you just saw. But it's even better when that player plays at such a high level while showing off supreme grace, composure and sportsmanship. Save for a very small minority of ignorant fans who blindly believe the only good players are those who wear the colors of their favorite team, Lidstrom was beloved by all.
In 20 seasons, he accumulated a mere 514 penalty minutes, an average of just over 26 for every 82 games. As one of the best players on the ice, it was imperative that he actually remained on it. He handled himself very well off the ice too, treating everyone with the same respect he earned over the years. He'd never treat a press conference in the same fashion as Rangers coach John Tortorella or Flyers defenseman Chris Pronger.
He was also well reserved. People had to make things up in order to find any faults, just search Twitter for #LidstromFaults. The only bad thing anyone can truly come up with is that he announced his retirement during the Stanley Cup Final, but even that wasn't all bad. With two days off between Games 1 and 2, it was a nice distraction from reviewing Game 1 and previewing Game 2 another thousand times.
But the most telling thing about his class was it led people to call him not just a perfect hockey player, but a perfect human. Some look down on gentlemanly play, saying that hockey is supposed to be rough, but Lidstrom showed you can be effective without taking liberties on opponents.
Here are the five players most likely to take over the title of the most respected player in the NHL.
Teemu Selanne
It's entirely likely that collective hockey minds would pick Selanne as the hands-down selection for most respected. How long he will hold the title is anyone's guess as the Finnish Flash could retire this year as well. From the moment he first skated on an NHL rink, the only person who could stop him from scoring was himself, as knee injuries slowed his career in few seasons before the lockout. Selanne managed 76 goals as a rookie, a total only Wayne Gretzky, Brett Hull and Mario Lemieux have bettered.
He's 12th all-time in goals (663) and 19th in points (1,406) and only knee injuries kept him from recording more. He carried himself with the same grace as Lidstrom, becoming an icon in the process. "Teemu Selanne, along with Jaromir Jagr and Martin Brodeur, is the last icon of a golden generation of the NHL," tweeted Stephen Lethbridge of the Netcrashers podcast and Coincidental Minors. "For people in their 20s and even early 30s, these players are our Gordie Howes and Bobby Hulls."
Those are names that aren't just thrown around in the hockey world, but it is justified with Selanne. The next generation of hockey fans will marvel when they hear tales of Selanne's work and, just as young adults do now with Howe and Hull, will wish they could have seen just one game when he was at his peak.
Martin St. Louis
Originally deemed too small to make it in the NHL, Martin St. Louis has had a big impact. The 5-foot-8 winger was undrafted despite a very good career at the University of Vermont where he recorded 91 goals and 267 points in 139 games. Used as an undrafted free agent then waived by Calgary after just 69 games in two seasons, he was given a chance with Tampa Bay and has flourished ever since.
Despite adversity and no one believing in him, St. Louis has accomplished a lot. His best season was 2003-04 when he cleaned up at the NHL awards, taking home the Art Ross and Hart Trophies, Ted Lindsay Award and was named a First-Team All-Star the same year he helped lead the Lightning to a Stanley Cup. But just because he has won awards and become a superstar doesn't mean he'll ever take a night off. He'll never give up on any play and is "the type of guy who plays every shift like he's worried he might get cut," tweeted John Grigg, managing editor of Sportsnet Magazine. "As he gets older he's become a great mentor for young players, just ask Stamkos."
He's a fiery competitor but rarely takes a penalty. He averages less than 24 penalty minutes every 82 games, including just 54 in the past four seasons combined, and has won the Lady Byng Trophy in each of the past two seasons. "It is remarkable when you consider Marty's size, that he has been able to thrive without resorting to taking penalties," Lethbridge said.
Martin Brodeur
Only Wayne Gretzky has more individual records than Martin Brodeur, who finds new records to break every year. He has the most career wins (656) and shutouts (119), wins in a single season (48) and most playoff shutouts (24). Just when you think he has accomplished everything, he finds another record to break, like most points by a goalie in a playoff year (four). Records are made to be broken, but like many of Gretzky's accomplishments, quite a few of Brodeur's numbers just seem unreachable.
For someone who was so consistently dominating for so long, Brodeur has received little fanfare. He easily could have gone to a bigger market and earned more money, but he stayed in New Jersey at a relative discount with a $5.2 million cap hit while far less capable goalies earned way more. He's a legend, plain and simple, even though you'd never know it by talking to him.
Jarome Iginla
He may not have the individual awards and championships the other three have, but no one has done more with less over the past decade than Jarome Iginla. He has led the Flames in goals and points in every single season since 2000-01, recording at least 31 goals and 67 points each time despite constantly playing with lesser talents. He now has 516 goals, the 16th highest total for a player with one franchise.
He won the Art Ross and Maurice Richard Trophies, and Ted Lindsay Award in 2001-02 when he led the NHL with 52 goals and 96 points, despite the Flames missing the playoffs by 15 points. Two seasons later he earned another Richard Trophy and the King Clancy Trophy when he captained the Flames to within one win of the Stanley Cup.
Daniel Alfredsson
Like Iginla, the Stanley Cup has eluded Daniel Alfredsson despite giving everything to his team. "He's been the one constant through the good times and bad with Ottawa," Grigg said. "He's the longest serving captain in the NHL, will always face the media and the fans love him. He's a hero in Ottawa and Sweden. And he's pretty damn good—still."
The only individual award Alfredsson has won was the Calder Trophy in 1995-96 and he has been an underrated superstar ever since. He is the Sens' all-time leader in games (1,131), goals (416), assists (666) and points (1,082) and there isn't a player close to him in any of those categories.
There are many players in the NHL who deserve a lot of respect. But these five have that special mix of talent, determination and class that makes it difficult to root against any of them. Still, none may possess the total package that added up to Nicklas Lidstrom.
[php snippet=1]