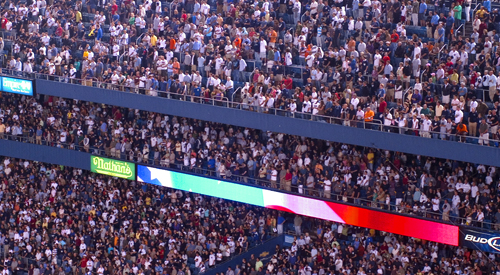 Finally, old Yankee Stadium has met its match
September 2, 2008
With all the panic and general hullabaloo surrounding old Yankee Stadium's impending destruction, it's hard to detach one's self from the emotional draw of the world famous venue – but then, eventually, you see it for yourself.
For years The Big Ballpark in the Bronx has set the table from which baseball purists have dined, and for years the onslaught of people hoping to witness history firsthand has taken its toll on the now 85-year-old structure.
Don't get me wrong, any building that can host over two dozen World Series champion baseball teams deserves your respect, it's just that gravity (yes, gravity) deserves it even more.
With enough chipped concrete and decrepit handrails to make Ty Pennington blush, it's no surprise that this once proud venue is in serious need of an Extreme Home Makeover. Unfortunately, it's going to take a lot more than that to meet the needs of a growing fanbase of people who appreciate safety.
[php snippet=1]
Keep in mind that by the mid-1970s, Yankee Stadium had deteriorated enough to warrant a two-year-long renovation. Now consider the depreciation of anything else you know over the span of five heavily-visited decades and find yourself faced with the absolute miracle that throngs of distracted baseball fans have managed to navigate the treacherous upper balcony staircases with relative success thus far.
Relative, of course, to Shea Stadium on the other side of town, which this year alone has seen one man perish and another critically injure himself in separate falls related to old structure. Just last season, one Yankees fan suffered a broken neck after being landed on by another crashing from above. Oh, and while the comparison is still fresh, for the record, Shea was built 40 years after Yankee Stadium.
In addition to staircase woes in The Bronx, over 10 years ago now a 500-pound concrete beam tumbled down from a section of upper balcony above the third base line, directly onto a vacant seat below. Had it not been just hours before the stadium doors opened to the public, the House that Ruth Built may have had a mess on their hands that even Bambino himself couldn't clean up.
There is one redeeming quality however for Yankee Stadium, which alone is nearly enough to justify the longevity of the building: Babe freakin' Ruth played there. And Lou Gherig. And Mickey Mantle. And Joe Dimaggio, Don Mattingly, Reggie Jackson and essentially every classic baseball player you've ever heard of not named Hank Aaron.
But while die hard baseball fans mourn the forthcoming loss of one of the most important stadiums in sport history, an objective look at the ancient venue in modern sports suggests that the closure is long overdue.
[php snippet=1]