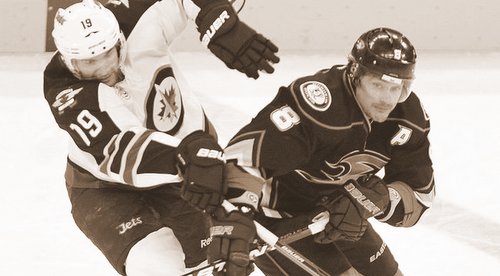 Old Timers' Game: The NHL Post-40
September 11, 2013
This is officially it for Teemu Selanne who will play his 21st and final season having turned 43 on July 3. Since each team will travel to every city at least once this season, everyone will have a chance to bid the classy legend farewell. He's scheduled to make his last visit to Winnipeg on Oct. 6 which will be just as if not more emotional than his return on December 17, 2011. He will appear in his 1,400th game on Oct. 29 in Philadelphia and does have a slim shot at reaching 700 goals, though he needs 25 and last season was prorated to 21. He's going to draw a lot of attention, but he's far from being the only greybeard contributing this year.
GM Lou Lamiorello has finally shored up the goaltending position for the future by trading for Cory Schneider during the draft, but make no mistake, this is still Brodeur's team. Whether or not he gets enough starts to reach the unthinkable total of 700 career wins (he needs 31 more) is doubtful especially since this is a team on the playoff bubble. In his prime 31 wins would take 50 games or so, a reasonable start total for him this season, but that could take him 60 games or more. Unless of course Schneider's ability to take over and Brodeur's willingness to stay on as a tutor keeps the legend playing beyond this season. In that case he'll reach 700 wins for sure, though a last crack at a Stanley Cup would surely mean way more.
[php snippet=1]
Like Selanne, Jagr will also reach the 1,400 game mark while having a chance to reach 700 goals. He will become the eighth player to score 1,700 points as well. Though far slower than he was years ago, Jagr remains strong as an ox and continues to deceive players with his stick handling. He has played to a 60-point pace over the past two seasons and the Devils are hoping he can help Adam Henrique break out and Travis Zajac regain the 65-point form they haven't seen from him in three seasons. Michael Ryder was bought in to provide offence, but they need their core guys to step up and replace David Clarkson and Ilya Kovalchuk. Patrik Elias led the team in points last year, but he's 37; on defense Bryce Salvador is 37 and Marek Zidlicky is 36. Their old guys are still their go-to players this season, but the kids are going to have to step up and give them a rest.
The Detroit Red Wings finally got their long-awaited move to the much more travel-friendly Eastern Conference and received a potential adrenaline injection with the signing of Daniel Alfredsson, the only 40-year-old without a championship. While Stephn Weiss will be self motivated by finally playing on a contending team for the first time in his 12-year career, the entire team will be boosted by trying to help Alfredsson capture the Stanley Cup the same way the passion to see Ray Bourque retire with a championship fueled Colorado's run in 2000-01. He's approaching 1,200 games and 700 assists, but the only milestone he wants is the Stanley Cup. Detroit has only won three playoff rounds the past four seasons, but it's impossible to count out a team led by GM Ken Holland.
Alfredsson is giving motivation in Detroit, Ray Whitney is providing guidance in Dallas. Perhaps the quietest 1,000-point scorer ever, he will be an excellent player for Tyler Seguin to look up to and will help Jamie Benn continue to grow.  He'll play in his 1,300th game and could hit 1,100 points if his production continues to defy his age. He and Sergei Gonchar, who will turn 40 in April, will try and keep the team steady throughout the season. They have gotten off to strong starts in each of the past few years only to fade down the stretch and fall short of the playoffs.
Nikolai Khabibulin is the final 40-year-old who will play this season He posted a very respectable .923 save percentage and 2.54 goals-against average last season in 12 games for Edmonton and will be relied on to play a big part for the Blackhawks. GM Stan Bowman expects him to take a large amount of starts in the regular season which will keep started Cory Crawford fresh for the playoffs. That Philadelphia-bound Ray Emery played in 21 of 48 games last season was a huge reason Crawford played so well in the playoffs and Khabibulin, who will play his 800th game early on, should play a similar amount.
[php snippet=2]