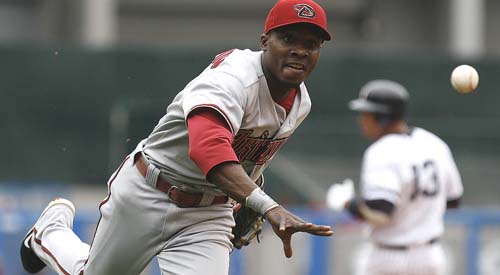 Dogging Orlando
November 26, 2008
With baseball's silly season officially underway, we're getting very close to the point of players putting their pens to outrageous contracts. It will undoubtedly be interesting to see where this year's big-name free agents end up, specifically CC Sabathia, Mark Teixeira and Francisco Rodriguez.
Even the trade market heats up at this time of year, with San Diego's Jake Peavy possibly being the best player who will switch teams this offseason. The most fun part of the offseason, however, is figuring out who will be the most overpaid of the group.
Barry Zito's seven-year, $126 million deal before the 2007 season is by far the most outrageous signing of the past couple years, and it likely won't be eclipsed by any members of this year's free agent class.
However, one name will come close. As much as it pains me to say it, Orlando Hudson will be raking in the dollars this offseason, and he hasn't done enough to earn them. Known as a fun-loving, likeable second baseman during his stints in both Toronto and Arizona, Hudson's been a fan favourite for his whole career.
The Blue Jays' fan base had trouble letting him go after the 2005 season when general manager J.P. Ricciardi sent Hudson and Miguel Batista to the Diamondbacks for Troy Glaus and prospect Sergio Santos. He easily won the fans in Phoenix over shortly after that. 
[php snippet=1]
The likeability and leadership traits that Hudson appears to have are not the only benefits of bringing the second baseman onto a club this offseason. The O-Dog can clearly hit for contact, as he has recorded a batting average lower than .270 only once in his seven-year career. Hudson also has been remarkably consistent throughout his career as a regular.
In the span of the 2003 through 2007 seasons, Hudson's power totals always fell in the ranges of 9-15 home runs and 57-67 RBI. Before an injury-plagued 2008 season, his hit totals had cleared 150 for each of the previous two years. Any team that signs him will almost certainly know what they're getting.
The amazing thing about Hudson's consistency is that offense is not his primary asset. What Hudson is most valuable for is his defense. Anybody who's watched Hudson play a handful of games over the past seven years should already know just how adept the South Carolina-born 30-year-old is with his glove. He has an amazing career fielding percentage of .985, never going lower than the .982 he put up in his injury-shortened 2008, and peaking with a .991 percentage in 2005 in Toronto. In his five seasons of 130 games or more (2003-2007), he has won three Gold Glove awards and was named to the 2007 National League All-Star team.
Hudson's clearly an asset for any franchise, but teams will still be throwing much more money at him than he has merited. It is still questionable as to whether Hudson could be a difference-making second baseman for a contending team. Even after improving his slugging percentage starting in the 2005 season, his career-high .454 clip is still far below the .470 barrier used to designate above-average power hitting. In addition, his aforementioned raw power numbers, though consistent, are not exactly something worth hugely relying on as a key cog in one's batting order.
Though it's extremely difficult to fault Hudson defensively, it's never a good sign when you enter your fourth decade of life and post a career-low fielding percentage. Hudson will still likely be an above-average defender for the rest of his career, but it's not a stretch at his age to suggest that his best days on both sides of the ball are behind him.
The biggest concern surrounding Hudson, however, is the fact that injuries prevented him from finishing both the 2007 and 2008 seasons, including Arizona's run to the 2007 National League Championship Series. Though those two seasons stand out the most, Hudson's durability has clearly never been the greatest. In fact, the thought of anybody's team paying a player who's missed at least 20 games in all but one season of his career as one of baseball's premier second basemen should make avid baseball fans uncomfortable.
Aiding Hudson's quest to get overpaid is the fact that he's undoubtedly the best of a weak crop of unrestricted second basemen this year, with career journeyman Felipe Lopez being a distant second. Current rumours have Hudson seeking a five-year, $50 million contract, which would place him behind only Philadelphia Phillies superstar Chase Utley in terms of annual value. If Dustin Pedroia and Ian Kinsler, among others, are paying attention, they'll be due huge paydays in the near future.
According to rumours, at least the San Francisco Giants, New York Yankees, New York Mets, Cleveland Indians, Colorado Rockies, Florida Marlins and St. Louis Cardinals are interested in Hudson's services. Let's just hope that they know what they're overpaying for.
[php snippet=1]