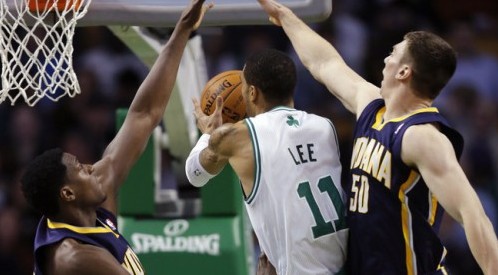 Pacers-Celtics canceled, to be made up at Sports.ws
April 16, 2013
That this post is even necessary is a shame in itself, but an individual or series of individuals who fancied themselves important enough to inflict their disturbed will upon the lives of hundreds and thousands of innocents – physically, through the successful detonation of a pair of explosives at the world-renowned Boston Marathon, and emotionally, as any attack close to home does.
Our thoughts are with those affected by the explosions, whether directly or indirectly. It takes a coward to harm any innocent being, and an even bigger one to strike at a moment as precious as when a community is connected through sport. Sports bring us together, it's why we love them. They're not the only thing that does, but they're one of the most significant – whether you're scraping by on the hardcourt of a scrimmage basketball game or hitting your stride down the final stretch of an international endurance epic.
At the Boston Marathon in any given year there are individuals participating for the first time, delighted to even complete the nobly exhausting long distance haul, there are the passionate, fully-committed veterans of the sport hungry for a personal best. Most importantly though, there were droves and masses of individuals, men and women, enjoying life. It's what we do. It's what we ought to do.
I can't help but wish only the best for those in recovery following the incident, and mourn for those who lost loved ones.
With regards to the resultant canceled NBA game between the Boston Celtics and Indiana Pacers, we at Sports.ws have opted to take a unique (and unprecedented approach). The game scheduled for Tuesday night was supposed to be Game 81 for the Celtics this season. In other words, Game 6 of your NBA Finals.
Since the NBA has announced the outright cancellation of the game, that leaves our leagues one game short. In this particular case both teams have already clinched playoff berths, therefore, to avoid any absent fantasy statistics (or cloned stats, or simulated stats, etc.) we'll take the individual results from each of teams 'performances in Game 1 of their respective Eastern Conference Quarterfinals series. Those results will be manually inserted and effectively serve as both Indiana and Boston's 82nd regular season game.
Don't be afraid to enjoy your life.
[php snippet=1]