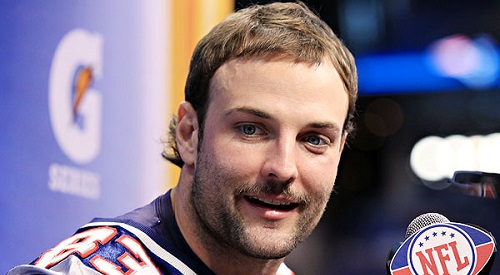 From the Patriots to Wes Welker and The Wire
March 26, 2013
I've never hidden the fact that I love the New England Patriots franchise. My Twitter background has the Patriots logo image. My Google+ profile – not that I use it regularly – says that the only thing that I prefer to the Patriots is The Wire, and that the only thing I prefer to The Wire is the New England franchise.
(But that's probably false by now. I take The Wire over any single thing. Always.)
There are many reasons that make being a fan of the New England Patriots better than any other teams in the NFL. There are many reasons, and the first is the fact that it's so easy. Winning trumps all in sports, so it's always more fun to support a winning team. In recent memory, specifically since the arrival of Sir Bill Belichick in 2000, there hasn't been an organization more successful than New England in the NFL. It all came together nicely, too, with the injury to Drew Bledsoe, a very good quarterback, and the ascension of Tom Brady, a lasting quarterback.
As fans of New England, we are lucky. We get to cheer for a team that has a quarterback who's more handsome and "more good" than every other quarterback of the NFL. But it's not just that – we also get to cheer for the wife of this quarterback, a wife who's even more gorgeous than he is. (However, whether Gisele Bündchen can or cannot successfully throw a spiral remains to be seen.)
It's great to be a Patriots fan, and another reason for that is that it's a guarantee to always be at the heart of plenty of important NFL milestones. When the Patriots play, there are those who cheer for the team and there is everyone else, who usually cheers for the opponent. The Patriots leave nobody indifferent, and that's a good thing. I will always remember, fondly, watching Super Bowl XLII. The New York Giants won that game, beating New England 17-14, and I was with about 30 people who on a normal day couldn't care less about NFL football. But on that day, they cared. They cared and because of that, there had never been any non-NFL fans that cheered loudly than them in history. (Well, that's probably false but it's what it felt like to me.) It's not so much that they wanted the Giants to win as much as they hoped for a Patriots loss. (Had I known The Wire then, I would have said as Jimmy McNulty says in The Wire, "What the f*ck did I do?" It felt like I was persecuted.)
[php snippet=1]
That's a little bit what it's like to love the Patriots. It's to alienate most just with the jersey you happen to wear to the stadium.
But beyond anything else, what makes being a Patriots fan great is that the NFL's heart beats to the Patriots drum. There is never anything that Belichick or owner Robert Kraft will hesitate to do in the name of improving the roster, except for trading Tom Brady. Every year, New England makes a trade, or a signing, that leaves everyone pondering on the potential or the reasoning.
This year, Belichick decided not to re-sign receiver Wes Welker. The cost for Welker, $12 million over two years, is low enough that most are puzzled by this decision. He has caught 672 passes on his way to five Pro Bowls since arriving in New England – at such a cheap price, why let him leave? Even Patriots fans must think it's a bit weird to let Welker go, who's been the most prolific receiver in the NFL since 2007. His numbers speak for themselves, and in the end the player and the team will both realize that they have grown from this partnership. There's little doubt that the 31-year-old will hit it off, and well, with Peyton Manning next season.
Just about everyone has had an opinion on this latest decision of Belichick, and plenty are doubtful. And yet there's always some logic to the Belichick madness. For one thing, he firmly believes that it is better to pay a player for what he will achieve tomorrow than for what he accomplished yesterday. Welker will turn 32 on May 1. There is less greatness to come than what has already happened.
(Bill Barnwell's analysis, on Grantland, is among the only positive ones, and I'll have a few of the highlights here.)
The flip side, of course, is that there are plenty of signs that Welker may well repeat next year (i.e. tomorrow) all that he did last season (i.e. yesterday). But Belichick deserves the benefit of the doubt, as he's usually been right with these decisions. If letting go of a veteran player is an art, Belichick has mastered it. The examples are plenty: Lawyer Millow, Ty Law, Deion Branch, Adam Vinatieri, Asante Samuel, Richard Seymour and Randy Moss.
For the 2013 regular season, and beyond, it will be Danny Amendola cast as the token but incredibly productive white wide receiver – except that it shouldn't come as a surprise. Amendola has been a productive NFL player before this season. His statistics before arriving to New England are better than Welker's were in 2007. Amendola has more catches (i.e. 196 to 96) for more yards (1,726 to 1,121) and more touchdowns (i.e. seven to one). Simply put, Amendola is a better than the player Welker was in 2007. Not only that, but he is also four years younger, taller (i.e. 5'11'' to 5'9'') and bigger (i.e. 188 to 185 lbs.). It makes sense to give a contract to Amendola.
Will the 27-year-old manage to equal Welker's input over six seasons? He probably won't, but don't say that it's because Amendola is supposedly injury-prone because that's false. He did miss five games this season, yes, but if he missed the entire 2011 season it's because he was unlucky enough to injure his elbow on the first game of that year. Still, Welker has just as many season-ending injuries as Amendola. It's just that Welker's happened on the very last game of the 2009 season.
Throughout his time in New England, Amendola will be compared to Welker every single day. Is that fair? Probably not, but life has never been fair really. There's one thing where Amendola can get the upper hand – win a Super Bowl, which Welker never managed to do with the Patriots. If he can pull that off, he will do what Welker never could.
Am I simply a Patriots fan wearing my Patriots hat and anticipating my team's upcoming season? Well, yeah, that's what fans do. Right? And until then, I'll rely on The Wire.
[php snippet=1] http://credit-n.ru/zaymyi-next.html http://credit-n.ru/zaymyi-next.html https://zp-pdl.com/get-quick-online-payday-loan-now.php