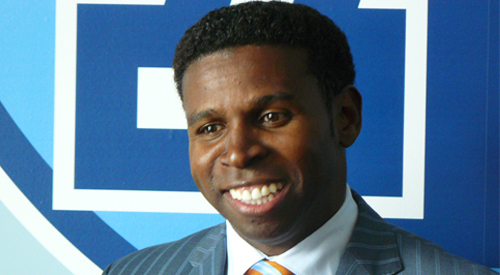 Pinball Clemons bleeds the double blue
October 7, 2008
As I walk around field level of the SkyDome, excuse me, Rogers Centre, I start taking in the fact that just 10 yards away is the gridiron where such Canadian Football League greats as Doug Flutie, Damon Allen, Joe Theismann and Michael "Pinball" Clemons have all donned the Argo blue and won Grey Cup after Grey Cup.
Enjoying the atmosphere of the pre-game introductions, I see a man walking down the sidelines hugging every player, cameraman, fan, employee and spectator. Hell, I think I even saw him embrace a hotdog vendor.
This wasn't an injured player. It wasn't a water boy. It wasn't even the Argos' mascot. The man was CFL Hall-of-Famer, Michael "Pinball" Clemons.
Going into the 2008 season, the Toronto Argonauts were heavily favoured to make another Grey Cup appearance. Fourteen weeks into the season and the Argos are sitting with a 4-10 record, a far cry from the powerhouse they were expected to be. Despite this, recently-appointed Argos' CEO Clemons remains optimistic, as per usual. Even when asked about his team playing poorly as of late, Clemons keeps a positive attitude.
"Well I think when you look at it, the CFL has been around 100 years, and there has never been a team that has gone undefeated through the entire season. That suggests that we're going to win some games and we're going to lose some games," said Clemons. "As long as our players are playing hard, going out there and giving it their all, that [record] just means we're not quite there yet. But we got a little bit more time to get there." 
[php snippet=1]
With the trademark smile of his, he reminds me that despite the struggles on the field this year the Argos have been to the Eastern Conference Finals in each of the last six years and are the only team in the Eastern Conference to win the Grey Cup in the last five. Of course that Grey Cup came when Clemons was the coach of the Argos, it was the fourth of his career.
Pinball, as he is most famously known from his playing days, was born in Dunedin, Florida in 1965 and has been with the Argos organization since 1989 when he first came to Toronto after a year with the Kansas City Chiefs in the National Football League. After his year in KC, Pinball was recruited by the late great Ralph Sazio.
"[Ralph and I] went to the same university, The College of William and Mary in Virginia … I never really went to school to play football so that was not my mindset," said Clemons about his move to the CFL. "Then when I actually got drafted [to the NFL] I wanted to maybe see if I could continue the experience. I came here and everything exceeded my expectations. [The CFL] truly is the world's best football."
He now resides in Oakville with his wife and three daughters but has maintained his American citizenship. Many consider this a way for him to steer away from the many questions about him running for office in Canada, particularly Mayor of Toronto. He has said many times that he is an, "American by birth but Canadian by choice".
After 11 years playing in the CFL, three Grey Cups, four Eastern Division All-Star selections, two CFL All-Star honours, two Tom Pate Awards, nine Argonauts' records, two CFL records and one Most Outstanding Player award, Pinball made his move to the sidelines where he would coach the Argos for the next eight years. Even Pinball himself was shocked to be under the head set.
"My famous quote when everyone asked me if I would coach after I finished playing was, 'I'm the ultimate optimist and I never say never but I'll never coach'," said Clemons. "The front office never crossed my mind and certainly not coaching … but I ended up coaching and it's been absolutely phenomenal."
Now in the front office, Pinball has the ultimate responsibility of looking after the team both on and off the field. Establishing a successful business model for the oldest pro-football franchise in the world is on the top of his list. He, along with the rest of the management team, are looking forward to 2012 when it will be the 100th anniversary of the Grey Cup, consistent with that, the Argos are wanting to be at their best at that time.
Their goal this year, from a business perspective, was to have one sell-out, they got that in week one. Next year they are hoping for two sell-outs and by 2012 they are hoping for multiple sell-outs every year.
"So when we look at the context of who we desire to be, we talk about being Toronto's ultimate role model – combining a competitive spirit and great entertainment value with community involvement and pride," said a very passionate Clemons. "We plan on still being the number one community team, not only in the city but in the country."
Clemons isn't just involved in the community through the Argos. He is a devout Christian and a frequent speaker on community and Christianity. He recently helped start a reading program at a middle school in Brampton and is also the founder of the Michael 'Pinball' Clemons Foundation, dedicated to helping disadvantaged youth.
With the idea of the NFL permanently coming to Toronto bouncing around like, well, like a Pinball, the Argos, and the entire CFL could have to compete with the Buffalo Bills. However, Clemons was quick to point out that, 35 years ago, no one would have thought of baseball, basketball or soccer as competition and that in a city as great and dynamic as Toronto, there is always going to be competition. To survive in a crowded market it begins with a business plan. Much like everything else Pinball has carried under his wings, the Argos' business plan has excelled. Their business metrics are the strongest they've been in 10 years.
"We are going to hit a revenue level that we haven't hit since the owners [David Cynamon and Howard Sokolowski] have been here [2004] and probably about 10 years before that," said Clemons. "So we just want to keep working on our business model, keep building, keep growing and not be distracted by the Buffalo Bills."
For nearly 20 years now, Michael Clemons has responded to a nickname made famous in regards to how his small stature would bounce around the line-of-scrimmage during his days as an Argos runningback. The word Pinball has ever since been synonymous. Even his Wikipedia page isn't under, "Michael Clemons" but rather "Pinball Clemons". Though it was clearly a nickname given to him on the field, it's meaning means much more.
"I think more important than what it means to me, is what it means to other people. If you ask someone about the name 'Pinball', hopefully instead of saying he was a great football player, someone would say that, 'I met him and he was a nice guy'," said Clemons. "That's what life is truly about. It's about people. True greatness in life isn't about records or awards, money or power. True greatness is determined by what you do for people. So 'Pinball' is a moniker, a name, that has worked extremely well for me but more than that, I hope people just say, 'He is a human being, and when I met him he was just like me'."
Well Mr. Clemons, like many before me, I now have the opportunity to say that I have met "Pinball", but to say that you're a nice guy? That would be an absolute understatement.
[php snippet=1]