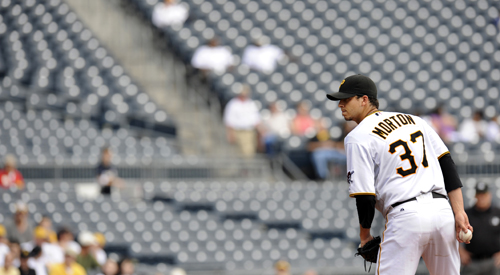 Pittsburgh's Pirates Revealed
October 9, 2009
The Bucs are one of the oldest teams in Major League Baseball. But what ever happened to them?
This is a franchise that has produced stars Roberto Clemente, Willie Stargell, Bill Mazeroski and Jason Bay and on top of that they play in (arguably) one of the best ballparks in baseball.
Yet sadly, all of this – the tradition, the All-Star talent, the prestigious digs – seems to be lost in a sea of futility.
For the 17th-straight season, the Pirates have failed to finish above the .500 mark. This year saw Pittsburgh produce a woeful record of 62-99; finishing dead last in the National League Central Division, 28.5 games behind the first-place St. Louis Cardinals. Without a doubt, the Pirates have achieved an unsightly record that has overshadowed the team's five World Series titles and nine NL Pennants.
There are several explanations that can clarify Pittsburgh's ineffectiveness. MLB.com reporter Jenifer Langosch points to one specific reason: poor decisions made by the team's front office.
"The Pirates should have benefited from picking high in the draft through much of this losing streak," says Langosch. "But their track record shows they made a number of poor first-round selections. When the team did go out to sign free agents, too often the Pirates signed the wrong ones and for too high a salary."
Langosch also points to the Pirates' low payroll. This has made signing big-name players impossible. A lack of funding has also made it difficult for Pittsburgh to keep their best players. Aramis Ramrez and Jason Bay are two examples of the Bucs being forced to trade away young talent before losing them to free agency.
[php snippet=1]
Seventeen years of poor play has also hurt the fan base. It certainly doesn't help when the NFL's Steelers and NHL's Penguins achieve the highest form of success as the Pirates continue to squander. While baseball fans in Pittsburgh are still loyal to their team, Langosch is concerned about a growing demographic that doesn't feel enticed to visit PNC Park.
"A generation of kids have now grown up and gone to college without seeing the Pirates have a winning season," states Langosch. "With the Penguins attracting that age group in droves, the Pirates are slowly letting this young generation slip away."
Although the Pirates look like a team that doesn't appear to be going anywhere, there is the possibility that the club will eventually put together a winning season. In order for that to happen, certain steps must be taken.
"The organization seems to have taken some steps forward in recent years," says Langosch. "But at some point, the club is going to have to spend some money the Pirates must be willing to spend in order to keep some of its talented players and have the ability to fill holes externally without waiting for young players to develop."
Langosch feels Pittsburgh can accomplish this despite baseball's current structure, but notes that a salary cap would certainly aid the team.
There's no way of knowing when the Pirates will finish above the .500 mark again. However, this current drought will eventually end. It all depends on the team's management and the players on the field. Judging by Pittsburgh's recent record, there's still plenty of work to be done.
[php snippet=1]