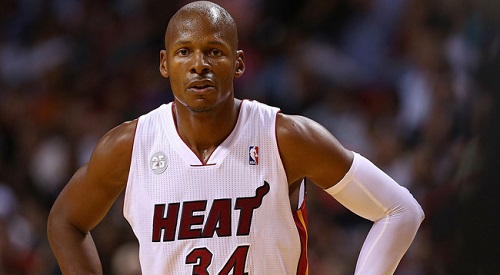 Ray Allen Reinvented with Miami Heat
June 26, 2013
They say that the definition of insanity is doing the same thing over and over again and expecting different results. If that is indeed the case, then 37-year old Miami Heat shooting guard Ray Allen may be the definition of sanity: he does the same thing over and over again and expects the exact same result each time. Luckily for him (and us), time and time again throughout his career, he has gotten those results. For 17 years in the NBA, Allen's job has been to make shots, and, for most of that time, he has been the best in the world at it.
Since entering the league as a rookie with the Milwaukee Bucks in 1996, Allen has made over 100 three-point shots a remarkable 15 out of 17 seasons. And unsurprisingly, in the two years in which he did not reach that landmark (1998 and 2002), it was for reasons beyond his control (a lockout and injury, to be exact). Allen currently has the all-time mark for three-pointers made over a career (2,857), and the nearest active player (Jason Terry) sits at a mere 1,911 three-pointers made, nearly 1,000 less treys than the man known as Jesus Shuttlesworth. It should be mentioned that Terry is 35 himself, and has virtually no chance of ever catching Allen (who made 139 threes in a relative "down year" in 2012).
In fact, the player with the best chance to ever catch Allen is probably 24-year old Warriors guard Stephen Curry, who, if he can maintain his current blistering career average of 2.5 three-pointers made per game (not likely), while playing in 82 games each season (also not a guarantee given the ankle woes of the young guard), will catch Ray Allen sometime in 2027 (provided Allen never makes another three-pointer from this day forward, an unlikely supposition to say the least).
[php snippet=1]
So Allen's domination as a three-point specialist is obvious. And well-chronicled. So, of course, is his almost maniacal dedication to the routine that has made him such an outstanding shooter. The excellent Jackie MacMullan wrote an article about it for The Globe way back in 2008.On game days, Allen (who describes himself as having a "borderline case of OCD") has to do the exact same thing, in the exact same way, at the exact same time, each and every time. All of that is in addition to a number of other personality quirks (related to everything from his clothes, to his diet, to his parking spot) that have combined to make Allen into a model of consistency over his storied career (which includes 10 All-Star berths). In fact, the only thing that has seemingly changed for Allen over his time in the league has been his jersey.
As phenomenal as Allen has been over the years, however, 2011-12 probably represented a low point in the career of the former UCONN star. Playing through debilitating bone spurs and friction with his teammates, Allen posted his worst PER since his rookie year. The postseason in particular was a struggle for the typically clutch Allen: his field-goal percentage was a miserable 39% for the playoffs. And he only managed to convert 71% of his free throws, an embarrassing number for the man whose career percentage of 89% from the charity stripe ranks him third among active players. Following that season, pushing 40 and a free agent, some questioned whether Allen would ever be a difference maker in the league again.
For a lifelong starter like Allen who so values his routine, and who bristled in Boston when asked to come off the bench for youngster Avery Bradley, what the future Hall-of-Famer did next must have gone against his very nature: he signed up with the world champion Miami Heat, agreeing to a lesser role as a reserve in the process. In going against character for once, though, Allen succeeded in revitalizing his career and further cementing his legacy as arguably the greatest shooter the NBA has ever seen.
A look at Allen's raw numbers from the 2012-2013 season aren't immediately impressive; after all, he played limited minutes and was asked to do little more than be a spot-up shooter in that time. Of course, the reason the Heat can employ a great player like Allen as a glorified role player is because of their awesome "Big 3" of LeBron James, Dwyane Wade, and Chris Bosh. With James and Wade drawing so much attention from defenses, the Heat offense is a paradise for great shooters who benefit from a plethora of open looks. Miami relies heavily on those shooters to be successful, and Allen (who shot an impressive 42% from beyond the arc) was a big part of why the Heat finished in the top three in the NBA in three-point field-goal percentage and in three-pointers made this past season.
But perhaps even more notably than his improved play on the court, Allen looked content, and to what degree a perfectionist like him could be, perhaps even happy. Clearly his final season in Boston had not been an enjoyable one, and Allen looked relieved to be simply free of an undesirable situation, despite the stonewall treatment from former teammate Kevin Garnett. Of course, Allen had every reason to be satisfied. He was there as the Heat reeled off their historic 27-game winning streak (the second best ever). He was there as they steamrolled their way through the first two rounds of the playoffs (with Allen breaking the record for career playoff three-pointers along the way). And he was there as they faced their first real challenge of the playoffs against the young Indiana Pacers (and even did an admirable job defending all-world Pacers forward Paul George in that series).
But, typical of Allen, he saved his greatest effort for the biggest stage: the NBA Finals. At first, in a tough series against the San Antonio Spurs, Allen couldn't get off the bench for a deep Heat team: he averaged only 23 minutes played in the first three games, and he made as many headlines for his typically eccentric pre-game behavior as for his on-court contributions. But over the next four games (of which the Heat won three), Allen averaged over 30 minutes and responded with a big Game 5 (in which he scored 21 points and was a perfect 4-4 on threes), and, largely because of one play alone, an even bigger Game 6.
Spurs fans probably thought no shot made against their team could ever be as heartbreaking as this Derek Fisher one. Unfortunately for them, they were proven wrong last week. Because this beauty Allen sank against San Antonio in Game 6 not only stole away a fifth championship from Tim Duncan and company, it will also go down as one of the most legendary moments in NBA Finals history, and probably the most clutch shot ever made by Ray Allen (in a career full of clutch shots). So Allen got his second title. And, far from a by-standing ring chaser, he played as important a role as any player for the Heat not named James, Wade, or Bosh.
So where to go from here? With one year remaining on his contract, Allen hasn't indicated that he plans to retire. He already has two rings, is a sure-fire Hall-of-Famer, and holds every notable record for three-point shooting over a career. At this point, the man is competing against history; with rivals like Larry Bird, Reggie Miller and Steve Nash for the mythical title of "greatest shooter ever". How long he plays is likely entirely up to him; teams can always use a great shooter and solid professional like him. And Allen, for his part, can always use the routine of game days. But in the end, we, the fans, are the lucky ones. Because we just may have the opportunity to enjoy that sweet, sweet stroke of his for a few more years yet.
[php snippet=1]