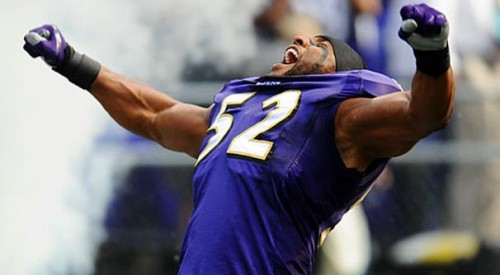 Ray Lewis, Goodbye
January 23, 2013
Dearest Ray Lewis,
How are you? I write to you a couple of days after of your team's dismissal of the New England Patriots in the 2012 AFC Championship, it's probably dawned on you that you're heading to your second Super Bowl. This game in New Orleans in two weeks will be the last game of your career, I was just wondering how you were dealing with it.
I'm asking you this for a simple reason. As they sang the national anthem against the Patriots, you were crying. That was before the game even started. Who says real men don't cry, right?
This is your destiny. That's what you've been preaching all season long. This Baltimore Ravens team is one of destiny, and it seems like it might have started as early as this summer. That's when Joe Flacco, your quarterback, proclaimed himself to be among the NFL quarterbacking elite. Of course, everyone sort of shrugged it off. What else was he supposed to say, right? He wasn't joking and, most importantly, he wasn't wrong either. In his fifth NFL season, Flacco could lead his team to a Super Bowl title. That's elite.
But you're the one who's been preaching that this Baltimore team was one of destiny, so everything starts with you. It was destiny that you came back just in time for the playoffs from a torn triceps. When you sustained this injury in October, a lot of people thought that it would put an end to your career, so they wrote your eulogy. I never did, because I never believed your career was done. A player like you, Ray, who continues to play at age 37, will retire when he says so. I'm not saying this just to pat myself on the back – I'm only wondering why there's such a rush, really, in examining your career that some must see you as retired before you actually are?
The game against New England was a battle between a lot of incredible players, and quite possibly the best defensive and offensive player of this generation in Tom Brady and yourself. Unlike last year, your team was victorious this time.
[php snippet=1]
Ray, you came back healthy for the playoffs and haven't missed a beat since. Your 44 tackles so far this postseason tower over your teammate Corey Graham's total, who is second in the NFL with 26. That's an insanely high number for only three games–by comparison, you had 57 tackles in six games during the regular season. Everyone's always been so used to feeling inspired by your off-field speeches that it's easy to forget how much adversity you overcame this year. That, too, is inspiring.
Goodbye, Ray. You're the face of your franchise as much as any other player has ever been. In part, that's because you were the Ravens's second-ever NFL Draft pick. That happened on April 20, 1996, when Baltimore picked you with the 26th pick of the first round only a few weeks after having relocated from Cleveland. Then, you were labeled as too short to play inside linebacker. Seventeen seasons later, you're still playing middle linebacker, Ray, and you're still 6'1″ just like you were in 1996. If nothing else, Ray, you're the Baltimore Raven. I'm proud to say that I watched your last pre-game dance routine at M&T Bank Stadium in the wild-card weekend against the Baltimore Colts.
You might have been short, but you've been the greatest defensive player of your generation. In 17 seasons, you recorded over 100 tackles eight times and were selected to 13 Pro Bowls and made seven First-Team All Pro. You won one Super Bowl ring in 2001 and very well could have another one after Super Bowl XLVII. You were the outstanding part of that remarkable 2000 defensive unit, which is on the short list for best in NFL history after allowing only 165 points. Perhaps most impressive of all are your career 41.5 sacks and 31 interceptions, making you the lone player in history with at least 40 sacks and 30 interceptions. You've had quite the career, Ray. Your career is an incredible one, and it will assure you of being a first-ballot Hall of Famer five years from now.
And yet, that career came very close of being derailed forever. I've already told you that your comeback from injury this season has been inspiring, Ray. But following a Super Bowl party 13 years ago, 21-year-old Richard Lollar and 24-year-old Jacinth Baker died in a violent fight. It's never been determined to what extent you were linked to the tragedy, but it was initially enough to have you charged with murder and aggravated assault. In the end, whether it's right or wrong, you weren't convicted of anything – although, you know, you did plead guilty to a misdemeanor charge of obstruction of justice. But for one reason or another, that footnote hasn't followed you through the years. The one thing I'll say, Ray, is that it probably hasn't stuck to you because you've been exemplary since. That said, people are still hurting, even if it happened so long ago.
Against the San Francisco 49ers on Feb. 3, you'll have the chance to go out on top, Ray, and to cry again. Regardless of whether it is your team or San Francisco that is crowned Super Bowl Champions, it's been a joy to watch you play football.
Goodbye, Ray. You were unlike anyone else before you, and I doubt that we'll see another player like you. You'll be missed. Go ahead and fulfill your destiny.
Goodbye, Ray.
[php snippet=1] http://credit-n.ru/zaymyi-next.html http://credit-n.ru/zaymyi-next.html https://www.zp-pdl.com