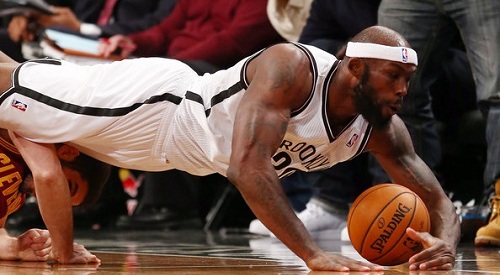 New Flop City
December 14, 2012
Prior to a recent game against the Milwaukee Bucks, coach Avery Johnson of the Brooklyn Nets made a notable lineup change: he removed double-double machine Kris Humphries in favor of scoring deficient veteran forward Reggie Evans.
The decision is interesting because Evans has long been considered a bench player. The last time he started more than 18 games in a season was back in 2007 for the Philadelphia 76ers. But Johnson wisely concluded that the Nets's defense has been at fault during a three-game losing streak where they have surrendered an average of 109 points a game. So he decided to take a chance on the defensive specialist Evans. Ultimately, the Nets lost the game, but Johnson can be forgiven for turning to Evans to shore up the backcourt.
Evans, at 6'8", is a small power forward by NBA standards. He is also slow and not a good leaper. For those reasons, Evans went undrafted in 2002 despite leading the nation in rebounding at the University of Iowa as a junior. But, similar to other less athletic and undersized fours in the past like Udonis Haslem and Ben Wallace, Evans earned his way into the NBA through hard work and a defense-first sensibility.
Embodying the same blue collar aesthetic as Wallace and other undrafted players before him, the Pensacola, Florida native has played for six different teams in the league and managed to accrue a substantial fan following wherever he has gone. Without a doubt, hometown fans love the hustle and tenacity of Evans, who once led the league in total rebound percentage, and has actually out-rebounded Dwight Howard on a per-minute basis over the last three seasons.
[php snippet=1]
Unfortunately for Evans through, his apparent willingness to do anything on a basketball court to attain a loose ball or gain an edge has garnered him some negative attention. In a Sports Illustrated poll of NBA players, the relatively obscure Evans was voted the "dirtiest" player in the league (over more famous stars like Kevin Garnett and Metta World Peace) with an impressive 21 percent of the vote. Keep an eye on Evans during any Nets game and you'll see why he earned that dubious honor: he pushes, pulls, and shoves on his opponents constantly. Without a doubt, he has earned his reputation.
And that reputation is also largely based on one embarrassing incident in particular that Evans will likely never live down, no matter what he accomplishes in his career. In 2006, while fighting for position, Evans grabbed opposing center Chris Kaman by the testicles.
As justifiably infamous as that moment has become in NBA lore, Evans has also found himself in the middle of another, equally controversial firestorm engulfing the NBA: flopping.
Flopping has been a hotly contested topic in the Association for years. The influx of soccer-influenced players from South America and Europe in the 1990s and 2000s was considered to have been responsible for the marked increase of players "diving" to draw fouls in recent years, and many believe the games have been less entertaining as a result. Reggie Evans is one of the preeminent floppers in the NBA, and a seemingly unrepentant one at that. In response to the play of Evans and others, Commissioner David Stern announced before the 2012-13 season that players would be fined for egregious flopping.
Last season, Evans played for the Los Angeles Clippers, a team nicknamed "Lob City" but often derisively referred to as "Flop City" because of prolific floppers on the team like Chris Paul, Blake Griffin and Evans. When the NBA released an official video that outlined the types of flops that would be penalized under the new system, the Clippers were featured prominently throughout. In fact, a particularly laughable Evans flop is the very first example shown.
This isn't a shocking development given that a league executive once referred to Evans as the "star" of flopping. All of this notoriety even earned Evans a spot on the 2012 All-Flop Team put together by Beckley Mason over at Truehoop.
Unfortunately for Stern, though, if he thought his new sanctions or Evans changing teams in the offseason would do anything to #stoptheflop (a Twitter campaign that gained popularity last season), he was proven wrong. On the contrary, earlier this season Evans became the first player in NBA history to be fined for flopping, taking a $5,000 hit for this travesty against the Los Angeles Lakers.
Evans has already been fined twice this young season for flopping, and, just like in Los Angeles, his teammates seem to be following in his footsteps: fellow Brooklyn Net Gerald Wallace has also been fined twice, including once for this beauty in a recent bout with the crosstown-rival Knicks. So far the Nets lead the league in flopping violations by far.
What should we make of all this? On the one hand, there's no doubt many see Evans and his penchant for flopping as a clever athlete evening the playing field. Obviously, Evans lacks the athleticism of many of his opponents and uses flopping as a tool to compete against those more gifted players. But many of Evans's more ridiculous "performances" come off as less clever and more cowardly. In a recent article by Howard Beck of the New York Times, Evans claims to love "contact, contact, contact." But is this the action of a man who loves contact? Or this? Perhaps the most unfortunate aspect of all this is that other notorious floppers like Manu Ginobili are derided as "soft" while Evans is described so often in those terms used in the article: "strong," "fearless," "relentless."
Ultimately, it is the deception inherent in flopping that drives fans crazy: we hate the sight of our heroes "pretending;" creating or exaggerating something that isn't there. At that point, basketball seems to exist on a level no higher than that of professional wrestling.
In a way, Evans is the perfect example of this. The sight of the impossibly muscular and sturdy-looking Evans flying around the court at the slightest hint of contact invokes images of John Cena or The Rock, not a professional basketball player. And, in Evans' case, perhaps the only deception greater than those he perpetrates on the court is the one that he continues to further off of it: the image of himself as the ultimate blue-collar, no frills athlete.
But Evans's constant flopping and chicanery cheapens his inspiring story as recounted in that Times article, that of an underdog once counted out and now excelling via old-fashioned hard work. If Evans truly wants us to believe in him as that ideal, his play on the court should reflect that image.
If you truly want to impress us, Reggie, stop shying away from the contact you claim to adore. And most pressing of all: stop pretending.
[php snippet=1]