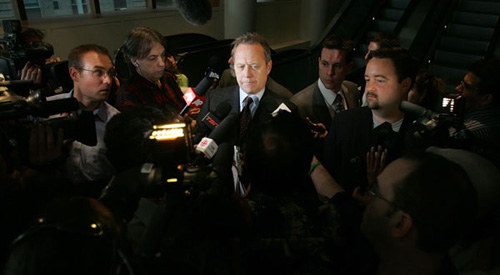 Steady Peddie keeps Toronto ticking
December 8, 2008
For most of us, the closest we get to being the president of a basketball team is by taking part in our various fantasy pools. We like the pretend feeling it gives us that we are the ones calling the shots from the big chair for a change.
For Maple Leafs Sports and Entertainment (MLSE) President and CEO Richard Peddie, there's no fantasy in his job overseeing four professional sports franchises.
Young men in their early 20s are often not thinking too deeply into their careers at that stage of their life. While many are more concerned about where and when the next party is happening, Peddie knew even way back then what he wanted to do with his life.
He wrote in a personal journal that he, "wanted to be president of a basketball team" stated Peddie from his plush new offices overlooking Lake Ontario at the Air Canada Center, and in 1996 that dream came true.
A self-confessed basketball fan, Peddie says that, "the other three teams are a bonus," referring to the Toronto Maple Leafs, Toronto Marlies and now MLSE's newest baby, Major League Soccer's (MLS) Toronto FC.
Not that he takes any of them less seriously than the others. 
[php snippet=1]
Depending on who you talk to in this city, you could be forgiven for thinking that Richard Peddie is a real life version of The Simpsons' Monty Burns. Love him or hate him, in Toronto everyone knows him, or at least they think they know him. Certainly, there are many people who think at the very least that they could do a better job than him.
There are those who think he's ruthless, uncaring and about making money first; winning championships is of secondary concern. Whether they know him or not, everyone in Toronto has an opinion about him.
"Winning is defined both on and off the playing field and we really can't point to winning on the playing field," said Peddie. "[However] off the playing field, we're very much winners"
While that first assessment is an unfair one, Peddie certainly is good at making money for MLSE.
Recently, Forbes Magazine valued the Toronto Maple Leafs at $448 million with revenues of $160 million, making them the most valuable franchise in the NHL.
What does all this money mean for Peddie and MLSE? Firstly, while other sport franchises lay employees off and look for ways to cut costs, the solid foundation and business model Peddie has built at MLSE means that they are well prepared for what is looming with the recent state of the economy.
"We're not immune to this economic slowdown, this recession, but we're a little more resistant than most," said Peddie.
The organization is in good shape to survive the current harsh economic climate without resorting to drastic job losses.
It also allows MLSE to invest in improving the facilities for the teams it manages, and to maintain the Air Canada Center as a state-of-the-art arena. Most recently added was an $8 million High Definition video board to go along with new restaurants around the ACC and, most importantly, Peddie is always looking at ways to help its teams.
It cost MLSE $18 million just to start up Peddie's latest gem, Toronto FC. Despite so-called "experts" dismissing the idea that a professional soccer team would work in the city. In a city full of immigrants, many from South America and Europe – soccer's hotbeds – Peddie thought he knew better. He was right.
One of the main attractions of the MLS league was that Peddie felt it was a good league with a good Collective Bargaining Agreement but he wouldn't have done it without the construction of BMO field. Field sharing wasn't an option. Peddie knew that to establish TFC, they needed their own stadium.
"[In the first two seasons, TFC] has far exceeded our expectations," said Peddie "We had 97% renewal [of season ticket holders] first year, 95% renewal second year with 13,000 [people] on the waiting list."
Peddie believes that one day TFC could even be the hottest ticket in town due to soccer's affordability and its recognition world wide.
Peddie and MLSE's alliance with soccer almost extended to England's Premier League. Last year, Peddie led executives on a mission to England to evaluate the prospects of perhaps buying a team in the world's richest soccer league.
"It was a flawed model and we didn't go near it", said Peddie. "[But] I still get calls." Newcastle and West Ham both tried to sell to MLSE but Peddie swiftly told them that he was not interested.
Once again, Peddie made the right decision. In the Premiership, it's either feast or famine and while teams like Manchester United enjoy all the trappings of fame and success, too many teams struggle to make money. Peddie knew it and that was the end of MLSE's interest.
During Peddie's time with MLSE, one of the athletes who attracted a lot of attention was ex-Toronto Raptor Vince Carter. Carter was important to the team, but the fate of the Raptors franchise didn't rest on Carter's shoulders alone.
There were other factors and one only needs to look at the way Vince's career has gone since leaving the Raptors to know that when he retires, he'll likely be a player thought to have squandered an opportunity rather than be remembered as one of the greatest basketball players ever.
More significantly, Peddie managed to convince former Phoenix Suns general manager, Bryan Colangelo, to come to Toronto.
"He looked [at our team] and thought he had a really good situation here," said Peddie. "He looked at a very strong base, a strong ownership group and he [came] in and he's done a heck of a job. The fans really like Bryan."
In Colangelo's first two full seasons in charge, the Raptors have made the playoffs. Now the challenge is to make a deep run into the postseason. Hiring Colangelo proved to be another masterstroke from Peddie.
So what does the future hold for Toronto's sport franchises? While winning on the playing field will always be the goal, Peddie will continue to keep up with industry trends.
"Young people today want their sports instantly and we stream all of our games [on the internet]," said Peddie.
The success Peddie has had off the field puts Toronto's teams in a strong position to succeed on the field. He can't shoot hoops or kick goals, that's up to the players, but one thing is for sure, they have everything they need to do just that.
While it is fair to say that Peddie is more popular with school teachers than he is with some Toronto Maple Leafs fans, he knows who he'd prefer to be stuck in a room with.
"I'd rather be with the Leafs [fans] because they're all passionate and they'd come with their faces painted," joked Peddie.
Despite being one of the most powerful and influential people in all or Toronto, Peddie remains humble.
"I've been really blessed … I've far exceeded my business ambitions."
[php snippet=1]